Unsun was created by Katonya Breaux, a longtime business owner (she ran a custom-home construction company for two decades) and mother (of Frank Ocean, as it happens). As she shares with us below, Unsun grew out of a personal need for healthy, effective, mineral-based sunscreen that would actually blend into darker skin tones — and what she created ended up being so spectacular that it turned into a business. Read on for her story.
***
Ayla: We are so excited to bring Unsun onto our shelves! Tell us what inspired you to create these products.
KATONYA:
I first created these products out of a personal need: as a Black woman, I couldn't find a mineral sunscreen that didn't leave me looking like a ghost (or, in the case of tinted sunscreens, either lavender or purple). Women of color have been left out of the loop for so long with sun care; we were often told we didn't need it, and as a result, many of us have experienced hyperpigmentation and unnecessary wrinkles — and even a higher death rate from skin cancer — because sun care wasn't even on our radar.
And Unsun is really about inclusion, because although I was driven by this personal need, I didn't want to create something only for women of color. It's a line that's inclusive of all skin tones, the whole spectrum. That's the mission this brand was built on.
The other important thing, to me, is the creation of products that are clean. There's so much trickery in sunscreen in particular and we're committed to mineral based formulas that are good for you. There are so many things in the environment that we can't fight against, so why not control the things we can easily control? The sunscreen you use can be one of those things.
Ayla: We adore your Mineral Tinted Face Sunscreen, which is an Allure "Best of Beauty" award winner. Can you give us some advice on shade selection?
KATONYA:
Medium/Dark is the more versatile shade, but you have to have a little melanin in your skin tone for it to work. It works on a range from very dark tones to olive tones.
Light is the shade to go with if you don't have melanin in your skin tone. So if you're blonde or a redhead, that's the one for you; it's very neutral.
Ayla: We were blown away by how many skin tones these two shades suit. How is that possible?
KATONYA: We went back and forth a lot to get it just right, but even I was surprised by it! I have two sisters and first tried the shades on myself as well as on them, and we have very different skin tones. One of my sisters, we call her "Red": her skin is a lighter caramel shade with red undertones. And my other sister is a shade darker than I am. But the Medium/Dark shade worked for all of us, and we were so surprised. It really just happened.
My baby sister has rosacea, too, and since our sunscreen has been tested as non-irritant, it works really well for her.
Ayla: The hand cream is perfect, too – it is so hard to get a nice, creamy, moisturizing texture in a hand cream that has sunscreen in it.  
KATONYA: I think what helps there is that we use some titanium dioxide in the formula. It's so hard to achieve a smooth, really creamy formula without it; it's not as powdery or "minerally" as zinc. The combination of the two allows us to get a nice, creamy texture and still maintain a good SPF level.
Ayla: And your newest product introductions are the Face + Body Highlighter in Bronze Goddess and Golden Angel, which are beautiful. Tell us a little about these.
KATONYA: I had the beach in mind when we created these: it's a way to layer on sun protection while adding a little glow to your face and body. During the summer, when you're outside, you don't necessarily want to wear a lot of makeup, but you might want to add a little glow; these are highlighters can do that with the added benefit of mineral sunscreen. They're waterproof, too, so they're perfect for the beach. Golden Angel is a rosy gold tint, while Bronze Goddess is more of a deep bronze.
**
We love everything Unsun. Shop the collection here.
You May Also like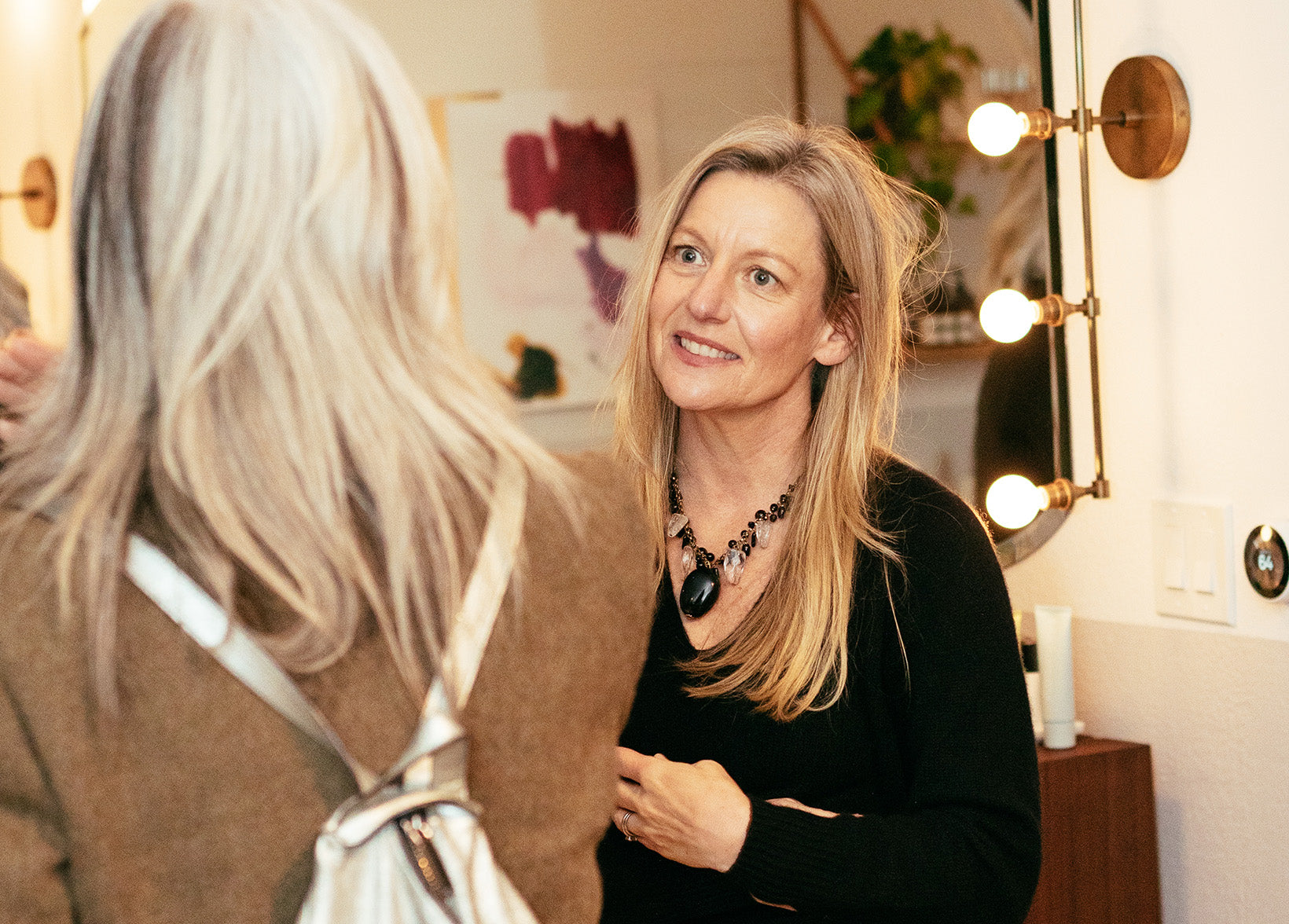 Annee de Mamiel explains how a variety of hormonally-related skin challenges are related — and how her Phyto-P Elixir works across all of them.