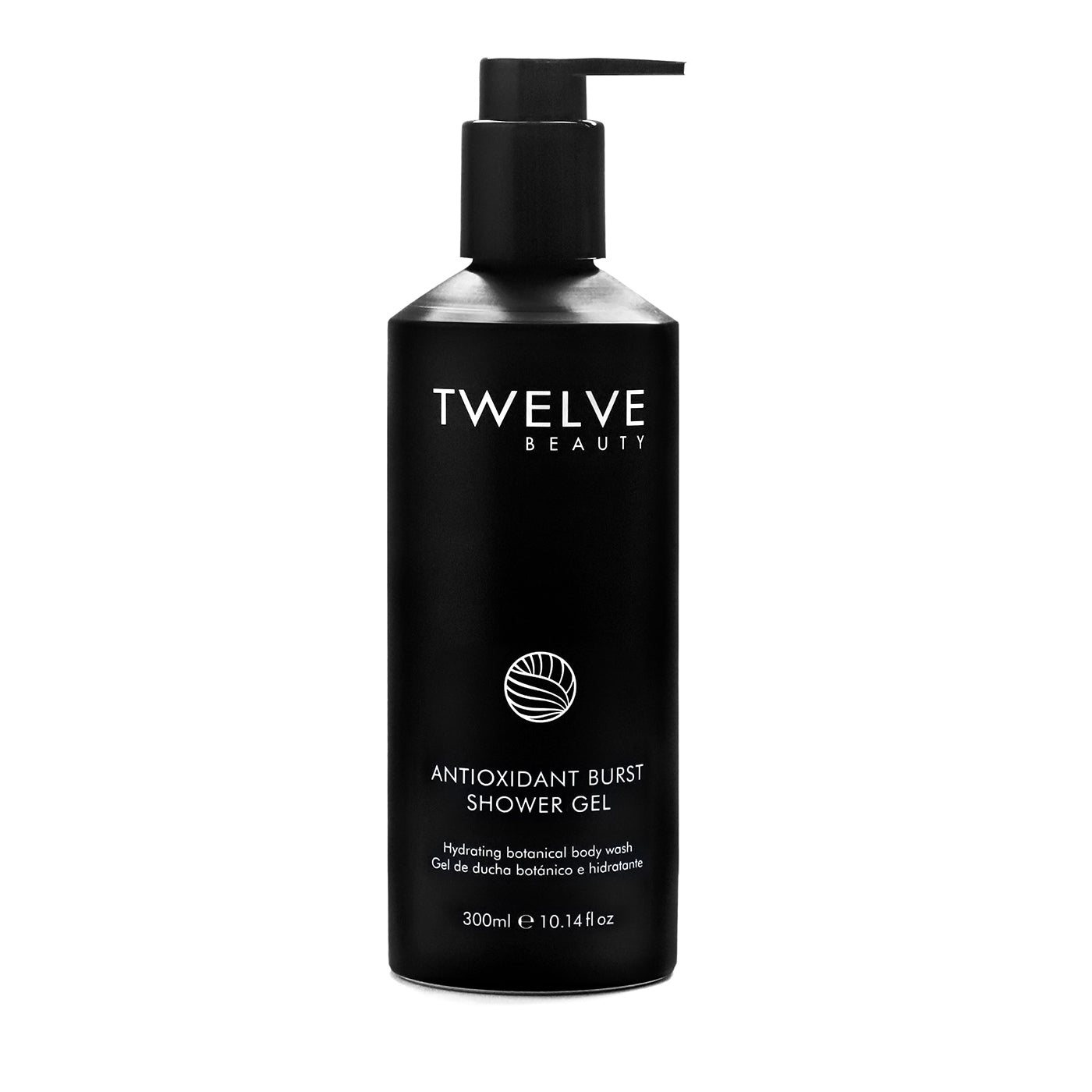 Description
Super-gentle hydrating shower gel with a delicate scent / 10.1 oz
TWELVE Antioxidant Burst Shower Gel is a joy to use every day. This super-gentle, sulfate-free, delicately scented gel is packed with TWELVE's signature botanicals (soothing mallow flower, restorative imperatoria leaf, and antioxidant powerhouses white genepi and butterfly bush) in addition to squalane and saccharide isomerate, a plant-based sugar that provides a long-lasting hydrating effect. It's excellent for those who experience dryness or itchiness after using other soaps and shower gels: this one leaves skin soft and soothed, and perfectly prepared for the Jojoba Quench Body Serum.
Pedro told us in this interview about his body care products, "For the shower gel, I used a derivative of natural alanine (a key and vital amino acid), which has the ability to deeply cleanse while being ultra kind to the skin and its microbiome. Moreover, it is probably the most biodegradable of all surfactants on the market. This shower gel is indicated for people with dry skin who sometimes feel itchy around the ankles, arms and other parts of the body after a shower." 
And since we know some of you will ask — TWELVE fans, after all, are serious — Antioxidant Burst's pH is identical to that of the skin. (Of course it is: it's TWELVE.) Everyone loves its delicate, warm scent of German Iris. And it's thoughtfully packaged in a 100% post consumer recycled aluminum bottle that you won't have to worry about dropping in your shower.
How to Use
Massage over skin in shower; rinse well.
Ingredients
Key ingredients:
-Sodium Cocoyl Alaninate is one of the mildest cleansing agents on the market.
-Coco-glucoside is a combination of coconut oil extract and a natural sugar that creates a well-balanced cleansing agent with great skin compatibility.
- Mallow flower extract is rich in mucilages, sugars and tannins, minimizing the negative impact of cleansing on the skin.
- Saccharide Isomerate is a plant based sugar that binds to key proteins on the skin, leading to a long lasting hydrating effect.

All ingredients:
Aqua, Sodium Cocoyl Alaninate, Panthenol, Coco-glucoside, Sorbitol, Glyceryl Oleate, Squalane, Saccharide Isomerate, Buddleja Davidii Extract, Artemisia Umbelliformis Extract, Malva Sylvestris (Mallow) Flower/Leaf/Stem Extract, Peucedanum Ostruthium Leaf Extract, Xanthan Gum, Glycerin, Levulinic Acid, Dehydroacetic Acid, Benzyl Alcohol, Parfum, Limonene, Linalool.
---
All Ingredients