Olio E Osso is a small, Portland-based company that makes beautifully simple and versatile skincare and makeup products. The Balms are their hero products, and we can see why: everyone, from celebrities to pro athletes to beauty junkies, wants to collect them all. (They're like modern, grown-up, hip, non-toxic Juicy Tubes.) Olio E Osso's founder, Paola LaMorticella, has been the go-to makeup artist and stylist for top athletes for the past 25 years. Here, she shares application tips for the balms along with various secrets about her fascinating life.
****
Ayla: You're quiet about your background, but we suspect there's a real story there. What is it?
PAOLA: Well, I grew up with artist parents — my mom is a poet, and my father is an ornamental ironworker and a puppeteer. They actually lived in San Francisco in the sixties, and they were two of the founders of the San Francisco Mime Troupe. The benefit concert where the Grateful Dead changed their name from the Warlocks was held to get my dad and his friends out of jail for doing political street theater!
So my parents ended up moving to Oregon, and my brother and I grew up there with them in a one-room cabin with no running water. It was on 29 acres of land about 30 minutes outside of Portland. We had artist studios, but no TV. So it was a great way to watch these amazing artists and learn how to just make stuff and figure things out, which I've been doing ever since.
After high school, I became a theater costuming assistant in Portland and then did styling and costuming for a production company. Then I started traveling more, getting bigger and better clients, working on films and commercials. I went back to get more knowledge and licensing so that I could do makeup and hair and wardrobe, and then I started working with athletes, because I was also super active and just understood them in a different way. That became my niche. So I've been doing that for 25 years, working with anyone and everyone. Lots of NBA players, the US Women's Soccer Team, you name it. (Paola won't reveal the names of her clients, but we happen to know that they are the biggest and best players you might be able to think of.) I'm like their weird auntie in the back of the motor home. They love these balms.


Ayla: We do, too! And we love the name Olio e Osso. What does it mean, and why did you choose it?
PAOLA: It means Oil and Bone. Oil is essential – rich, nourishing. And bone is the basis and the foundation — something that you need for structure.

Ayla: You developed your original balm to soothe your son's dry, sensitive skin; how did you pick that specific blend of oils?
PAOLA: Everything has an olive oil base because I grew up with that as the gold standard for everything. We went through gallons of it: we used it on our skin, for cooking, for cleaning, everything. Three things that were always in the house were baking soda, apple cider or white vinegar, and olive oil. With those three things, you can do anything. (Well, you also need a machete with that much land.)
Anyway, people talk about olive oil a little bit, but I think it's kind of unsung. It has these really beautiful, long-chain fatty acids that act as great natural humectants without blocking and causing dryness. And shea is so emollient that they just work beautifully together. I also included grapefruit because I wanted something that was fresh, light, and clean. No preservatives, no stabilizers. No vitamin E. We use as few ingredients as possible to avoid allergens.


Ayla: Do you make everything yourselves?
PAOLA: Yes! We are such a small team. I do all the formulation, and we hand-pour everything ourselves and label it by hand.


Ayla: What prompted you to make the tints?
PAOLA: When I first made the original clear balm, I made extra once I finally came up with the right formula so I could use it on my clients. I was working with the US Women's Soccer Team at that point, and a lot of those ladies don't like makeup — but I needed to use something with a little color. They normally hated the feel of makeup, but they loved the balms. That's what prompted me to figure out what colors to make. Then I gave them to friends of mine who are celebrity makeup artists, and they loved them, too, so I knew they were versatile.


Ayla: These balms are so cute, and the colors are so pretty, that it's instinctive to want to just buy them all…but how do you suggest going about picking the perfect color?
PAOLA: You could start by picking the one closest to your natural lip color and using the balm to enhance it; it's such a light wash of color that it'll bump it up a little bit. Or think of your favorite lipstick shade and use this as a sheer version. French Melon and Crimson do well for these reasons.
I love to mix them. Bronze Shimmer looks good with everything, especially Crimson. Persimmon is one of my favorites; it's the exact color of a ripe persimmon, and it's very pretty mixed with Currant and Bronze Shimmer to soften it. You can mix and match all of them, and every time you layer them, you just add more depth.


Ayla: Do particular tints work especially well on particular complexions?
PAOLA: I suppose the answer to that would be yes…but every time I say that, someone shows me a different way to use it. For example, No. 2 French Melon is something I think of for lighter skin, but people with darker skin also love it because it brightens a little bit.
No. 3 Crimson is beautiful on fair skin with gray hair. I recommend darker colors for that skin tone and hair combination.
No. 5 Currant is great on everyone for a believable flush. It looks great mixed with Bronze Shimmer.
No. 6 Bronze is a nice choice for fair skin and a good highlight for darker skin tones. You can mix it with French Melon for brightness.
No. 7 Blush Shimmer can be used on its own to subtly highlight cheeks, lips, and brow bones, but it also works beautifully along with the other shades to add depth and shimmer.
No. 4 Berry is great on everyone and looks beautiful with Crimson, Currant, or Bronze Shimmer.
No. 8 Persimmon works best on darker skin tones when worn alone, but mixed with Crimson or Bronze Shimmer, it works across skin tones.
No. 9 Spring is a nice, classic, pinky color can look beautiful on people with very dark hair and fair skin, and also on people with very fair hair and dark skin. It's more of a feeling than a look: it's a brighter, happier feeling. 
My current favorite, favorite, favorite is No. 10 Tea Rose. When I first made it, I was thinking about the great colors of the eighties, and No. 10 is my answer to the eighties neutral. It's a great way to feel like you have more color in your face, but in a non-threatening way. It's such a good one on almost all skin tones, and it adds a really natural hint of color.
During the wintertime, I go for a lot of clear with a little shimmer: I love No. 1 with No. 11 over the top of it. It gives me a sparkly, fresh, icy feeling that I love personally.
Ayla: Do you have any application secrets?
PAOLA: You can use them with a brush on the apples of the cheeks. I'd use a smaller blush brush or a foundation brush with some fluff to it.
You can also use it on your lids, or you can use it to highlight around the hairline and on the collarbones. And the bronzer is a good bronzer for everything, plus you can mix it with other colors to soften them or get a different effect.
Ayla: How do you suggest storing the tints? And if you're carrying one around in your handbag during the summer, how do you keep it from melting?
PAOLA: I take them all over in my handbag. Just don't leave them in the direct sunlight or in your car during the summer. Aside from that, they should be fine. We've shipped them to Tanzania and they've been fine. We send those balms everywhere. We'll be in Italian Vogue next month — our sixth Vogue appearance!
Ayla: You've gotten some great press. Congratulations!
PAOLA: I'm just really loving this business. One of the cool things about it is that it's about nourishing a community as well as skin. We really strive to source locally. We start with women and minority owned businesses first and try to create partnerships that we can remain loyal to. Everything has to be sourced in the States in order for us to use it. It makes it a little more expensive to do, but it's so important.
It's been a great experience to build Olio. I've been really fortunate to have grown up having it be OK to take risks. I think that's what allowed me to use the opportunities that I was given.
***
How's that for a cool story? Shop Olio E Osso here. 
You May Also like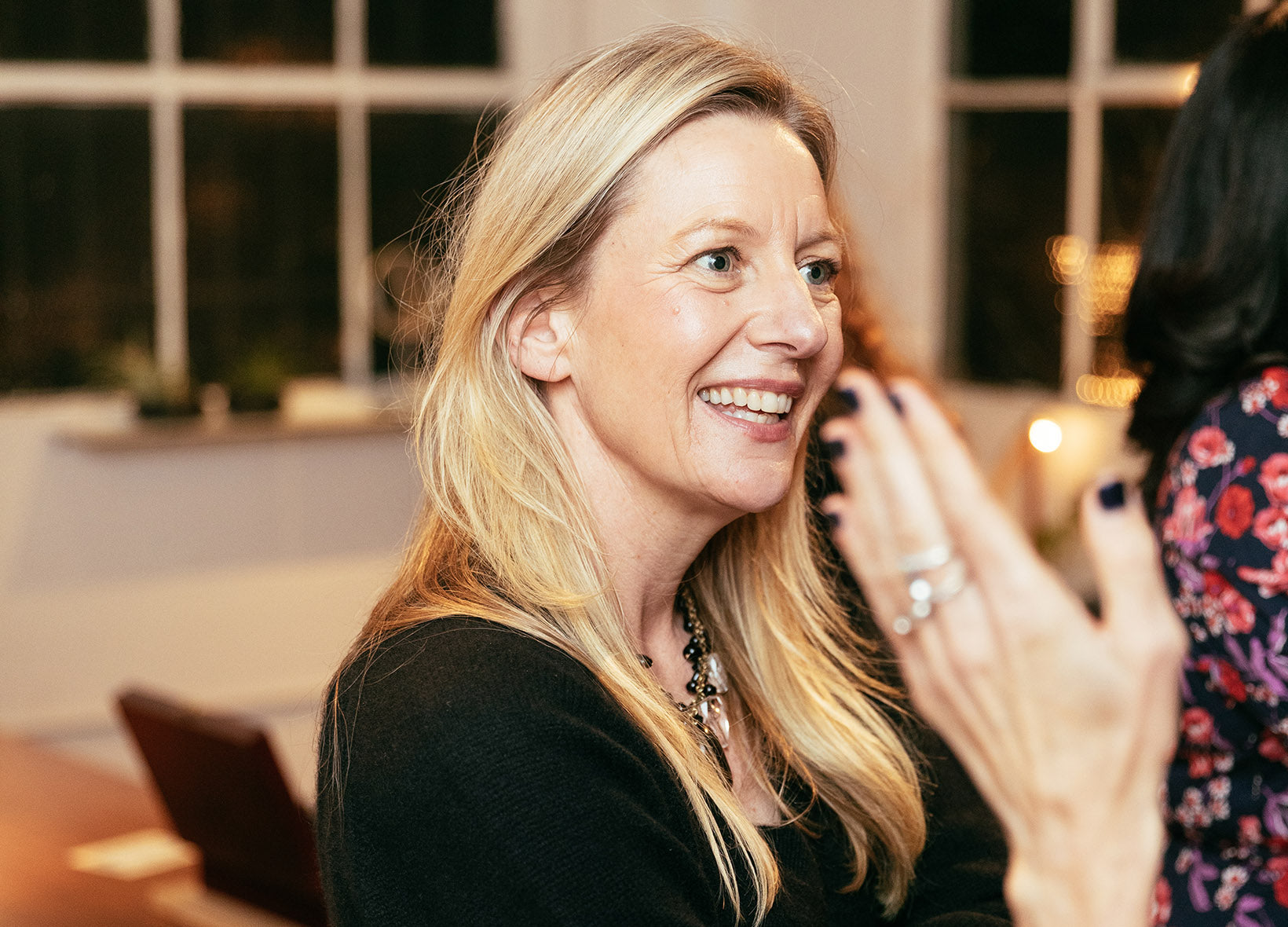 Annee de Mamiel shares a brightening face massage that's just the thing when your skin feels a little tired or you want to bring a little extra radiance to your skin.