There's just something about Ursa Major's healthy, gently-priced, and active-lifestyle-minded products from Vermont that we (and you, apparently) love. 

It could be that their refreshingly light but nourishing formulas are, as they describe them, "wildly effective." After all, they were developed by two beauty industry veterans who have held high-profile roles at (or founded) Bumble & bumble, Jurlique, Ouidad, and Sharps.

It could be that they've received accolades from such luminaries as Gwyneth Paltrow (who deems their Essential Face Wipes a must-have) and such publications as Vogue (who deems those same Wipes "genius") and Esquire ("Pure magic").

Or it could be that they're just great. In a humble, unassuming way that sort of sneaks up on you until, maybe the third day you've been using them, you all of a sudden have this flash: "Oh! This is amazing!" They're also scented in a subtle, unisex way that refreshes and invigorates, inspiring you to get up and go for a run in the woods. Or at least imagine the possibility of doing so.
So what's the deal with this cool brand? Read on for the inside scoop from Emily Doyle, Ursa Major co-founder  — pictured above with co-founder Oliver Sweatman in a photo that is so cute and Vermont chic, we can't even take it.
****
Ayla: There's a lot of buzz around Ursa Major, but not many people know all that much about you! Tell us how it began.
EMILY: My partner, Oliver, and I started Ursa Major to create a healthy and effective skin care option that is also a pleasure to use. When we started our journey looking for all-natural and toxin-free products, we kept coming up short…most formulas felt clumsy, scents banal, and many of them just didn't work that well. Or if they did, they were super expensive.  So, ultimately, we decided to do it ourselves.  We wanted to make a line of natural products that would be considered "daily essentials": elevated, sublime formulas that work, and that you use every single day. We now have 10 core products and a small team of 8 superstars here in Vermont making it happen every day.
Ayla: Why did you decide to set up shop in Vermont? What is it that you love about the Green Mountains?
EMILY: Oliver and I left NYC and moved to Vermont to be closer to nature and have a more grounded, balanced life.  We absolutely love it up here, but we do get back to New York here and there for a dose of city life (and to visit our old friends and favorite restaurants)!
Ayla: Where are the products made?
EMILY: All of our products are made in the USA.  We also source over 90% of our packaging from the US, which we are very proud of since a lot of personal care packaging typically comes from overseas. We believe in doing as much here as possible.
Ayla: What do you think sets Ursa Major apart that many people don't know about?
EMILY: We are a unisex brand that appeals equally to men and women – it's hard to strike that balance, but we feel to be that "daily essential" in everyone's bathroom (men, women, couples, families), we had to make sure the products were curated and simplified while still being sophisticated and sublime. So that means the scents, textures, packaging, and of course, the efficacy have to all be there — and hopefully be universally appealing.
Ayla: We find your formulas to be unusually light and refreshing, texture-wise, in a category that's dominated by oils. Tell us a little bit about your approach to making products. Who do you have in mind as you're developing them?
EMILY: Yes, texture is super important to us!  Don't get me wrong; I love a good oil. But when formulating for Ursa Major, we really wanted to try to get those silky, light, fast-absorbing textures you often only see with chemical or department store brands, but do it in a totally healthy, non-toxic way.  And, because our products are made for men and women, we find that the light, refreshing experience appeals to both!
Ayla: We also find your products to be an extraordinarily good value. How are you able to make that happen?
EMILY: That's true, and it's a tricky one.  It really comes down to how we price our products.  In this industry, traditional "beauty" margins are pretty crazy, but we decided early on to make our own rules and take a much smaller margin for our products.  We believe in keeping the price accessible, although sometimes I worry that people might think, "If it's not super pricey, it must not be as good (as the competition)." But a thoughtful customer can try our stuff and read our ingredient list and realize they're getting an amazing product at an amazing price!  We think, in the end, it will pay off.
Ayla: Tell us how one of your favorite products, Golden Hour Recovery Cream, came about.
EMILY: I had this real love for calendula and healing creams, but I couldn't find one that was both rich and hydrating, but also had that awesome whipped texture that sinks right in… so I was basically scratching my own itch with this one!  It is a real medicine cabinet hero that everyone should have on hand – if not for a daily hydrator (and anti-ager), then to use as a treatment for those days when your skin feels neglected, itchy, moody, inflamed or sensitive – and you can use it anywhere.  This stuff truly works; it's amazing.
Ayla: Golden Hour seems to be a little different from your other products — a little richer and more high-powered. What do you think sets it apart and makes it special?
EMILY: Yes, Golden Hour is the first product in our 'treatment' line – so it's a bit more specialized and packs a major punch in terms of healing hydration. It is full of ingredients that nurture the skin like calendula, seabuckthorn, carotenoids, omega fatty acids, and black currant seed oil. It's the most moisturizing of all our products, but it's not the least bit greasy or oily – somehow, it still has this amazing, lightweight texture and soaks right in.  It's also 81% organic and 100% natural.
Ayla: What else should we know about you?
EMILY: One thing we really focus on at Ursa Major is the idea of wellness over vanity. In the personal care/beauty industry, there is a lot of emphasis on looks and beauty and perfection and less about all-around health and well-being. Of course we want our customers to have clear, healthy, beautiful skin, but on a deeper level, our brand is about taking better care of yourself and living a healthy, authentic, and balanced lifestyle. We think that is truly beautiful!
You May Also like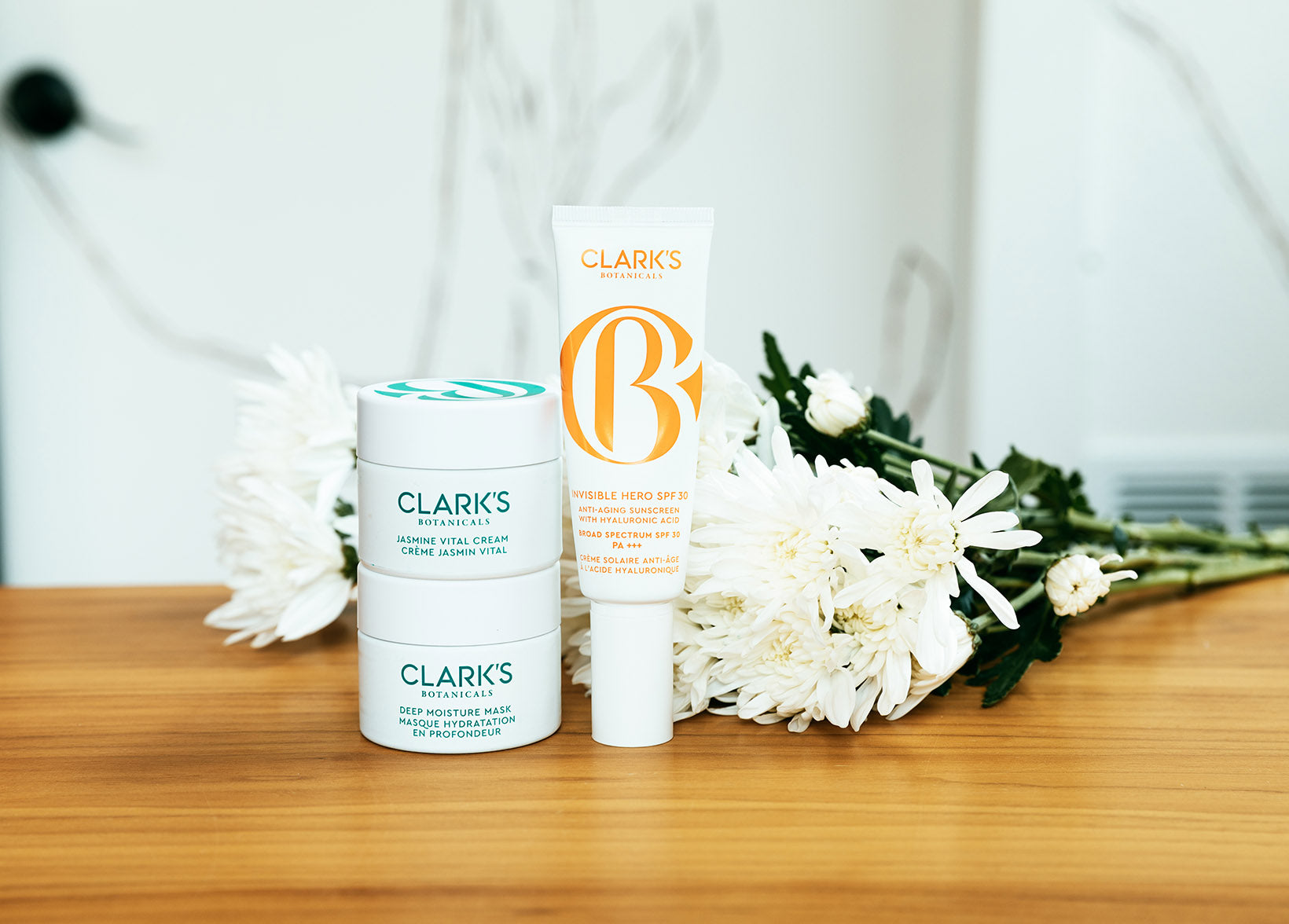 We fell in love with the story behind Clark's Botanicals even before we tried the products — so when they arrived for us to test, we had especially high expectations. Thankfully, they exceeded them all (especially Invisible Hero SPF 30,...