For several months back in 2017, one of the key products in our founder's skincare routine was a secret potion whipped up specifically for her sensitive complexion by Marie Veronique herself. "Dara's Oil" was packaged in hand-labeled bottles that Marie tucked into our inventory shipments from her Berkeley lab from time to time, which Dara would unwrap with a squeal of delight. To her, this blend of lightweight, perfectly balanced oils with a touch of hyaluronic acid was instrumental for glowing-but-not-greasy, makeup-optional skin.
Finally, Dara called up the good people at Marie Veronique, saying, "This is the best moisturizer I've ever used. Can you please make more of it so that I can finally tell people what I use…and let them try it, too?" 
Since we first introduced it in October 2017 and it was promptly featured by T, The New York Times Style Magazine and Town & Country, Dara's Oil has been one of our favorite products. Every time we use it, we still breathe a sigh of gratitude for Marie and her amazing team; once you see what Dara's Oil does for your skin, we think you will, too. Because here's a particularly great thing about it: everyone can use this magical blend of goodness. Everyone. (You can find out why in the story behind its development here.)
But have you wondered why Marie herself likes it so much? We have…so we finally asked her.
Check out Marie's brand-new interview, which reveals why Dara's Oil is such an essential for healthy skin, below.
*** 
Dara: We're so excited to find out what you love about Dara's Oil! Please tell us.
MARIE: Epidermal lipid barrier integrity is one of most decisive factors in determining the health of the skin.
The question then becomes, is your skin getting enough lipids? While the lipids needed for proper maintenance are synthesized by the body, adequate production decreases with age, while environmental assault, disease, and inadequate diet can also add significantly to potential supply side problems. 
The good news is that studies show that topically applied oils can be absorbed and will increase barrier lipid content. I am a proponent of daily dietary supplements to maintain health in general, and it's my belief that the potential for topical supplements to maintain skin health is undervalued, particularly when it comes to lipids and barrier health.
Topicals are convenient and easy to use — in fact, if I could use only one Omega-3-6-9 supplement a day and had a choice between an oral and a topical supplement, I'd choose a good topical oil, like Dara's Oil.
(If the choice was between taking cod liver oil and putting it on my face, I'd do the latter, but then I could argue the same with Dara's Oil — its oil profile makes it good enough to eat, but you can also wear it and it smells better than cod liver oil — plus you are not endangering fish populations).  
The Dara's Oil profile
Free fatty acids: Dara's Oil increases epidermal barrier lipid content with free fatty acids (one of the three major oil components of the lipid barrier layer).
Fatty acids in skin do three important things: they decrease TEWL (trans epidermal water loss), balance the skin microbiome, and protect against inflammation. This oil blend contains meadowfoam seed oil, black and red raspberry seed oils, and prickly seed oils, all high in linoleic acid (Omega-6). It also contains oils high in linolenic acid (Omega-3), good sources of the EFAs (essential fatty acids that your body does not make on its own), in chia seed and cranberry seed oil. Oleic acid (Omega 9) found in cherry seed kernel and cranberry seed oils are plant oil versions of the highly emollient and absorbable emu oil. Which everybody loves, but no one wants to use because emus….
Humectants: Humectants increase the water content of the epidermis and are a crucial component in maintaining barrier layer robustness. Hyaluronic acid (HA) is a super molecule which holds up to 6,000x its weight in water. It is also a skin-identical ingredient — that is, your body synthesizes it naturally.  
Note: While HA is an important glycosaminoglycans in the dermis, where it surrounds the collagen and elastin matrix with a gel-like cushion, HA in a topical is useful in its capacity to act as a hygroscopic agent, attracting and holding on to water. Applying HA to the skin will not restore diminished supplies of glycosaminoglycans in the dermis; however, it does improve skin health nearer the surface, in the region of the stratum corneum.  
In conclusion
A robust, well-functioning lipid barrier is the foundation of healthy skin. Dara's Oil provides the building blocks via free fatty acids, essential fatty acids, and skin identical humectants that are required for its maintenance. 
What about diet? Taking an Omega-3-6-9 supplement of some sort daily is advisable, but studies show that topical fatty acids do absorb and are utilized by the skin. Separate studies show that eicosapentanoic acid, when present in certain Omega 3s, has both UV protective and age delay properties. Since EPA is hard to get from diet (unless you are an enthusiastic sardine eater), Dara's Oil makes a convenient and may I say more pleasant-smelling topical supplement alternative.
Dara: What surprised you as you formulated Dara's Oil? What was the biggest challenge?

MARIE: The biggest challenge was getting around the absence of tocopherol — a class of naturally occurring chemical compounds related to Vitamin E — in the formulation, as there was an issue with its being an allergen.
At Marie Veronique, we don't use tocopherol acetate (the most stable but also the most allergenic tocopherol), only mixed tocopherols, but here our challenge was to avoid even the natural forms of the vitamin. This is a big hurdle, because Vitamin E is an excellent oil stabilizer and a powerful antioxidant that works to scavenge peroxyl free radicals that attack epidermal barrier lipids. Vitamin E also helps with penetrability, because it passes through to the dermis and can carry other micronutrients with it.
So, my goal was to find the combination of oils that would do the same job as an oil stabilized with Vitamin E would — smooth the skin, reduce epidermal moisture loss, promote wound healing, and protect cell membranes. Overall, my brief was to create an oil blend that protected lipid cell membranes and epidermal barrier lipids from free radical attack, thus improving barrier function, without using tocopherol.  
The epidermal barrier lipids in the stratum corneum are cholesterol, ceramides, and free fatty acids. The individual oils that made the final cut for Dara's Oil were either those with the free fatty acids or essential fatty acids that would increase epidermal lipid content in the barrier layer or were high in antioxidant vitamins that would inhibit free radical attack. The combination created a product that was quite stable, even in the absence of Vitamin E.
An oil composed of crucial free fatty acids and vitamin rich lipids in a stable formulation is half the battle, but we wanted to do more. We wanted a humectant that would also enhance water barrier properties. Visually, this translates into skin that appears moisturized and pliable, indications of adequate barrier function.
Adding a skin identical ingredient such as hyaluronic acid, the super-humectant, to an oil blend makes a dual acting product — the oil blend replaces lipids lost to weather and age, and the HA helps the water component of the stratum corneum retain water so the skin remains moist and dewy, even under harsh weather conditions. I must admit I was somewhat surprised to see how well that combination worked.
***
Well, we weren't surprised, because Marie's a genius and we love everything she makes. Pick up a bottle of Dara's Oil here.
You May Also like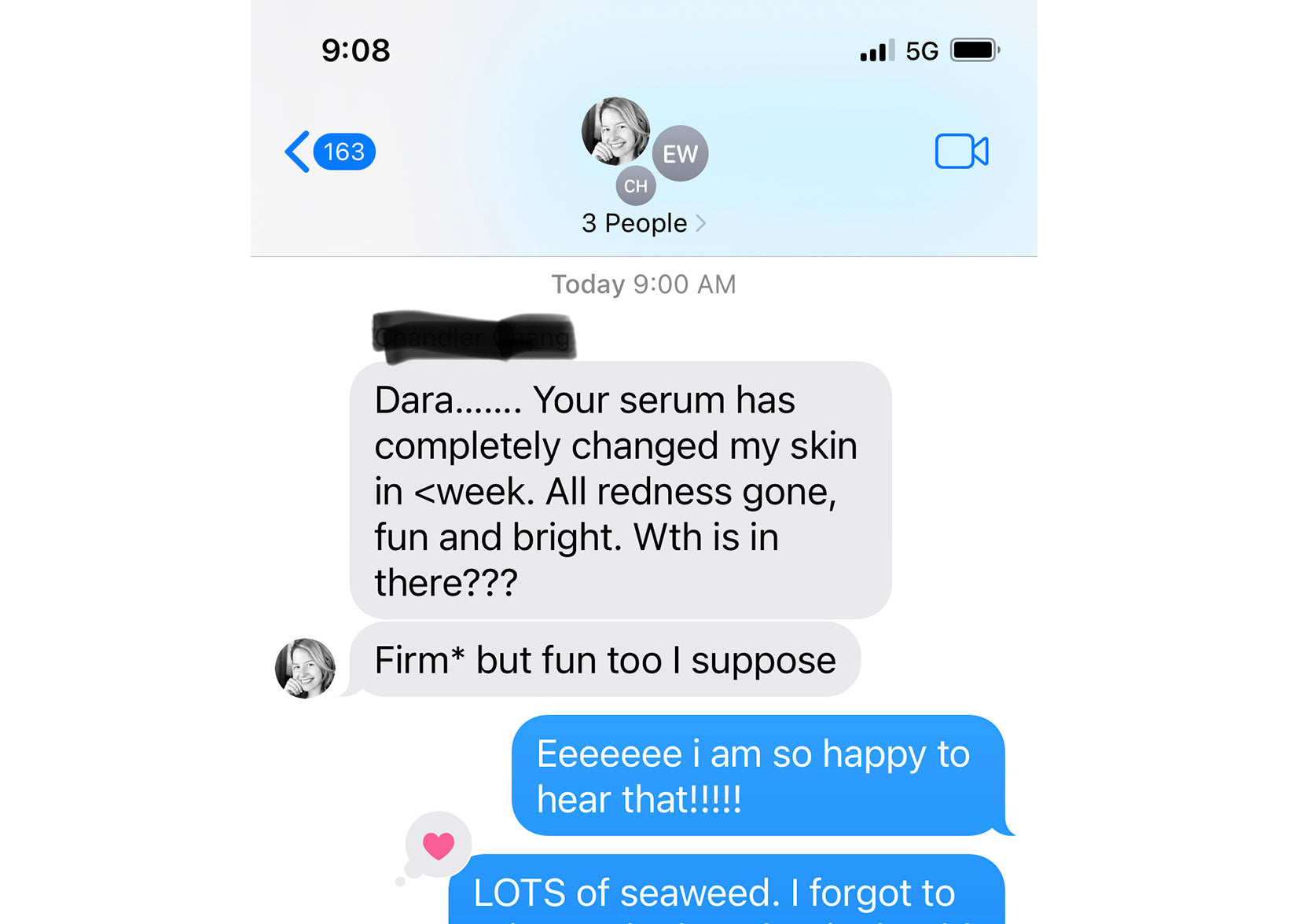 Find out what our team members noticed after 1-2 months of Sea Serum use. You'll notice that everyone's experience is a little different, which, to us, is one of the most exciting things about this unlike-any-other product.