Interview with creator Annee de Mamiel
Created by a skincare therapist who brings serious training in physiology, aromatherapy, and Traditional Chinese Medicine to the clinic table, the products in de Mamiel's lineup have not been designed in the usual way — and their results are so much better for it.
Read on to learn more about this revered skin healer's approach to treating skin seasonally in clinic and her suggestions for home routines with the wonderful de Mamiel Autumn Facial Oil.
***
Dara: How do you use the Autumn Oil in clinic?
ANNEE: We'll do breath work and meditation that's dependent on the person, focusing on what they need to bring them into the season.
For autumn, I'll anoint several points on the lung meridian and then we'll do breath work. And then we'll do the face massage. Overall, it's about bringing them into this time of year, getting them to consider what the autumn is about: releasing and letting go of those things that no longer serve us.
We'll do some deep breath work to try and get the oxygenation happening and decrease stress levels so they can be open to blowing out those cobwebs. It's generally about 20 minutes, this part of the treatment.
Dara: That sounds magical. Can you tell us what you typically suggest as a breath exercise at home with the Autumn Oil?
ANNEE: I like to apply the Autumn Oil at the end of a routine, after the Skin Recovery Blend. Just warm it in your hands and inhale for a count of three, pause for a count of two, and exhale for a count of five. In that long exhale, you're engaging the parasympathetic and slowing everything down, releasing the stress of the day.
I definitely recommend some type of breathing in and out with the Autumn Oil, as with all of the seasonal oils.
Dara: Do you often suggest using the Autumn Oil with the Skin Recovery Blend?
ANNEE: I love using the two together and often suggest it. It's – honestly, do not drive when you do this! – it's quite hypnotic and really lovely and calming on a different level. For your routine overall, just look at the balance of your skin and think about what else you need. As the autumn progresses, you might need a bit more Skin Recovery as we get closer to winter.
Dara: This is looking like it'll be an interesting autumn for us all as we contend with the continuation of the pandemic and climate change on top of the usual fall stress. What are some things that you suggest we all keep in mind these days? Any words of wisdom do you find yourself sharing most frequently in clinic?
ANNEE: It feels like one hit after the next, doesn't it? I think it's really important to be open to the fact that this is such a transforming season — there's so much transformational energy in the world. Remember that it's about releasing and letting go of the things that no longer serve us. Allow the breath to blow out the cobwebs: we consume so much energy in our bodies by holding onto hurts, grief, and sadness that we don't need anymore.
Autumn, in TCM, is the metal element, and there's a lot in this season about perfectionism — that part of us that seeks perfection of form and function, that inner disciplinarian. I think this is why many of us often associate the season with a sense of organization and order. But it's also a season that evokes inspiration, that brings forth a longing to find value and meaning in what we do — finding our purpose, knowing who we are.
So try to think about that process of letting go so that you can bring forth this transformation, whatever that may mean for you. The lungs and the breath hold the rhythm of the body and can help bring us back into sync when we feel out of sorts, out of our bodies. And the lungs hold grief and sadness: that's the emotion of the lungs. This is why the breath is important, so you don't just hold that sadness in.
And you don't need to remember all of these things, all the time. The beauty of essential oils, and the reason why I love them so much in my work and include them in my products, is that they can help process some of these things without your even having to think or talk about it. They just help the body to move it through. And then integrating that into skincare and making a difference through the skin: it's heaven. And it's multitasking.
***
Want to learn more about de Mamiel?
Check out our Brand Spotlight here.
Learn how Annee went about the development of her seasonal oils in general, and the Autumn Oil specifically, here.
Find out how our esthetician, Sarah, uses the Restorative Cleansing Balm for facial massage here.
And to hear from Annee about how she treats stress in clinic — and tips she often gives clients to limit the effects of stress at home — in her interview with Dara here.
You May Also like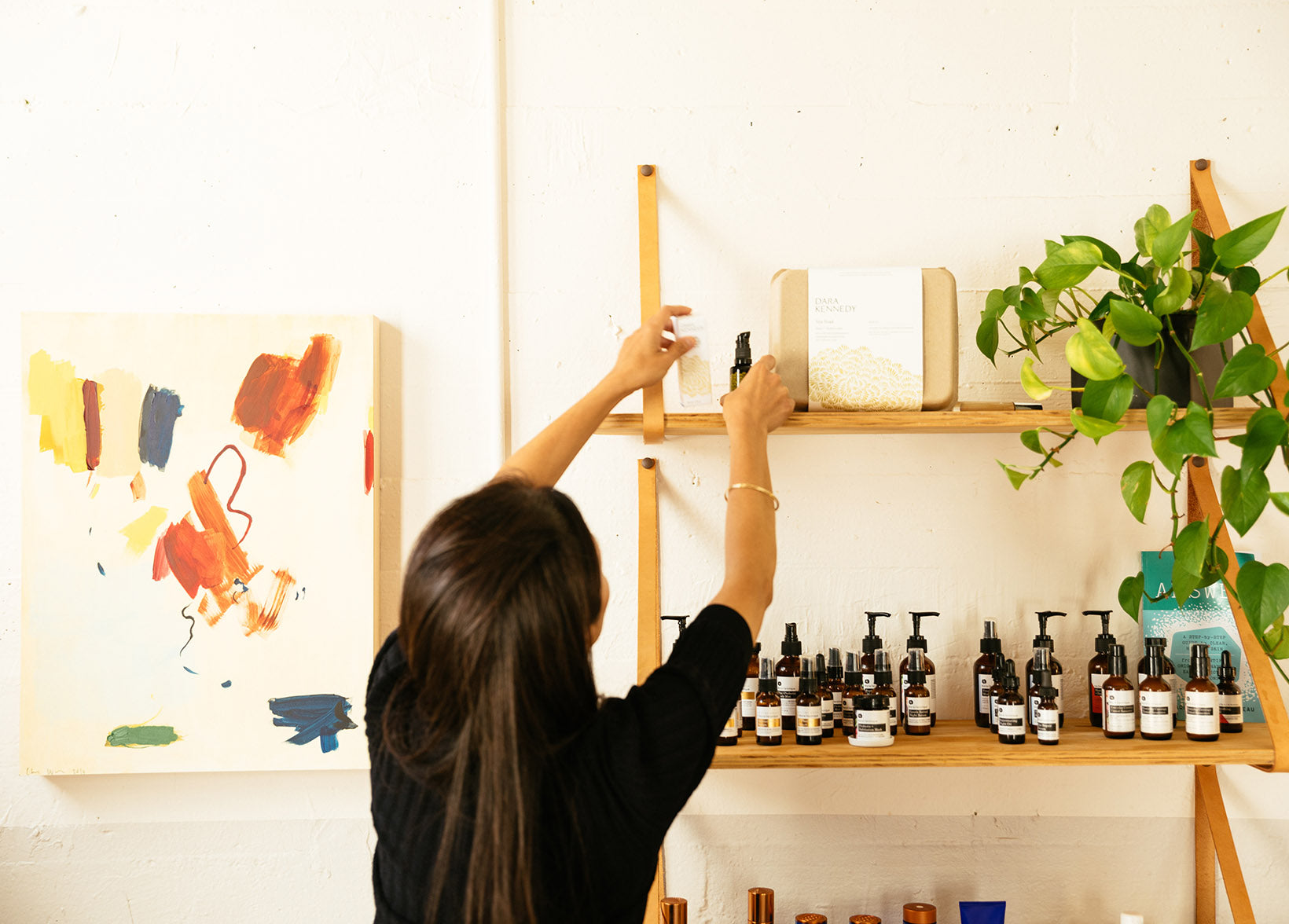 An explanation of antioxidants: what they are, what they do, and why we need them in our skincare (and in our diets).