de Mamiel Salvation Body Oil is one of our favorite ways to experience the magic of de Mamiel every day, no matter what time of year it might be.
Created in honor of the earth season — the fifth season in Traditional Chinese Medicine — Salvation is intended to be deeply grounding while also fortifying the skin and boosting its elasticity. Find out how it came to be, and what makes it so special, in Dara's conversation with creator Annee de Mamiel below.
***
Dara: How did the Salvation Body Oil come to be?
ANNEE: It has a funny story, actually. In TCM, there are 5 seasons: fall, winter, spring, and summer — and then late summer is the earth season, which involves the stomach and the spleen in Chinese medicine. It's harvest time or pre-harvest time, when everything has ripened and it's a time to nurture ourselves. It's difficult to grasp a fifth season in the Western world, though, so for me, Salvation started off as the "lost season."
And as I started developing this oil, since it's about earth energy, I wanted it to be used all year round. As a body oil, I thought it could always be available to ground us and to earth us, to get us out of our mind and into our body so we can be calm and grounded and move forward without the adrenaline rush we often have propelling us. It's a brilliant way to start the day, and it's really something we need all year round.
Dara: Can you tell us how you thought about creating the scent and the texture?
ANNEE: The scent just makes me happy — I used to call it my "happy oil." It's bright, and when I close my eyes and smell it, it's incredibly uplifting but also solidifying and grounding at the same time.
The texture is nourishing but light. With an oil, you always need that perfect balance between fatty acids and plant sterols and ceramides and cholesterols: I think Salvation has that. I formulate our body products as though I'm formulating for the face, so it's not like it's got a massive amount of a cheap base oil in it, as some body products do; it's really formulated so that if you wanted to, you could absolutely use it on your face.
Dara: And you've upgraded the formula just in time for us to add it to our shelves! What are some of the highlight ingredients you've used?
ANNEE: Yes, it's a brand new formula; I added green coffee oil to further help with de-puffing and promote lymphatic flow. But the texture is the same, and the scent is exactly the same. Our 14-herb blend oil features herbs that have been macerated over a long period of time, with different herbs added at different times specifically chosen for extraction. You'll find CO2 extracts and loads of camellia, rosehip, argan, baobab, and prickly pear (one of my personal favorites) — really beautiful oils that the skin readily absorbs. It doesn't leave you with any sense of greasiness.
** 
Looking for a way to take your Salvation experience to the next level? Check out the dry brushing tutorial Annee recorded just for us — it's the perfect prelude to a shower and an application of this beautiful body oil.
Ready to buy a bottle? Shop the de Mamiel collection here.
You May Also like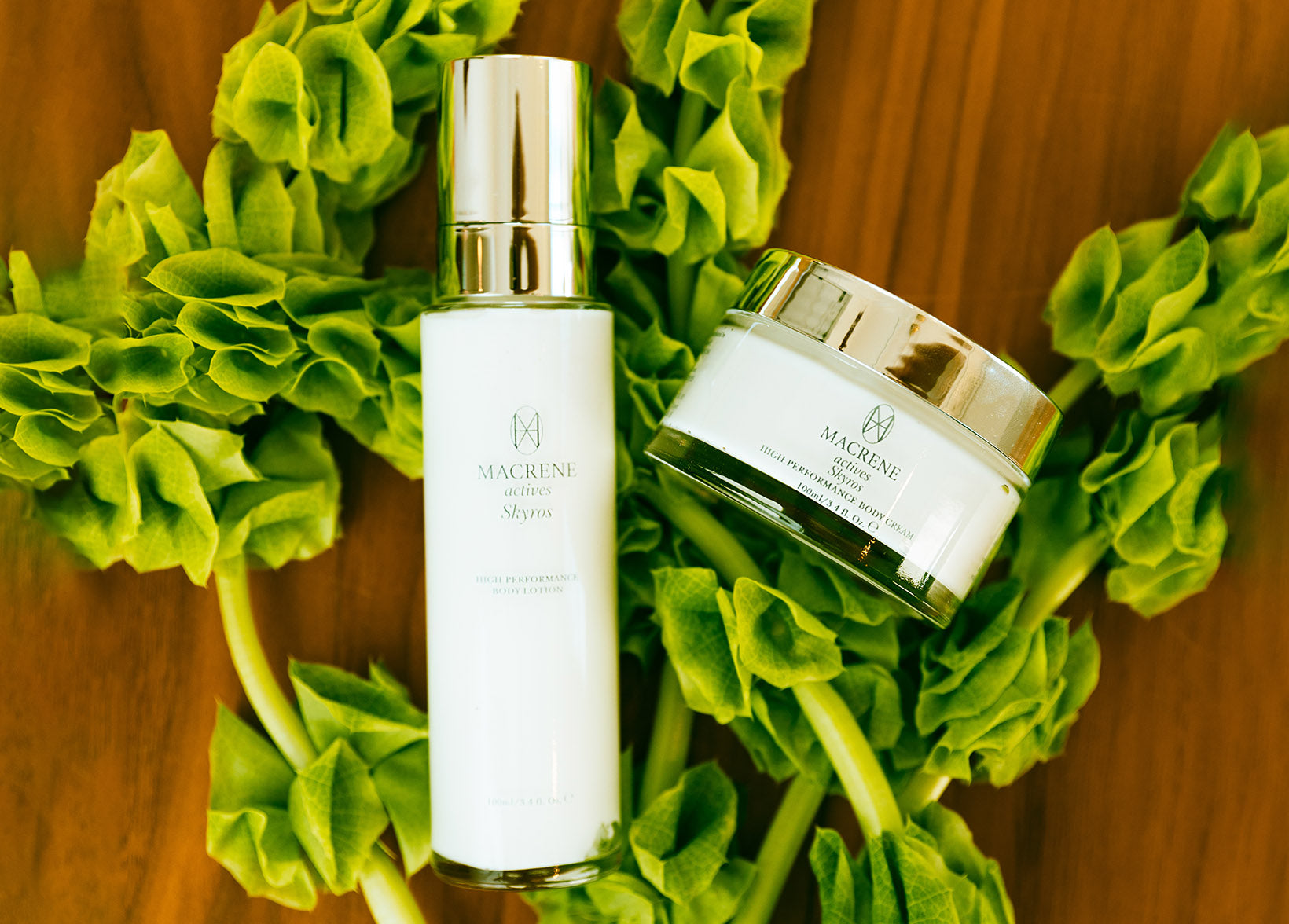 We've long loved Macrene Actives formulas on our faces, but we wished our bodies could get the same attention. Now, thanks to the Skyros collection, we can.