EVOLVh InstaVolume Volumizing Mousse is an innovative, alcohol-free styling foam that gives hair absolutely weightless volume, root lift, and hold — all with a perfectly soft, clean feel and beautiful shine. We talked to EVOLVh founder Boris Oak about what makes this mousse so different; he also shared some great tips for using it to style hair of all types.
(Boris is pictured below at one of our parties — we love this hometown haircare brand and adore having Boris at our events!)


Ayla: EVOLVh is such a great brand for those who seek more volume in their hair — and we were so excited to see you build on that with InstaVolume Mousse. This is the first mousse to arrive on our shelves! Can you tell us what you normally recommend using mousse for, in general?
BORIS: What makes a mousse so unique is the method of the product's delivery onto the hair. Because of the foamy delivery system, what happens when you use a mousse is that your hair's strands get more saturated with the product than they would other type of styling product. It's a great way to deliver volume and hold.
Ayla: What makes EVOLVh InstaVolume Mousse different from other mousses?
BORIS: I think one of the most innovative things about this formula is that you can use it just as easily on wet hair, which is the most common way to use it, and on dry hair, when you want to restyle hair between washes. It's really a great dry styler, which may seem counterintuitive — but the key to it is how well it saturates the hair. 
Hair tends to stay in the same position in which it dries, so in order to get hair to change position, it helps to make it more wet. Re-wetting your hair with a mousse makes it really easy to change its shape: because the mousse has a lot of moisture in it and saturates the hair so well, it's great for restyling during those times when you want to go an extra day (or two, or three) between shampoos.
But the most important differentiator for our mousse is probably the way we incorporated tapioca starch and flax in the formula. These two ingredients give the hair great texture, and they work so well together to create a lot of lift. The amount of volume you get is phenomenal, and the performance really lasts, so the volume will be there until you wash again. You can reactivate it with water or one more pump of mousse, but you probably won't even need to.
Ayla: This mousse is also great for hair that tends to get oily at the roots. Why is that?
BORIS: Tapioca starch, in particular, does a great job of absorbing excess oils. It extends the life of your style beyond one, two, or even three days because it helps keep hair from looking oily or greasy. This can be a major bonus for a lot of people with fine hair, since oiliness can be a big issue: fine hair sits closer to the scalp, so it's in a position to absorb more oil than it would if it were thicker.
InstaVolume Mousse can be a game changer in many ways, not only because of the oil absorption, but also because of the ease with which it works. It's probably the fastest, easiest, and most straightforward styler for getting more volume and fullness in your hair than any other product I've ever seen. Even if you air dry, you'll get a lot of fullness.
We were also really surprised by its versatility in so many different situations: it suits just about any hair type. You can air dry or heat style; it also holds curls well if you create curls with styling tools. And if you happen to be naturally curly and like using mousse to give your curls more definition, it can be used for that. It can even let you consider ditching your dry shampoo; that's a great thing since dry shampoos tend to dry out the hair over time, so a product like this mousse is better for prolonged use.
Ayla: Can you give us some styling tips for different hair types?
BORIS: Sure!
For shorter hair or straight hair, focus on applying enough product at the root to get the best results.
For curly hair, start styling when you're in the shower (wet hair is more absorbent, so that water on your hair can be your friend when you're using any hair products). Use a leave-in conditioner first, and then apply the mousse to sopping wet hair.
I always suggest using a leave-in regardless of hair type, actually. You can think of it like you do the toner or essence or mist you apply to your face before your serum or moisturizer. It's a quick step that makes a big difference.
Ayla: Is there any hair type or style that you wouldn't suggest InstaVolume Mousse for?
I think almost anyone can play with it and see how it works for them. But if you have really thick, fairly coarse hair and it feels like it's already a lion's mane, then maybe you don't need it.
** 
Want to hear more from Boris and other hair experts? Check out the Hair & Scalp section of our blog.
You May Also like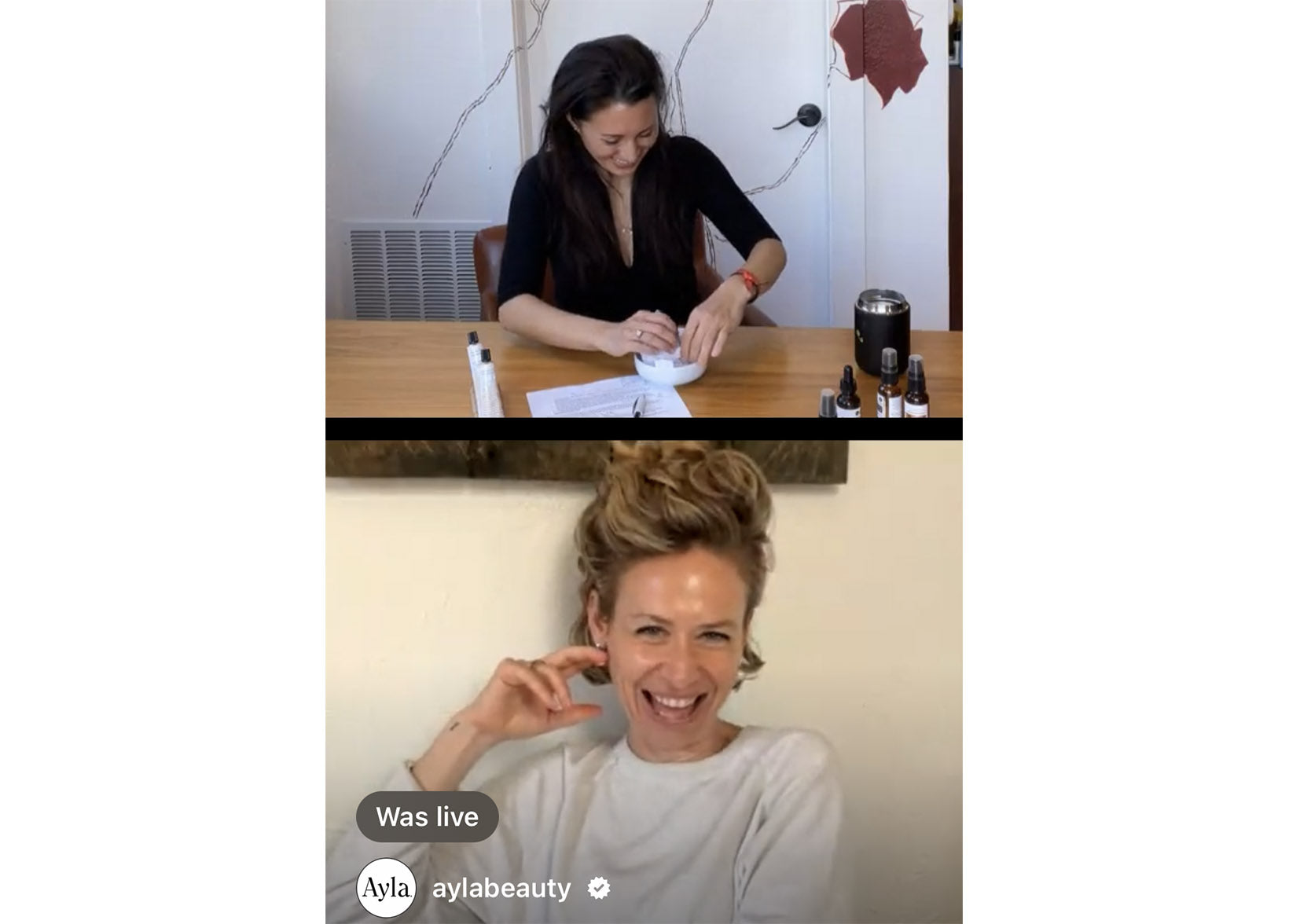 We had so much fun at our Instagram Live Q&A with Kristina Holey, the Director of Skin Health at Marie Veronique. Missed it? Watch the video here.