Bradley Crane is not just one of San Francisco's best stylists, according to such vaunted sources as Allure magazine. He's also a truly excellent teacher who understands how to break techniques down for real people dealing with real life situations: time-crunched mornings and San Francisco fog, for starters. He led the training program at one of the city's most revered salons before opening his own place, which was featured on ABC7 News for his unique ability to teach customers how to style their own hair. And, as noted in The San Francisco Chronicle, he teaches styling lessons at Ayla from time to time.
Here, Bradley shares his secrets for dealing with the unlikely but unfortunately well-acquainted duo of limp roots and frizzy ends.
*****
Ayla: We hear from lots of customers who struggle with frizzy but limp hair, which is no fun to deal with. What styling products do you suggest for this challenge?
BRADLEY:
I often recommend using two products. (I know a lot of people just want to use one styling product, but in this case, you really need two.)
1. First, you need a thickening product to provide volume at the root. The closer you are to the scalp and its natural oils, the healthier the hair…but that's also why the roots tend to become heavy.
2.  Then, you need a smoothing product for the lengths and ends. Hair tends to be dry and more frizz-prone as you get closer to the ends, away from the scalp's oils, so you need a different product there that will smooth it out.
Ayla: How would you use those products together?
BRADLEY:
The nice thing about the Evolvh products I often style with is that they're pretty simple to use and they mix together well. You can also use them whether you're blow-drying or air-drying.
On fine hair, I use SmartVolume at the root to help thicken it up, then I use Ultimate Styling Lotion through the ends. It's a great combination for a nice, smooth blowout.
On medium to thick hair, I use TotalControl at the root and either Ultimate Styling Lotion or SuperFinish Polishing Balm (for more smoothness) through the ends. If your hair is very frizzy, you can mix a kidney bean sized dab each of Ultimate Styling Lotion and SuperFinish Polishing Balm for extra frizz control.
Ayla: What if your hair tends to get limp and frizzy at the end of the day?
BRADLEY:
Don't be afraid to touch up hair throughout the day. It could be as simple as adding smoothing cream to the ends to give them a cool, "piecey" texture, or freshening your style with a light mist of hair spray. (Don't be afraid of hair spray; some of them are great.)
If you're going out and you're not going to shampoo again, one of my favorite techniques is to re-dry your hair. It helps refresh some of the shape and also gets rid of frizz, since it brings some of the oils to the ends. You don't necessarily need to add more product, but you certainly can. Adding hair spray, SmartVolume, or a salt spray at the root can be helpful. You can also use one of those products with a curling iron to add a little wave to your hair.
Ayla: Any other frizz-fighting suggestions?
BRADLEY:
Not washing hair too frequently can help in some cases. I usually suggest washing every other day or every two days. But it depends on how oily their scalp is; some people just have to wash their hair every day.
Leave-in conditioners like SmartStart and Milk from Reverie are really good this time of year, since hair tends to be dehydrated. Hair oils sometimes work for frizz, but they can be heavy on fine hair. Argan oil is good for piecey ends, and it helps keep frizz down. I really like MyHavtorn's hair oil, too. But you have to wash your hair more frequently if you use oils in your hair, so try a leave-in conditioner or a lightweight cream like Reverie Rake first.
Ayla: Final and important question. We heard your wife started making jam using the Meyer Lemons, pomegranates, and figs you grow in your backyard. It's become a hipster insider secret and we want some. Where can we find these mythical jams?
BRADLEY: (Smile.) Alameda Fruit Co.
About Bradley
Bradley Crane has been cutting hair in San Francisco since 1990. He trained at the legendary salon Architects & Heroes; later, at Cowboys & Angels, he served as a senior stylist and led the salon's highly respected training program. Most recently, he ran Suite Five Salon (and fine art gallery) for 8 years. He has been featured in the New York Times, CNN, ABC7 News, Allure Magazine ("Best blow-dry in San Francisco"), and 7x7. He creates wash and ready wear looks for both men and women, working with the natural texture of the hair, and he's a master at teaching styling techniques to real people in real-world situations (which he does from time to time at the Ayla studio!).  To book an appointment or lesson with Bradley, click here.
Any topic discussed in this article is not intended as medical advice. If you have a medical concern, please check with your doctor.
You May Also like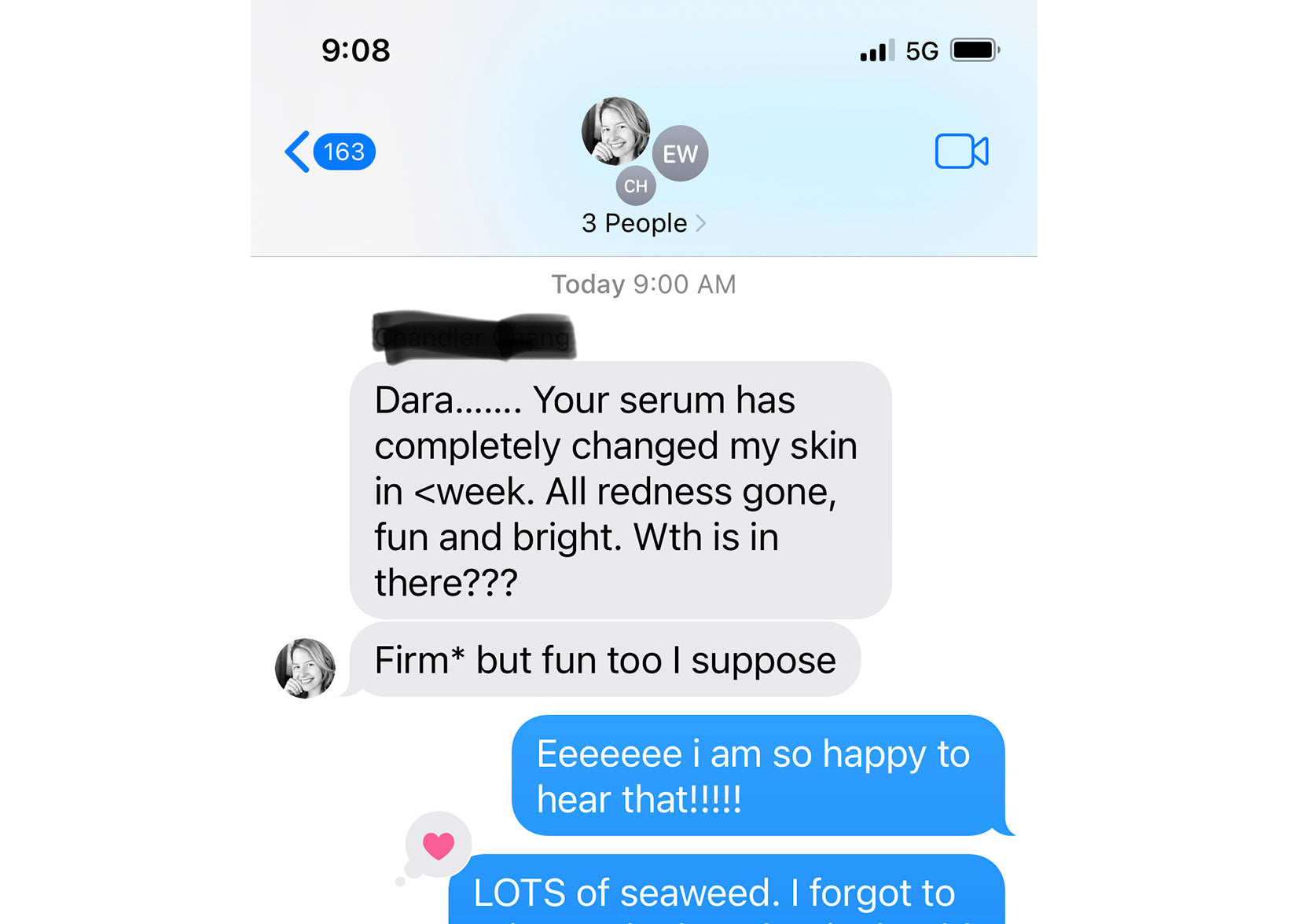 Find out what our team members noticed after 1-2 months of Sea Serum use. You'll notice that everyone's experience is a little different, which, to us, is one of the most exciting things about this unlike-any-other product.