Pedro Catalá— founder and formulator of TWELVE Beauty — is one of the most thoroughly trained founder-formulators we know; he holds a pharmacy degree, a Master's degree in Botany, and a PhD in Natural Product Formulation. As one beauty editor put it, "What Pedro doesn't know about natural product formulation isn't worth knowing." 
In this guest post, Pedro delves into blue light and skin: its effects, and the simple steps you can take to protect skin with carefully chosen antioxidants.
 ***
Right now we are spending more time at home, and therefore more time connected to our tablets, computers or laptops — even catching up with the news (fake or real) from the comfort of our couches. This translates into a major exposure to blue light.
You might have heard via beauty blogs, press, and a variety of brands about its damaging effects, and I'm afraid I must tell you that blue light does indeed have a negative impact on our skin; it is far from being just another marketing gimmick. So it is time to up our skincare game by introducing the right dose of antioxidants capable of neutralizing the damaging effects of the free radicals that the blue light creates, and to reverse and repair potential skin cell damage.
And the solution I can offer is easier than you might think. 
To provide some context: this current pandemic has forced us to cancel most events worldwide, including all the trade shows for cosmetic ingredients. (Every year I used to attend them: one in Europe and, if I had time, one in Asia. I love being up to date with what´s going on and experiment with the latest launches, since I teach Skincare Science and a big piece of the subject is innovation.)
Given this situation, all suppliers have put new launches on standby. In the meantime, they are instead highlighting existing ingredients by adding new data to their supporting research. And it turns out that several of these ingredients, "revisited," have shown beneficial effects where blue light is concerned, while other tests have also determined a positive effect on skin's microbiome. Two new big trends…effectively addressed with the same ingredients that have been around for some time.
What I am trying to say here is that you do not need anything fancy or exotic to block the blue light, because this is not about finding new ingredients. Stick to what you are using it if it works for you and includes products rich in antioxidants.
And if you are a fan of my range, I can assure you that your skin is safe — but I think it is worth reminding you how beneficial is an entire routine under "a new light." Here, I'll take you through the antioxidants you'll find in each product in the TWELVE range.
Purifying Cleansing Beauty Cream: Free radicals accelerate the oxidation of oils, including those that are part of the skin's natural barrier. By using this gentle yet effective cleanser, you are giving squalane back to the skin — one of the main components of its hydro-lipidic film. I personally have this cleanser and use it in the shower. (I always shower at night since I can´t bear the thought of getting into bed after the whole day out and about, and I also take a quick shower in the morning to wake myself up.)
Ultra Revitalising Elixir: Pure mallow extract and a mixture of supporting antioxidants combine in the perfect cocktail to soothe and protect skin from potential irritation due to blue light, which can sometimes cause redness in skin.
Ideal Moisture Level Serum: An Ayla customer favorite, this hydrating serum contains buddleja to help repair skin cell damage along with white genepi, which is even more powerful than vitamin C and without its attendant stability issues.
Ideal Rebalancing Level Serum: Packed with Epilobium herb extract and a plant based sugar, Saccharide Isomerate, this serum helps to fight back bad bacteria and stimulate the growth of good bacteria. The result is a healthy microbiome which translates in a healthy barrier, which keeps irritation at bay.
Ideal Brightening Corrective Serum: Yarrow, Primula, Lemon balm and other active ingredients in this popular serum help prevent and treat hyperpigmentation, which is one of the most evident effects of blue light.
Nutritive Repair Emulsion: I am obsessed with the polyphenols that cupuaçu butter contain. These are the real deal when it comes to hard-core antioxidant protection.
Rapid Eye Treatment: Light in texture (as an eye cream should be) but packed with a powerful combination of natural peptides and antioxidants, this formula is capable of decreasing the speed of the degradation of collagen and elastin. 
Hyaluroil Lip Treatment: Elasticity is one of the areas where blue light affects skin the most. This vitamin E infused lip oil is great for bringing stressed lips back to life.
You May Also like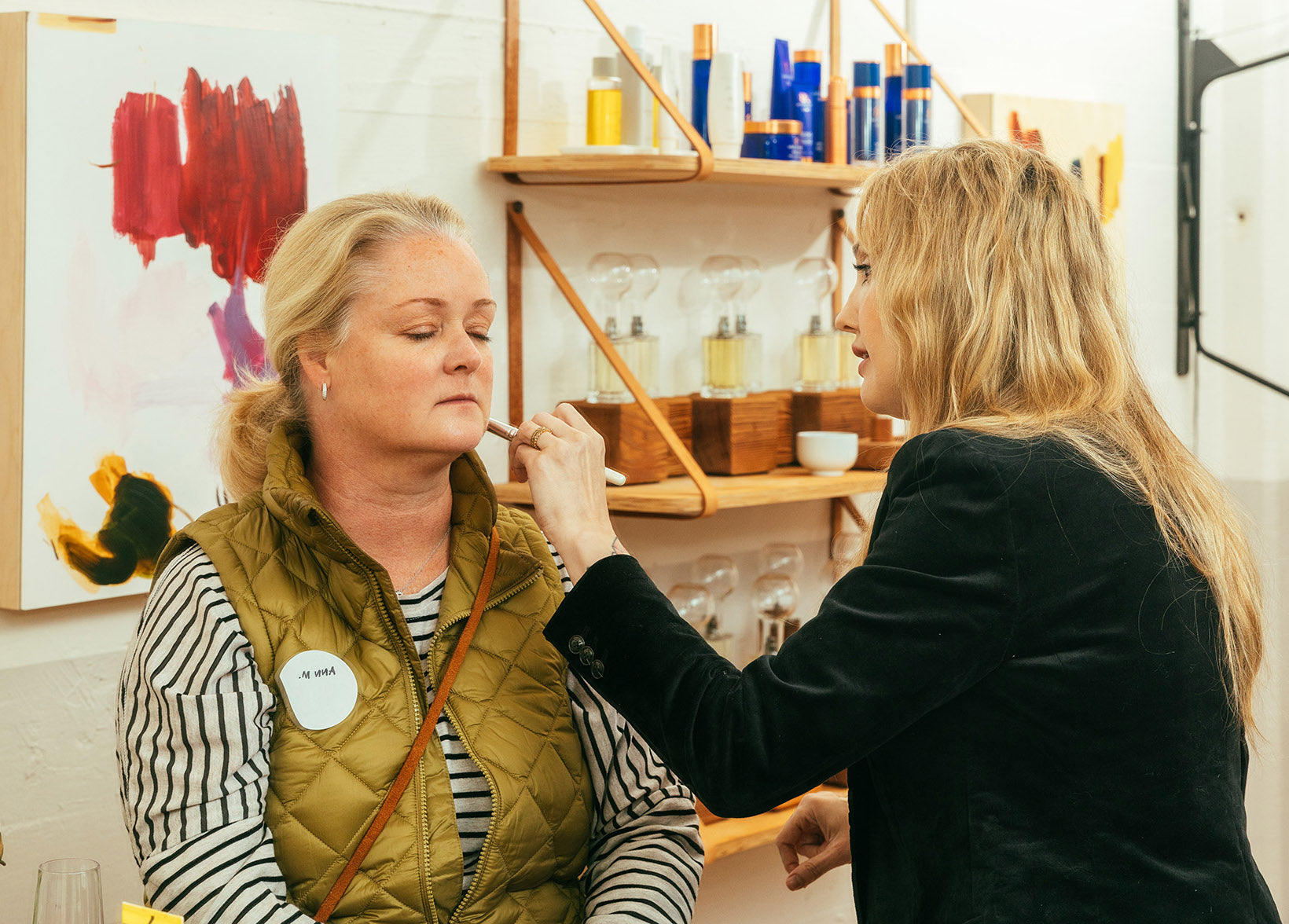 We admire makeup pro Melissa McMillan's brilliance with all things color-related, and she has a particular gift with brows. We asked her to share some of her top tips for filling them in.