Festina Lente Home is one of those happy, unexpected discoveries for us at Ayla. This beautiful line of candles was developed by Marta Mondelli, an actress and writer who worked with one of the best noses in Italy to create scents that are both comforting and modern, imbuing classic notes like rose, lemon blossom, and cloves with fresh and unexpected twists that make them unforgettable.
Marta (meet her in her video introduction here) hand-fills each beautiful container at her atelier in Milan, and you can choose from a classic glass container — an excellent way to get to know the scents — or a larger porcelain container, created by the Milanese design house Taitù. Read on for our in-depth interview about her, her candles, and how to clean these gorgeous containers so that you can fill them with whatever you wish once your candle has fully burned. (It'll happen. These scents are genuinely addictive.)
We are proud to be the first US retailer for this special brand.
***
Dara: Tell us about your life prior to starting Festina Lente Home.
MARTA: My life prior to starting Festina Lente Home was completely different! After graduating from college in Italy with a degree in Ancient History, I studied acting and worked as an actress both in Italy and in New York, where I moved in 2002. I wrote plays and a movie — I was all over the place.
Then, I met my current husband during the blackout following the superstorm Sandy in autumn of 2012. We have two children together: Tancredi, born in 2015, and Orlando, born in 2017. In 2019, we moved to Italy. Although I miss New York much, much more intensely than my New Yorker husband.
Dara: What first prompted you to create these products?
MARTA: Mainly, my appreciation for the artisan tradition of my country and for anything made by hand (after spending a career in completely different fields). Also, I was always fascinated by the sense of smell: by the way we almost need poetry to describe a scent, while at the same time it is profoundly animalistic. It connects us immediately with our emotions and our memories and it is so personal, so secret.
Dara: You opened your business in Italy just as the pandemic was starting! Tell us about that experience.
MARTA: It was surreal, like for all of us. Obviously, it has slowed my business down — but not considerably, compared to other businesses like wedding planners, for instance. I tend to be positive. I think that more and more people see their home as more than it was before. And it is my job to make home a place that can be fully enjoyed, a place that comforts us with all senses.
Dara: You work with one of the best noses in Italy to create your scents. What inspired each one?
MARTA:
- For Casa — I lived for almost 20 years abroad and, each time I would go back to my parents' home, I would instantly recognize a specific scent: it was a mix of fresh herbs with the delicate scent of their laundry detergent on the sheets hanging to dry. I tried to recreate that. It is a very fresh scent, but to me it is also warm and comforting.
- For La Signora — I am not a flower person. I prefer intense, woody perfumes. So I challenged myself to create a floral accord that could celebrate the queen of flowers, the rose. I added to it some of my favorite ingredients (amber, sandalwood, musk, patchouli) to give it a modern edge, balancing its fresh and sweet character with warm notes.
- For Il Viaggiatore — This one is called "The Traveler." I imagined a scent that could evoke the feeling of coming home after a long voyage. It is warm, spicy, and woody. It reminds me of a lit fireplace with notes that recreate the scent of mulled wine. 
Dara: We love the reusability of your containers. How do you suggest cleaning them once the candle is finished?
MARTA: I'm glad that you love their reusability. I clean them with half a cup of vinegar, one tablespoon of baking soda, and half a spoonful of dish soap. I mix all the ingredients together (the result is a nice white foam) and scrub delicately with a sponge. I rinse everything with hot water, and the result is a glass as clean as new!
Dara: Tell us about the artwork on your candles.
MARTA: The artwork on my candles is very dear to me because the logo was made by my mother. It is inspired by gold coins minted under Emperor Augustus in ancient Rome.
Augustus was the first one to appreciate the Latin motto Festina Lente (make haste slowly) and chose as symbols the crab and the butterfly to evoke the two opposite characters at play. The motto had other famous incarnations: the Medicis in Renaissance Florence preferred a turtle with a sail, while the Venetian printer Aldo Manunzio used a dolphin wrapped around an anchor.
I love ancient history, so I went for the first one. I asked my mother to interpret the motif of the crab and the butterfly in a way that recreated a crest. I am so glad that I asked her. She has always been very creative (she is retired now but she used to teach art history in high school) and I feel I am always with her. I will never get tired of the logo.
When it came the time of creating the Luxe vases, I asked the Milanese porcelain brand Taitù, famous for the vibrant colors of its creations. I collaborated with their artistic director, Silvia Cabassa. Together we decided to enlarge the black and white crab and butterfly and to create a dynamic, colorful design. Each of our perfumes has a color: Casa is light blue, La Signora is pink, Il Viaggiatore is orange. We made sure that each color appears on the vase, and the knob on the lid, shaped as a little flame, has the color of each accord.
***
Shop this beautiful collection of candles here.
You May Also like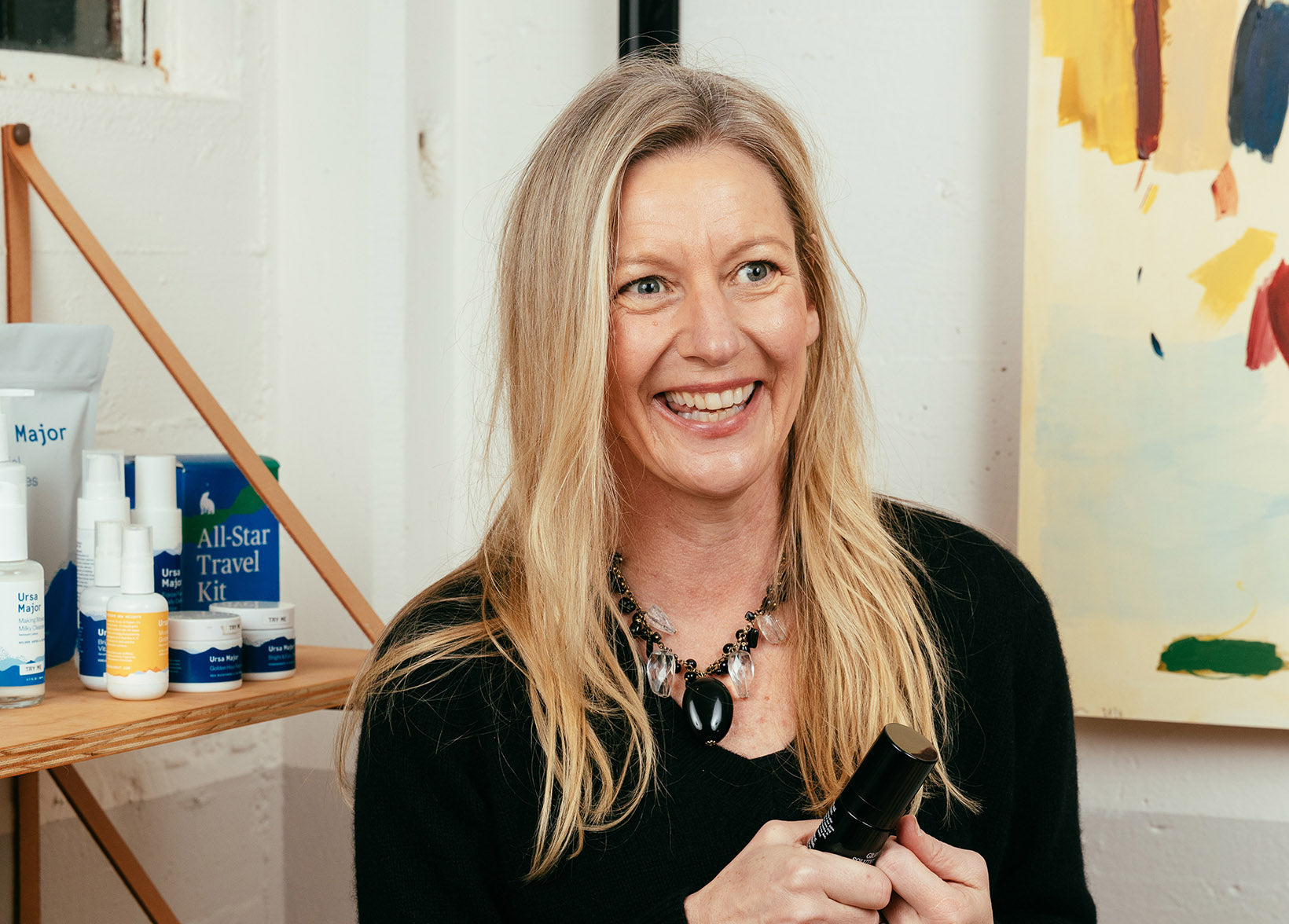 Find out what makes de Mamiel's Salvation Body Oil so special in Dara's conversation with Annee.