Luzern Labs has been one of our founder's favorite skincare brands since 2003, and it's beloved by our team and customers at Ayla. If you've tried their products before, you already know why: these clean, efficacious, small-batch, cold-processed formulas speak for themselves. Luzern has a unique story that isn't frequently told, so we asked Jen Herbert-Coste, one of its founders, to tell us just what makes these products so spectacular.
***
Ayla (Dara): I've been using your wonderful products ever since my facialist in New York, Julia March, introduced me to them in 2003. When did you start Luzern Labs? You were real clean beauty pioneers, and I still find your formulas to be among the most impressive on the market.
JEN: My brother Ralph and I started Luzern in 1999 on Prince St. in Soho. It was wonderful working with Julia March, who was right downstairs in the same building. She is an incredibly talented esthetician!
When we started the company, there were very few clean skin care products other than maybe those on health food store shelves. There were certainly none using high efficacy ingredients. Spas, retailers, and boutiques were pretty much dominated by large, corporate skincare brands and older European brands. We found we had to work very hard to get our clients to understand what truly clean formulations were (not just paraben-free or organic) and why clean beauty was so important.
Thankfully, we have reached a point where people understand the importance of clean products — much like what we put in our bodies, what we put on our skin does really matter. We have been extremely fortunate to be able to grow Luzern each year with the support of an incredibly loyal and smart group of spa professionals and clients.

Ayla: We love supporting family-run businesses, and we don't often see ones where a brother and sister work so closely together! It sounds like you were greatly influenced by your father's profession and hobbies, too. Can you tell us about your family and how that has influenced your business?
JEN: Yes, we come from a very eclectic and dynamic family, and our father was certainly a great influence. From a young age, Ralph and I traveled and lived around the world. I think this gave us the perspective of "outsiders" and kept us flexible and aware. We were taught to think outside of the box, to be creative, and always to question the status quo. These were good lessons that helped us envision and grow a company with a unique outlook. Additionally, because our father was a professor of environmental studies, an avid organic gardener, and practitioner of alternative medicine, the importance of and the need to respect the power of the natural world was central to our lives and our ideas.
These strong family beliefs gave us the confidence to know we could do things better. We felt too many skincare companies were heavy on marketing and light on substance. I will never forget when we began working with a world-renowned formulator: he insisted that our products were going to be too expensive to formulate because we wanted to use "too many high potency ingredients." He felt our insistence on the use of natural preservative systems was not necessary because people would not know the difference. We took a leap of faith and told him that we felt people would in fact know the difference… and they did.

Ayla: You source many of your ingredients in Switzerland. Why did you choose Switzerland? Are the products made there as well? 

JEN: My favorite question. Switzerland is, without a doubt, the ultimate place to source active skin care ingredients.  Because Swiss botanicals are subjected to extremely challenging Alpine conditions, such as wind and cold, they have been tested and proven to have greater activity than other active botanicals. This means better results on the skin.
When they are ready, plants are harvested with centuries-old organic methods to make sure they retain their potency. Once at the lab, they are cold-processed with Swiss water and standardized. Most people do not understand how important the standardization process really is. This process tests each batch of actives to make sure they meet a certain standard of potency. You will notice the word "standardized" on herbal supplements, but rarely on skin care; this is a shame, because there can be wide fluctuations in seasonal growing conditions, and potency can vary greatly from product to product. Standardization ensures that every product you use is as active as the last. After the Swiss ingredients are harvested and delicately processed, we bring them to the USA, where we formulate them into Luzern products. 
Ayla: Your products have a few different certifications. Can you tell us about them?
JEN: We use two main certifications:
1. Bio Suisse is a non-governmental, not-for-profit association of Swiss organic farming organizations that was founded in 1981. Today, this umbrella organization includes 31 agricultural member organizations and the research institute for organic farming. Today, some 5700 Swiss organic farms are certified to Bio Suisse standards (representing 90% of all organic and 10% of all Swiss farms).
2. ECOCERT - Founded in 1951, ECOCERT® is an independent French body for organic inspection and certification which performs quality control by ensuring that all product specifications are strictly adhered to. ECOCERT® is one of the world's most respected international certifications of organic products. Think of it as an additional guarantee from an impartial third party that what you have is a top quality, environmentally friendly, and organic.
We also pledge that our products are Toxic 12 Free. This is really more of a promise we make to our clients rather than a certification. We do not formulate with the most common irritating, skin aging and potentially harmful additives found in almost every other skin care brand on the market. We call these the "toxic 12" of beauty products. There are many others, but these we consider the most important to look out for:
Parabens
DEA/MEA
Synthetic Color
Denatured Alcohol
Propylene Glycol/PEGs
Chemical Sunscreens
Hydroquinone
Peroxide
Dioxin
Synthetic Fragrance
Phthalates
Sulfates
Triclosan
Formaldehyde Releasers


Ayla: Luzern has a remarkably loyal customer following, which I think is due to the fact that the products feel wonderful and really make a difference. Unlike many "green" beauty brands, you have a real focus on clinically proven, synthetic but non-toxic ingredients as well as natural, botanically derived ones. How do you think about striking the right balance between the two? (Because we think you do it perfectly!)
JEN: What a wonderful compliment! Thank you. We strive to make our products non-toxic and pure without feeling too "health food store natural," if that makes sense. Because we don't use oils or alcohols to preserve our products, they feel a bit different from other natural products. I would say they have a classic luxurious feel with a light and clean smell.
In terms of marrying natural and clinical ingredients, we really find this is the balance that most people want. We use so many highly effective clinical ingredients, like stem cells and peptides, that are not seen in a lot of clean and natural brands. They are safe and get incredible results. We believe we have successfully taken the best from both worlds. Truly, results without compromise!
 
Ayla: You also have an impressive celebrity following that includes the iconic Brooke Shields. Can you tell us about some of your fans?
JEN: We do have a pretty amazing celebrity client list. As much as I would love to tell you, because we are a spa brand and our spas have very intimate and trusting relationships with their clients, unfortunately I really cannot say. Sorry!
If you're as intrigued as we are, click here to shop the line — if you haven't tried these amazing products already, they really shouldn't be missed.
You May Also like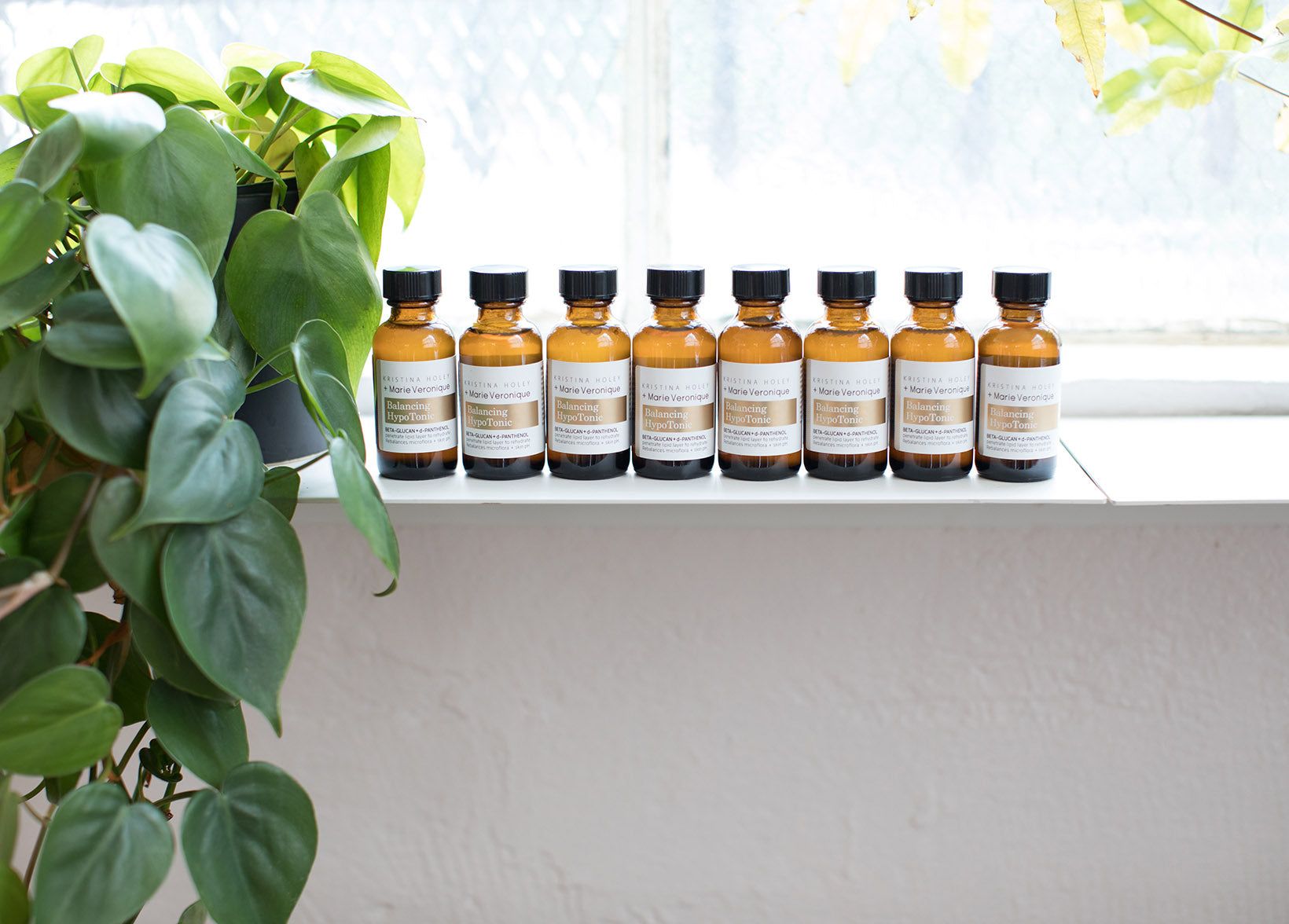 Marie Veronique discusses how we can think about our skin's needs as we travel, especially as the weather gets warmer through spring and summer — and in general.