When one of our favorite industry insiders in New York tipped us off about Paloroma, we immediately thought, "We must have these chic children's products on our shelves!" Not just because they're pretty and fun and absolutely perfect for kids — but also because many of the adults in our office fell in love with them, too.
These designed-in-Brooklyn, made-in-Vermont products boast soothing, gentle formulas with zero (or infinitesimally tiny amounts of) fragrance that appeal to delicate skin of all ages. And the packaging is cool, cute, and eminently giftable, which comes as no surprise given that this brand was created by Jane Keltner de Valle — most recently the Style Director of Architectural Digest — and her international-award-winning architect husband, Giancarlo.
Also no surprise: despite its newness, Paloroma has been featured in Vogue, Vanity Fair, and The Wall Street Journal. We're thrilled to be among its first retailers.
Read on for Dara's interview with Jane about her entrepreneurial journey, tips for eczema, thoughts on fragrance, and favorite children's brands. (You'll want to bookmark this list.)
Dara Kennedy:  You developed Paloroma after trying to find products to treat your son's eczema. Tell us more about this journey. 
JANE KELTNER DE VALLE: When my son developed eczema as a baby, I was a new mom and had no idea how common of a condition it actually is. I took him to a dermatologist and was shocked by the products they recommended. The ingredients weren't clean, they weren't something I wanted to put on my child. It opened my eyes to how out of date the industry is. With Paloroma, we wanted to create a baby and child skincare brand that was modern—clean ingredients, effective formulas, beautiful packaging that children can grow with (and parents can appreciate), something that would inspire a more personal connection.
Dara: We have a lot of readers who struggle with eczema, too. What did you find most helpful for this?
JANE: Eliminating products with fragrances was a big one. Fragrances can set off so many sensitivities and allergies. I've always been sensitive to overly perfumed products, and beyond that, I think kids should smell like kids. There are thousands of ingredients on our no list, and removing harsh chemicals from the equation went a long way. I think it's as much about what you don't use as what you do. Less is more. In terms of ingredients we find to be effective: colloidal oatmeal is very soothing, shea butter is super moisturizing, safflower seed, jojoba seed, and sea buckthorn are nutrient rich, chamomile nourishes, aloe moisturizes and creates a protective layer, rose has anti-inflammatory calming and healing properties. We try to hone in on a few key botanicals for each product.
Dara: You and your husband created Paloroma together, and given your backgrounds, it's no surprise that the packaging is gorgeous. How did you think about the colors and the design?
JANE: We worked with an amazing designer, and the first thing we did was invite her over to show her our children's bedroom. Our color palette was very much inspired by their room. We wanted something gender neutral, timeless but also modern, fresh, and happy. Giancarlo and I are both very visual, and one of our frustrations with the existing children's skincare brands on the market was that there was nothing we connected with or felt excited to have live in our home. It was important to us to create something that would express our vision and values from the inside out.
Dara: Your husband's family is in the skincare business; how has that influenced your point of view?
JANE: It's given us a real lens into the behind the scenes of the business—the supply chain, warehousing, fulfillment. All of the invisible things from the outside, but parts that are essential to running a business well. It's also opened our eyes to what's real and what's not. So much of the beauty business is based around marketing. In my early magazine days, I remember I used to equate price with quality. There can be a correlation, but the idea that just because something is expensive it's clean, safe, better is not something I buy into anymore.
Dara: Paloroma's products are all made in Vermont, a state we have a soft spot for. What did you think about as you were searching for the best partner to formulate and manufacture the products?
JANE: We love Vermont! We shopped around extensively, looking for a progressive partner who would hold themselves to the highest standards, while being patient and collaborative. We are both incredibly opinionated and hands on, but we are also outsiders to this world so we needed to be able to lean on the expertise of our partners. At the end of the day, I think approaching this as outsiders gave us a fresh vantage point even if that meant it took a while to get exactly where we wanted to be. We spent over two years working on the initial formulations. It was important to us to develop our own formulas from scratch.
Dara: Tell us about your approach to fragrance; it's unique among other children's brands, but makes so much sense to us.
JANE: I've always been sensitive to fragrance. When I worked as an editor, I was sent all these fancy products, and couldn't use the majority of them because they were so heavily perfumed. I remember when my son Roman was born, we were given some French baby care products, and I was shocked at how perfumed they were. I wouldn't even use them on myself, let alone an infant. It seemed so counterintuitive. There is nothing more delicious or beautiful than the smell of a baby. Why would you want to camouflage that? They are such delicate creatures. I only wanted the purest, gentlest, cleanest ingredients touching that skin. What I didn't realize at the time is that one of the reasons fragrance is so common in skincare products is because it masks unpleasant aromas that other ingredients can carry. Sometimes masking agents are used to neutralize those smells, which we also didn't want to do. Another eye-opening moment was learning that something listed as perfume or fragrance in an ingredient list is actually made up of tens of ingredients itself, and there is little to no transparency around what those ingredients are. It is considered proprietary information. It took us a long time and a lot of trial and error to get to a place where our formulas were pleasing without adding any perfume.
Dara: You've mentioned that you've been inspired by the entrepreneurial spirit that you've seen emerge among your female peers over the last 5-10 years. Tell us more about this: what have you noticed? What are some of the businesses they've created?
JANE: It's an exciting time. There are so many female-led businesses right now, and I feel really lucky to be surrounded by many female entrepreneurs who I call friends. La Ligne, Lingua Franca, Maisonette, Hill House Home, Vertly, Joaquina Botanica, Larroude, and Supersmalls are just a few that come to mind. Some of these launched years before we did and have been there to lend advice, others like Marina Larroude's Larroude launched around the same time as us. It's been great to have someone to talk to who is going through the same growing pains as you are. Also, a lot of these brand founders used to be editors, we were colleagues. It definitely inspired and motivated me seeing them have the courage to go in a new direction and do a 180.
Dara: You're a native New Yorker raising your own children in Brooklyn; what do you love about raising kids in the city?
JANE: You have the whole world at your fingertips! I love that they are exposed to so many different cultures, cuisines, arts, history. I love that we can walk to school, hop on the subway and be at the Met, see the Brooklyn Bridge and the skyscrapers of downtown Manhattan from our window. At the same time, there is a real sense of community where we are in Brooklyn. It feels like a village. The local restaurants know our names, our neighbors are our friends. There's an intimacy and warmth. That combined with the incredible unwavering energy of the city makes for a really magical place to call home.
Dara: What are some of your favorite under-the-radar (or known and loved) brands for kids?
JANE: Oh my gosh, I have a weakness for children's clothes. We were fortunate to inherit lots of beautiful hand-me-downs from my niece and various friends. I really like the idea of recycling and reusing childrenswear. When they are young, they grow out of things so quickly that many of the pieces are practically new by the time you're finished with them. I've packed away some of my children's most special pieces to save for the next generation, but the majority of the clothes we outgrow we pass along to friends. It's fun to see them take on a new life. In terms of new purchases, I love a brand called Oso & Me that is female-founded and based in San Francisco. The clothes are beautifully made but not precious. They can really be worn and lived in. We buy most of our basics (sweatpants etc) from Maisonette's Maison Me line, and for more special occasion pieces I love La Coqueta and Pepa & Co, both of which are based in London. I have a soft spot for Bonpoint, too. And we love Petite Plume and Lake Pajamas for matching pj sets. My daughter is obsessed with matching!
You May Also like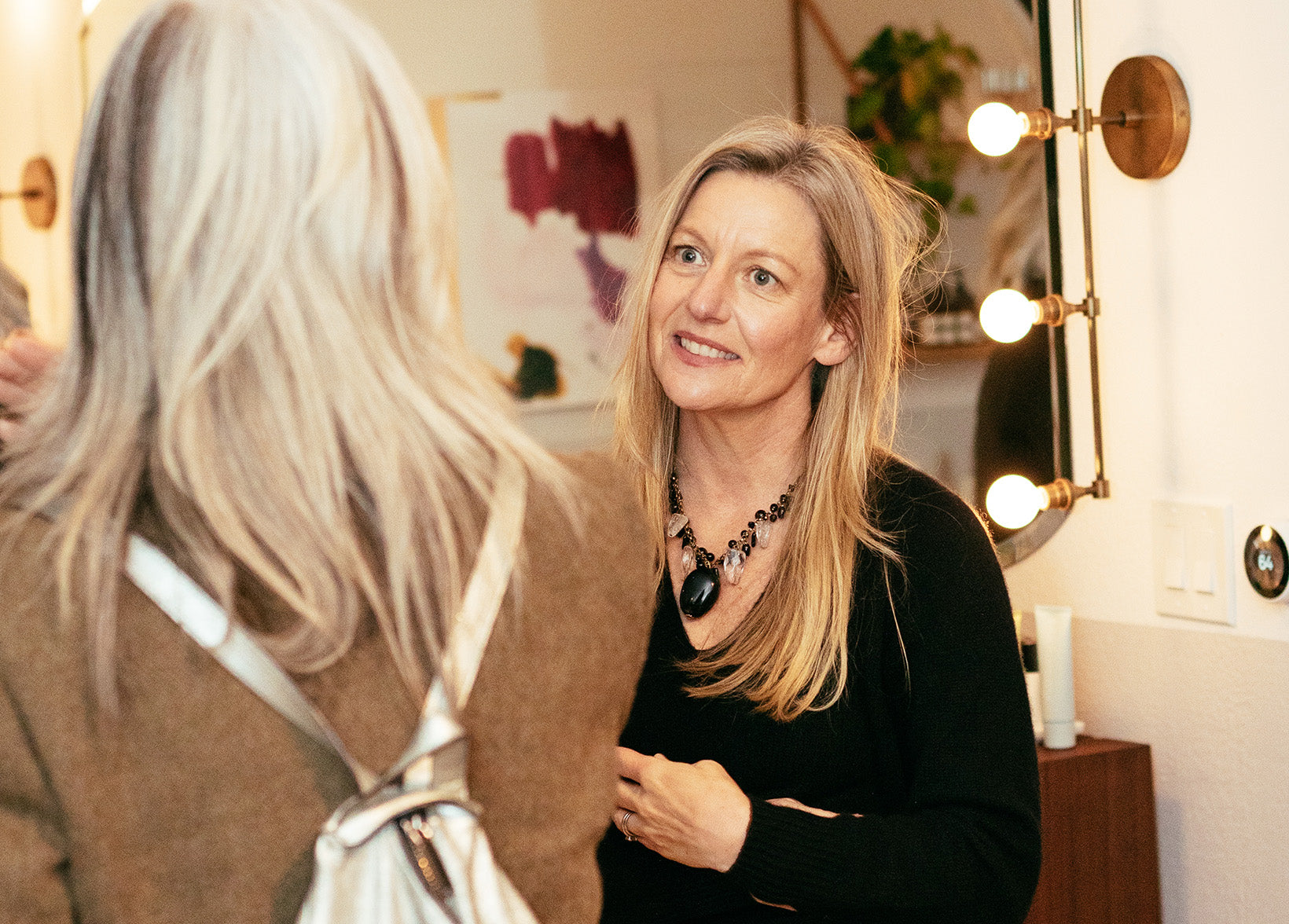 Annee de Mamiel explains how a variety of hormonally-related skin challenges are related — and how her Phyto-P Elixir works across all of them.