An interview with Pedro Catalá, PhD
The world of plant based ingredients is enormous, and we couldn't think of a better person than Dr. Pedro Catalá — with his degrees in pharmacy, botany, and natural product formulation —  to guide us through them. Below, you'll learn more about essential oils, flower waters, and other plant extracts, and how to identify them in your skincare products.
You'll also learn what makes Pedro's Mediterranean blood boil, why ingredient suppliers think his business is the size of Amazon's, and just how much made-to-order Italian floral water is in Dara's Water. (Which, by the way, continues to prompt many of you to send us notes that say wonderful things like, "Dara's Water is absolutely saving my skin." Thank you. We love it, too.)
And while this was not his original intention, Pedro also makes it quite clear why natural product formulation is, as he puts it, "a science, not an experiment."
***
Dara Kennedy: We'd love to break down the differences between a variety of plant extracts. First, can you tell us about the difference between essential oils and flower waters?
PEDRO CATALA: Essential oil refers to the aromatic compounds derived from plants, mainly through steam distillation or solvent extraction (a solvent is a liquid that helps in dissolving other molecules in order to make a solution).
Floral waters, also referred to as distillates or hydrosols, are the condensate water derived from the distillation process.
Though these are the result of a single process in the case of steam distillation (which results in the essential oil as the aromatic compounds, and the floral water as the condensate), they're very different in their chemical composition and the benefits they offer to the skin. Essential oils and floral waters even smell different because their chemical composition are poles apart.
Dara: What are some reasons why each one is typically used in a skincare formulation? 
PEDRO: Floral waters are frequently used in toners, or in cases where you want to increase the percentage of organic/natural matter by swapping the water content on the formula. For example, I use 20 % of organic made-to-order rose water in Dara's Water together with 15% of organic made-to-measure, super soothing oat water. In the case of the Ultra Revitalising Elixir, the amount of Mallow water accounts for almost 90% of the overall formula
Essential oils have many properties, but they are usually used to perfume the final product or to mask unpleasant smells from other ingredients. In skincare, you should be conservative when you use them, as their negative effects (irritation, primarily) can sometimes outweigh their benefits. For example, I use Sage essential oil (Salvia Sclarea Leaf Oil) in Intelligent Frontier Facial Oil at just 0.0021%.
Dara: You've mentioned before that it is very important to understand exactly what you're working with, because not every essential oil or floral water is the same.
PEDRO: It is very important, in all cases, to know the manufacturer well and understand how they produce their ingredients. For example:
- I always support small, family run businesses, as I tend to value the experience surrounding a product as much as the product itself. But I do make an exception when I shop for essential oils: I shop with the largest suppliers, which have the heritage and the capacity to obtain and analyze all the essential oils they produce and have the highest reputation as a result. Not all essential oils are the same, as their chemical composition can be affected by atmospheric elements. For instance, a very common one like thyme oil — rich in tuyanol — has many skin benefits, but another thyme oil grown under different conditions might be rich in another compound — called thymol — which is far for being skin-friendly. So understanding their composition via sophisticated methods of analysis is key to guaranteeing their purity.
- Sometimes floral waters or distillates are simply the waste water collected after washing the flowers, stems, and leaves before they get processed. And on rare occasions, some suppliers try to sell you plain water combined with an essential oil and a solubilizer to mix them well together (HELP!). So here, too, it's very important to know the manufacturer well and understand what they're providing to you.
Dara: How do you know which one — an essential oil or a floral water — is in the product you're using?
PEDRO: It can be tricky to spot either one on the label, since in most cases they appear with the name of the plant and the word "extract," or sometimes you just see the name of the plant. But a good indication is to read the rest of the ingredients on the label. Most essential oils contain several allergens, which manufactures are required to list if they go above a certain dose. The most common ones are Amyl cinnamal, Benzyl Alcohol, Cinnamyl alcohol, Citral, Eugenol, Linalool, Isoeugenol, Amylcinnamyl alcohol, Benzyl salicylate, Cinnamal, Coumarin, Geraniol, Hydroxyisohexyl 3-cyclohexene carboxaldehyde, Anise alcohol, Benzyl cinnamate, Farnesol, Butylphenyl methylpropional, Benzyl benzoate, Citronellol, Hexyl cinnamal, Limonene, Methyl 2-octynoate, and Alpha-isomethyl ionone.
Dara: This brings up another interesting question. In addition to essential oils and floral waters, oftentimes a product will include a plant extract that is not an essential oil or a floral water. How are those different? How do you define a plant extract?
PEDRO: There are many other ways to obtain plant material for use in skincare formulation. When I was student, it was very rare to find a pure, natural extract, as most botanical derivates where blended in glycols — which, at that time, were all synthetic. I vividly remember my Mediterranean feisty blood boiling inside my body about this. Even beautiful carrier oils such as rice bran oil or wheat germ oil were preserved with BHT. Omg, how angry was I….
Nowadays, most of the plant derived ingredients have been extracted with natural solvents such as glycerin and water. Some suppliers even offer preservative free extracts, which means the amount of glycerin is far greater than the water free content, which makes it virtually impossible for bacteria and fungi to grow.
Depending on the specific solvent used, they can be classified according to the list at the end of this interview in the "bonus" section. As a formulator, the type I use depends on which molecules I'm interested in as some are soluble in oil, others in water, and so on.
Dara: In formulating with plant extracts, is your approach different from the norm? More balanced or extreme? 
PEDRO: Negative connotations aside, I definitely sit on the extreme bunk with the use of plant extracts in general. As long as the ingredient is backed up by conclusive scientific results, I think the sky is the limit where using botanical material is concerned. I love using hefty doses of those that truly work on the skin; for example, I use saccharide isomerate at 5% in Ideal Moisture Level Serum while it is often used at 0.2-0.5%. And with unsaponifiable oils (cold pressed plant oils — not essential oils), where the typical maximum dose is 2%, the literature suggests greater benefits at 10%, so I use it at the 10% level in Intelligent Frontier Facial Oil.
In fact, some raw material suppliers contact me thinking I am a big player since I buy humongous quantities of a specific raw material from them. The disappointment comes when they realize that I only use big percentages in specific products, so in their eyes, I appear like a busy manufacturer many times my size….if only!
Dara: When shopping for skincare, how do you suggest we all think about these ingredients?
These are my three rules when I shop myself:
Trust the reputation of the brand, and ask them as many questions as you have. Transparency is the new marketing.
Try also running a quick patch test by applying the product on your forearm or get hold of a sample when possible.
Don´t fall into gimmicks; buy what you really need, and most importantly, what your skin needs.
BONUS: Plant extract classifications
Depending on the solvent used, plant extracts are typically classified as follows.
Hydroalcoholic: a mixture of water and alcohol
Alcoholic: are particularly rich in active ingredients, as alcohol, unlike water, is able to extract almost all of the phytocomplexes from the plant. Alcohol, in addition to having a superior solvent power, acts as an excellent preservative
Ethereal: When you use only ethers such as Ethoxydiglycol
Glycolic: Extracted with glycols, most of them are synthetic but nowadays they launched their natural counterparts, we can find now butylene glycol or propylene glycol.
Aqueous: simple extracts based on officinal herbs, these are the classic decoctions and herbal teas
Hydro-glycerinates: obtained by maceration in distilled water and glycerin
Hydro-glycerol-alcoholic: extracts obtained from a mixture of glycerin, alcohol and water.
Tinctures: water and alcohol based extracts using fresh plant (mother tincture) or dry (classic tincture)
Oleolites: extracts in vegetable oils
Dry plant extracts are presented as powdery preparations, but they cannot be considered powders. The latter, in fact, are obtained from a pulverization process, without any extraction with solvent.
Enfleurage: craftsmanship, used by the perfume industry to obtain essential oils and essences from flowers.
Extraction with supercritical fluids: generally, to extract specific compounds from plants where supercritical carbon dioxide is used. This fancy name refers to an intermediate stage between the gaseous and the liquid, in which the solvating and permeability capacities of the solvent are maximum.
Distillation: extremely versatile method, used for extraction and purification processes, which consists in the combination of two extraction variables: pressure and temperature.
Maceration: the plant is placed in a container together with the appropriate mixture of solvents; from this type of extraction a fluid extract is obtained, called macerated.
Infusion: the solvent, boiling water, is poured on the ground plant
Decoction: the plant, together with the solvent, is heated for a period of time.
Percolation: the solvent, by gravity or under pressure, passes through a layer, generally homogeneous, of pulverized plant.
Cold pressed: A plant based oil is typically cold-pressed from fruits, nuts, and seeds such as olive oil
***
We're big fans of Pedro and TWELVE Beauty, which has been an Ayla favorite for years. Read more about the brand here, scan our blog for more posts with Pedro (we have a lot of them!), and shop these wonderful products here. 
Any topic discussed in this article is not intended as medical advice. If you have a medical concern, please check with your doctor.
You May Also like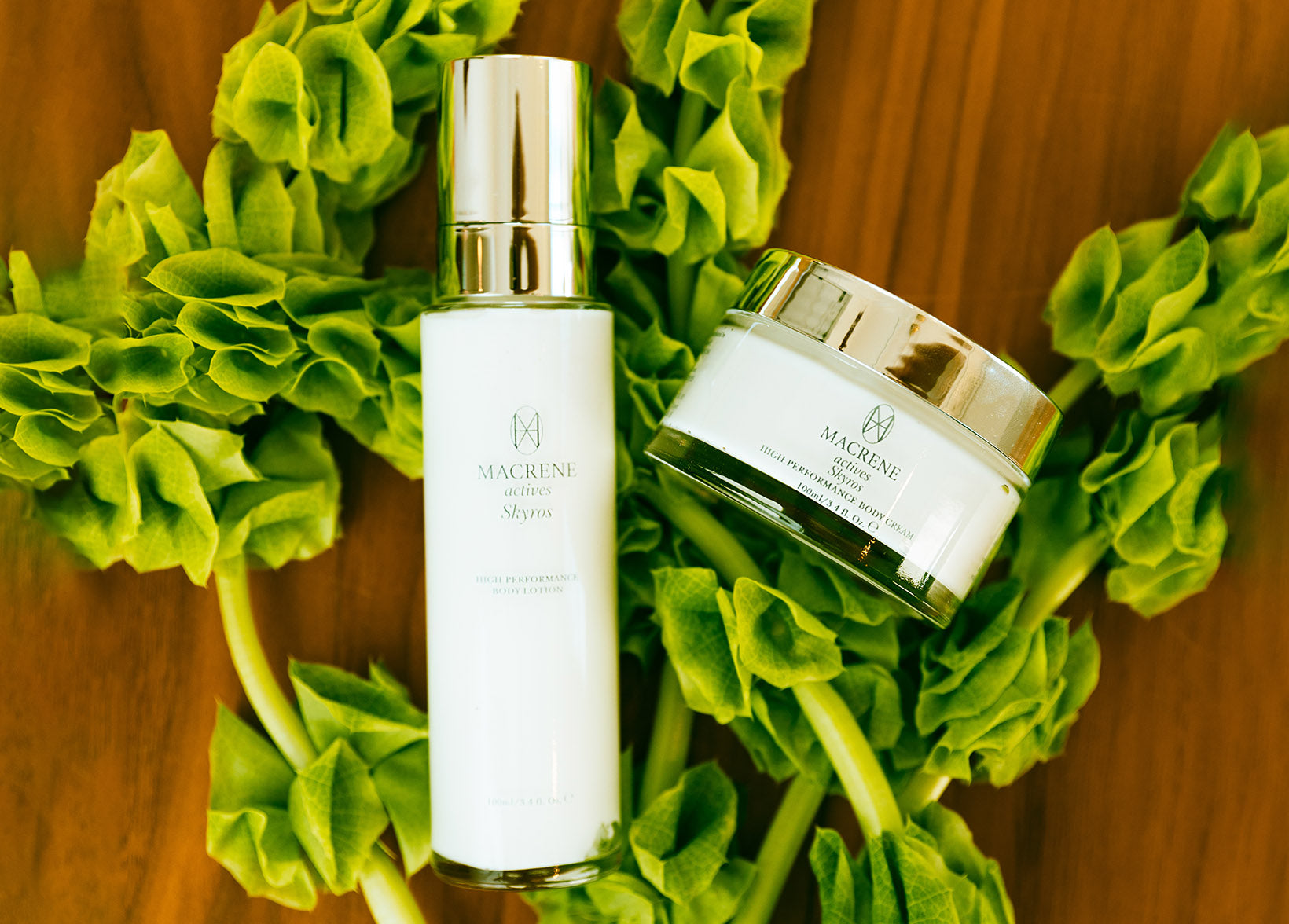 We've long loved Macrene Actives formulas on our faces, but we wished our bodies could get the same attention. Now, thanks to the Skyros collection, we can.