An interview with creator Annee de Mamiel
de Mamiel's Dewy Facial Mist had fans so devoted that several of them asked if they could buy our store testers when it was out of stock. Its newest iteration, the Multi-Active Hydramist is the most quenching mist on our shelves, with a decidedly elevated ingredient list that features next-generation hydrators, barrier protectors, and plumping peptides.
Read on to find out why Annee de Mamiel decided to upgrade the formula — and why she thinks her products are never fully put to bed.
Dara: Your original Dewy Facial Mist probably inspired the most loyalty of any mist we've seen — we had several people ask if they could buy our store testers when it was out of stock. What prompted you to revisit your mist formula and create the Multi-Active Hydramist?
ANNEE DE MAMIEL: I've literally fallen in love with all of the products I've created. But I really had a bit of a love-hate relationship with Our Dewy Facial Mist.
I loved what it did to the skin — the dewiness — so the efficacy was never a question in my mind. But I went through phases with the scent where I either loved it or hated it. Sometimes, with scent, what you resist is what you need the most, but I always found that particular one to be challenging. And it was quite polarizing for others, too: people either loved it or hated it.
What some people may not realize is that, for me, a product is never completely put to bed. I feel that there's always evolution and innovation with ingredients and the way they're produced from a sustainability perspective, so I always want to keep my finger on the pulse of that. And because I didn't always love its scent, the mist is a product that we've tinkered with over time; I think this is our third iteration of it.
It made sense to take a look at the formula now because these days, as we're faced with different stresses, I feel the skin sometimes needs a bit more. Post-COVID, our stress levels and adrenaline levels are very different. And over time, we're seeing increasing amounts of pollution and blue light. The way that we live now places additional stress on the skin; changing and elevating the ingredients we use helps us bring comfort and ease back to it.
Dara: What are some of the key ingredients in the Multi-Active Hydramist, and how do they differ from the Dewy Facial Mist?
ANNEE: There are a lot of great new things in this one:
Polyglucuronic acid helps stimulate skin's natural production of hyaluronic acid. Some people think of it as a "next generation of hyaluronic acid."
Ectoin is one of my favorite ingredients. It's so brilliant: it's a multi-functional active that helps with stressors like pollution. Ectoin is one of those funky things that's called an extremolyte — these small stress-protection molecules that protect microorganisms while they're living under extreme conditions. It's really great in helping with skin hydration and barrier repair; it's very soothing.
Rosella is an Australian native ingredient that's also in there for hydration and barrier-protecting properties. It helps with cellular osmo-regulation, which makes it brilliant for super dry skin.
Superoxide dismutase was in the Dewy Facial Mist and is still there in the Multi-Active Hydramist; it's such an amazing antioxidant. Multi-molecular hyaluronic is still there, too.
And the scent is very different. It's richer in neroli, because I just think it's really good to quell the nervous system. For things like menopause and anxiety – that heart stress – jasmine, neroli, and rose are always my go-to scents for that. Linden blossom in there as well. And there's some sandalwood to ground us, along with a little bit of chamomile. It's a bit floral, but that's balanced out with the linden blossom and frankincense, too.
Dara: How is the overall effect of the Multi-Active Hydramist different from the Dewy Facial Mist, in your view?
ANNEE: This one is even more hydrating. It's really intensely hydrating. And with its additional antioxidant and skin barrier repairing ingredients, you get a depth that the Dewy Facial Mist didn't have; it's so soothing, and it just gives the skin resilience. I find that it repairs the skin and just calms it.
I started testing it with a couple of my proper menopausal hot-flash patients and it just took off from there. I spray it on the sheets before a treatment now, too, because everyone in clinic just loves it. It's such a calming scent.
It's a proper serum and mist in one; you can multitask it and multi-use it. It quenches the skin and brings it a real sense of relief.
Dara: How do you like to use this mist on your own skin, and in clinic?
ANNEE: I just think this formula is perfection. I spray it into my hands and press it onto my skin, and this way, you only really need about half a pump of product. I'm not a big sprayer of any mist because you just waste so much of it; there are so many precious ingredients that you don't want to end up on your shirt.
For a straightforward application, you can then apply an oil on top. But I love to mix it with the Skin Recovery Concentrate: that is divine. It's another level of hydration. I might layer that on top of Fatigue Fix or First Fix instead of an oil.
And I use it in so many other ways in clinic. Quite often, I'll soak a bamboo face cloth and put that on the skin just for five minutes. If you put it in the fridge, too, it gives you a cool mist mask.
I'll sometimes do a layer of Gravity Fix, then put one of these sheets over it, plus a cool ice pack on top — one that's in the shape of the face. It's draining and nourishing and cooling as well.
You can also emulsify the Restorative Cleansing Balm with 1-2 squirts of the mist and massage that into the skin for a really beautiful, dewy, plump look.
**
Read more about Annee de Mamiel in our Brand Spotlight, learn a simple stress-relieving breathing technique from her here, and shop her beautiful range of products here.
You May Also like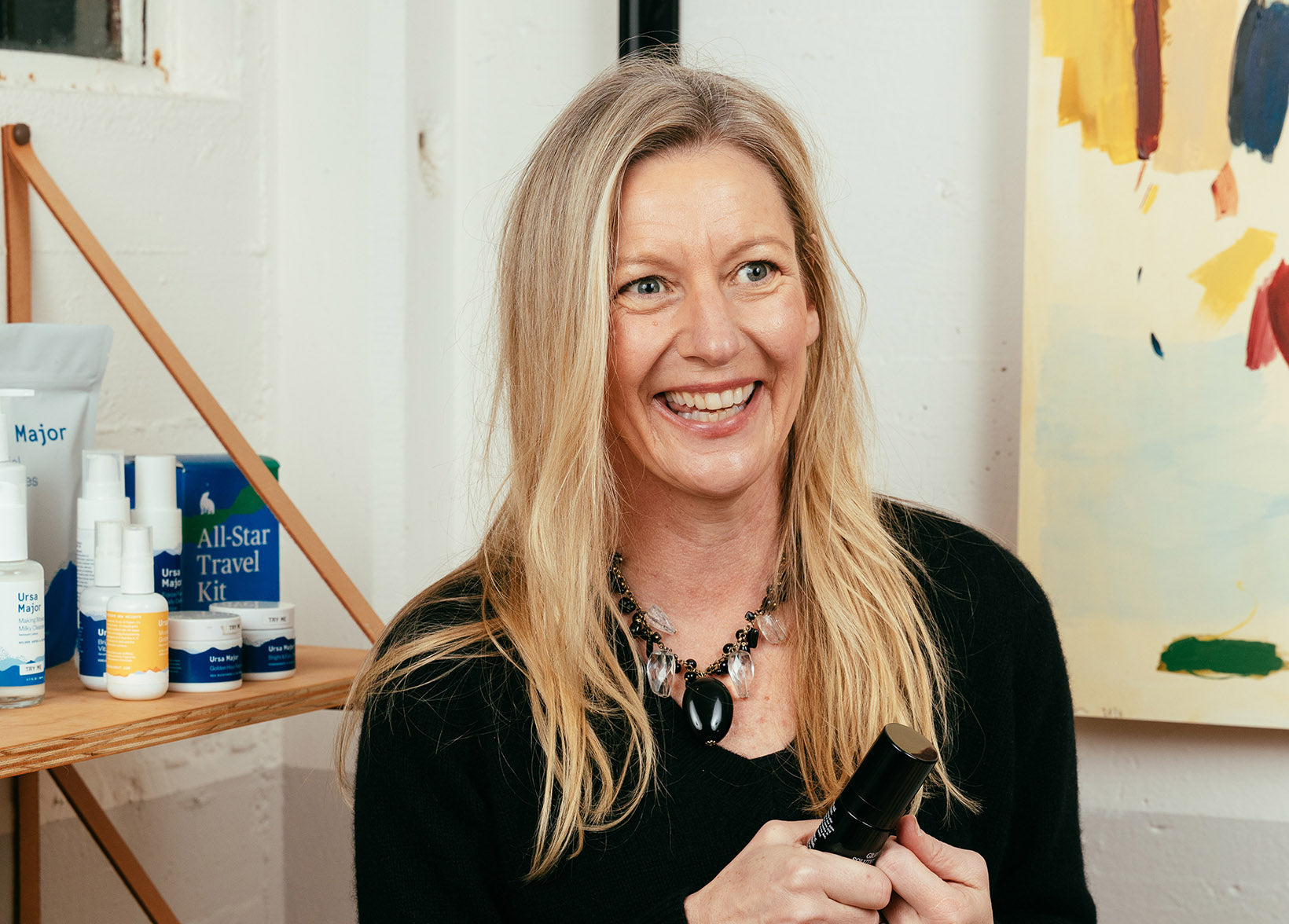 Find out what makes de Mamiel's Salvation Body Oil so special in Dara's conversation with Annee.