An interview with integrative skincare therapist & acupuncturist Annee de Mamiel
Revered skincare therapist Annee de Mamiel created her beautiful Phyto-P Elixir to address skin's needs during a variety of hormonally challenging moments — perimenopause and menopause; pregnancy and breastfeeding (it's suitable after the first trimester of pregnancy); and even during times in monthly cycles when skin can be fussier than usual. Its calming effect makes it a wonder on sensitive skin, too.
How did she make a product that could handle so many different moments in skin's life cycle? As she explains below, they're all related. She should know; as one of the world's most extraordinary skincare therapists — and an excellent listener, as shown in this candid photo taken at one of our parties — she's heard about more hormonally-challenged skin situations than most anyone, and she's used her extensive training in TCM, aromatherapy, and multiple facial modalities to address them.
Read on for the transcript of her fascinating discussion with Dara about hormonal skincare.
** 
Dara: Phyto-P Elixir looks like a unique alternative to your seasonal face oils — can you tell us what prompted you to develop it?
ANNEE:
Phyto-P started off as a facial oil for pregnancy, because a common question I get is, "Is this OK for pregnancy?" So I thought I'd make it easy by making an oil just for that time. But I found that I was using it more in clinic on people with sensitive skin: I would sometimes rebottle it for them by pouring it into a plain bottle that didn't have the word "pregnancy" on it. When I thought about it, I also began to use it more for those hormonal flare ups, especially with perimenopause and menopausal patients.
And over the years, seeing many similar imbalances across age ranges, it just kept driving home the underlying impact that stress had on these flare ups: I noticed the same patterns in people that were perimenopausal, menopausal, even pre-period and ovulation.
So the blend became Phyto-P Elixir, an oil that could sit outside the seasonal oils – one that you could use all year round, and that you didn't feel embarrassed to use because it was labeled "pregnancy" or "menopause." That label might not apply to you, but it might still be the oil you need.
Dara: Phyto-P Elixir is suitable for menopausal, pre/post-natal, and sensitive skin — a wide range of situations. What ties them all together, in your view?
ANNEE: The times when we tend to struggle most with hormonal imbalances – pregnancy, menopause, PMS – this is when we see fluctuations on a daily basis, and they are all exacerbated by stress. Stress affects cortisol, insulin, thyroid hormones, and HDH as well as our monthly cycle: when these are thrown out of balance, it results in additional chronic imbalances ranging from insomnia to fertility problems. And if you're going through menopause along with stress, everything is particularly exacerbated. Stress really underpins the severity of the flare-ups we see in the skin during that time.
TCM provides a helpful way of thinking about it because, at different times in our lives, different organs are responsible for changes in our bodies and need to be looked after. Where hormonal changes are concerned, a key part of all of this is called the shao yin axis, which works with the balance between fire (the heart) and water (the kidneys). As we age, it affects something called the jing, which is considered part of the kidneys. It is the essence of qi and the basis for body matter and functional activities. There are two types of jing, congenital jing and acquired jing, which are stored in the kidney. You can think of the inherited jing as our long-term savings account, one that we were born with and that naturally depletes over time. The jing is one of the "three treasures" in TCM along with the chi and the blood.
The chi and the blood can be thought of as our checking or daily savings account: they have to do with exercise, breath, food, and sleep. But if we haven't taken care of ourselves and the balance of our daily account, we dip more into our inherited jing. The shao yin axis helps to keep that long-term savings account healthy.
Earlier in our lives, as we move towards puberty, the kidney element and the jing are involved as well. But during this time, other organs are the priority and more dominant - usually the liver energy is what we need to watch out for. The liver is like the major in the army: it controls the blood, and if our liver energy isn't moving properly — if it gets stagnated or chi isn't flowing properly — one thing that happens is a form of heat that we call empty heat. For example, with pain, frustration, or anger, if you don't express this emotion, and you bottle it up, it once again gets stored in our body and impacts the flow of everything. It's like the heat from a compost pile: there's warmth there, and it's been bubbling away and fermenting, and draining on our kidneys in that way.
The liver is quite prominent in our thirties, too. Different symptoms we often experience – sore breasts and period pain, for example, often come down to liver chi and the flow of everything.
Pregnancy is an interesting time from a hormonal perspective; we really have to look after the jing and spleen and stomach and the earth element. It becomes a completely nurturing time: with our hormones going out of balance, we just need to pause and take care.
And it's even more important to take care during the post-natal time: that repair and rest period, where you need to replenish your body and get strong, is something that we just don't think about. In traditional times, people would stay in for a month with the baby, eating chicken soup and replenishing everything to get strong again. Quite often these days, there's societal pressure to be out and about and "losing the baby weight," but it's not what we were meant to do. 
This post-natal period is such an important time – you're dealing with so much change  — and it's really vital that the mother is mothered, either by herself or by others. Grandmothers used to move in during that time so that they could get up in the middle of the night and let the mother could go back to sleep, taking care of things so that she could get strong quickly. So much really comes back to the nurturing and nourishment of ourselves after childbirth.
As we move through life, the organs are able to be more dominant in different phases.
Later, as you go through perimenopause and menopause, it's the shao yin axis that comes into play, that balance between the heart and the kidneys. As we age, our jing and our water naturally deplete.  But if we've depleted our kidneys by living an adrenaline fueled lifestyle for too long and we're stressed all the time, not eating or sleeping properly, that's where it can become a problem; you need that water to cool the fire of the heart. When the fire begins to burn out of control, as that heat rises you might see insomnia, anxiety, and hot flashes. And on the skin, what we might see is redness and dryness: the excess fire boils our fluids, so we get dryness and dehydration.
Menopause can sometimes feel like the place where it all falls apart, so it's really important to nurture our kidneys and be mindful of our adrenaline and cortisol beforehand. Finding a way to help cope with overwhelm or just make every day easier. When we're young, we feel as though we can just keep going and going — but that's a time when, if we can get things balanced before complete menopause, it makes life in our 50s and 60s much, much easier.
Dara: Thank you for that fascinating explanation, which also feels completely logical. With the Phyto-P Elixir, can you tell us how you went about creating this specific blend of oils and extracts? What are some of the most unique ingredients or combinations of ingredients?
ANNEE: For Phyto-P, I chose essential oils that are suitable for pregnancy, and used them at a much lower concentration than you'll find in the seasonal oils.
There are some really amazing essential oils that help with calming stress and helping with skin fluctuations: clary sage and basil, for example. But they're too strong for pregnancy.
And whether you're younger and pre-period, or you're pregnant, or your perimenopausal or menopausal, you want something that smells comforting and soothing, like we are being wrapped in a cashmere blanket.
So, in the blend, you'll find benzoin, beautifully sweet which helps with those moments loneliness and sadness as well, wonderful for those moments through perimenopause.
I've also used geranium, which I think is the best skin balancing oil ever — it's really healing and regenerative. It's great for all types of skins and complexions - dry skin, sensitive skin and blemished complexions, too. It's just the best all-rounder.
And frankincense is really calming and rejuvenating and balancing, and quite revitalizing on the skin, but not too potent for those who might be sensitized to smells.
For the base oils, I was trying to cross that spectrum of calming inflammation, repairing the skin barrier, and providing a range of nourishment for the skin.
I couldn't not include sea buckthorn and the omega 7s you find in it. It's great for collagen production. It's also rich in beta carotene to help with cellular growth, and sterols to strengthen the skin barrier.
Borage is really high in omega 6 Gamma Linolenic Acid, so it's really calming and fantastic for inflammation. There are studies that show it can help with anxiety and hot flashes as well.
And then I've added rose hip as well, which is loaded with skin nourishing vitamins:  the many fatty acids in rosehip oil make it excellent for hydrating dry, itchy skin.
You'll also find some interesting ingredients in there like bacillus, which supports the microbiome and helps ensure the integrity of your epidermal barrier. It comes from this biotechnology patented by a manufacturer in France that isolated the specific bacteria that produce the C15 fatty acid, which is what really helps with that skin barrier.
And I've included bisabolol for sensitized skin. Sometimes acne goes off the charts and skin gets super sensitized, especially with women whose fire is burning too hot. Bisabolol helps get you to a point of really calming, nurturing, and balancing the skin.
Dara: Who do you typically suggest Phyto-P for?
ANNEE: It's a lovely face oil. Aside from the groups I mentioned earlier, I'd say it could be for people who don't necessarily like a particular seasonal oil, and certainly for people who have any other form of sensitivity or inflammation. It would be helpful for acneic skin and some types of rosacea patients (but I always suggest sampling it first, because you often don't know what the actual cause of the rosacea might be).
I love Phyto-P Elixir with Skin Recovery Concentrate applied on top. It really helps calm any reactivity and softens, soothes, and comforts the skin.
 ***
Learn more about Annee de Mamiel in our Brand Spotlight, and if you'd like to know when Annee is going to visit us in San Francisco next, be sure to sign up for our weekly newsletter.
You May Also like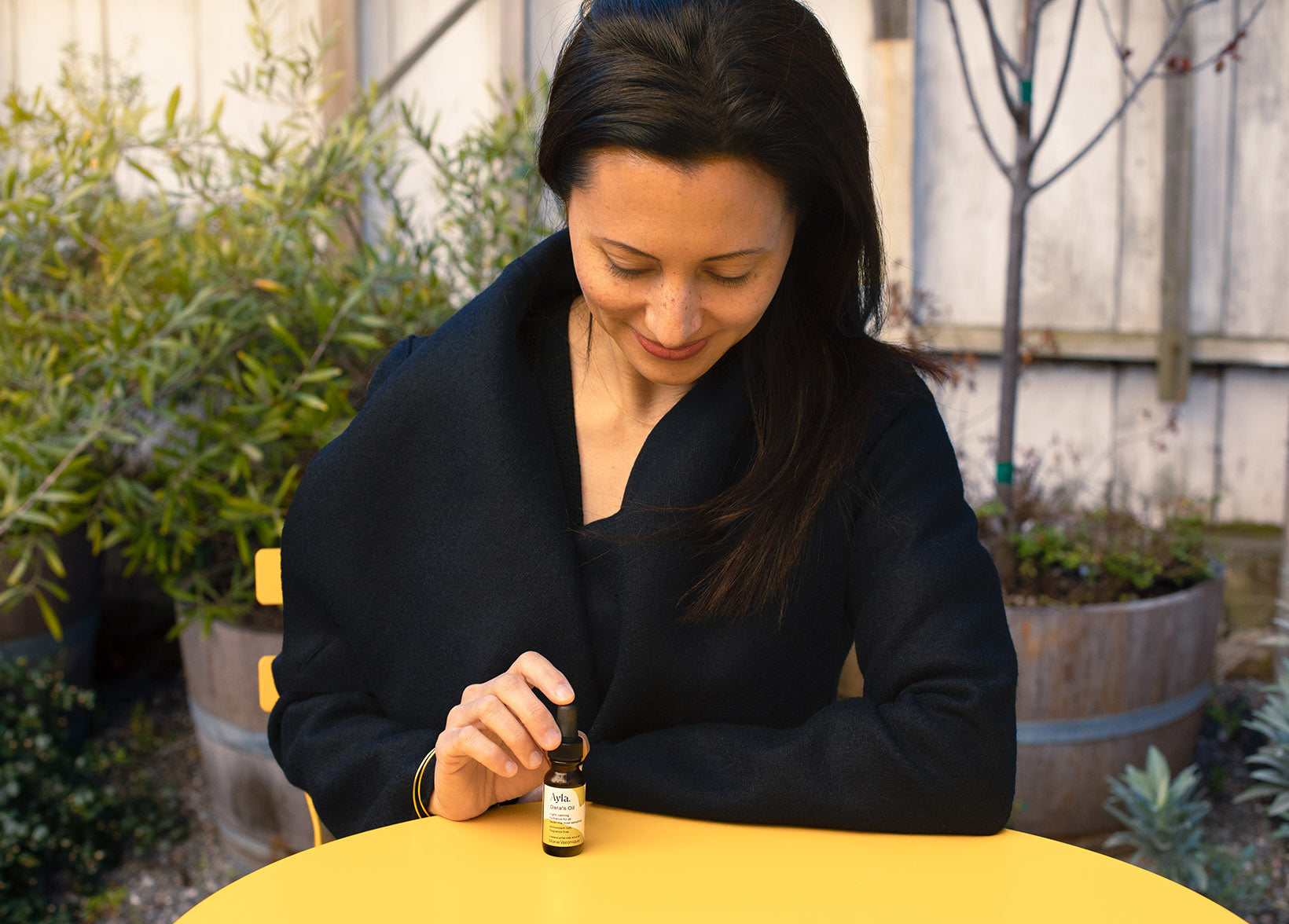 We love Dara's Oil, obviously. But have you wondered why Marie Veronique loves it? We have…so we finally asked her.