Katharine Phillips L'Heureux started Kahina after a trip to Morocco in 2007, where she learned that argan oil — rich in vitamin E, antioxidants, and essential fatty acids — has great calming, hydrating, anti-aging effects. 
We've been fans of Kahina since the brand first launched in 2008 with its organic argan oil (which we think is the very best on the market). Katharine has made multiple trips back to Morocco ever since; one of them led to her sourcing of a peerless rose water that we think is the best on earth. Kahina's Moroccan Rose Water is made from the steam-distilled petals of wild damask roses that grow at the base of the Atlas Mountains, and unlike others that are made by mixing water with rose oil, this is the straight-up real deal: 100% rose water, no preservatives.
Read on for Katharine's guest post about her favorite uses for this beautiful product — one of those incredible creations that reminds you of the power of natural ingredients. And if you'd like to continue reading more about Kahina, check out our Brand Spotlight.
*** 
Kahina Moroccan Rose Water: Your Best Friend in Lockdown
If you're like me, you are probably feeling a bit overwhelmed as the shutdown continues into its 8th (?) month. In this uncertain and anxious time, I'm taking particular comfort in the calming aromatherapy benefits of our Moroccan Rose Water. I use it liberally as a face mist and around my home.
Beyond the stress-reducing effect of its scent, Rose Water is a multi-purpose product (much appreciated these days, as I find myself reaching for products already in my home rather than making a trip to the store). Here are few of the reasons I am loving our Moroccan Rose Water right now:
- Moroccan Rose Water is an all-purpose health remedy that deserves a spot in your medicine cabinet.  I love mixing a teaspoon into my favorite tea to use as either a sore throat remedy or a digestive aid.
- Anti-inflammatory and antioxidant rich, Moroccan Rose Water is also the ultimate beauty product. I spray it on my face to:
calm skin
reduce acne and/or redness
gently hydrate skin
reduce wrinkles
soothe eczema and rosacea
  I also spritz it on my hair to soften it and decrease frizz.
 - In the bedroom, spray it on your pillow and sheets to ensure a good night's sleep.
- In the kitchen, you can lightly flavor food with the delicate flavor of rose, as in the following recipe for Moroccan Peaches or these gluten-free Pistachio Rosewater Ghriba (much like a Moroccan macaron).

MOROCCAN PEACHES (from food.com) 
Ingredients:
8 large ripe peaches
3 TBSP superfine sugar
8 tsp Rose Water
Fresh mint leaves to decorate
Directions:
Peel the peaches (dip them in boiling water for a few seconds if the skin is reluctant to come away easily); cut each one in half round the circumference, then twist the halves apart and remove the stones.
Slice the peaches into a serving bowl, sprinkle with sugar and rosewater, then cover the bowl and refrigerate for 2 hours to let the flavors develop.
Serve decorated with mint leaves.
PISTACHIO ROSEWATER GHRIBA (from marocmama.com)
Ingredients:
2 cups pistachios
1/2 cup granulated sugar
2 tsp rose water
4 egg yolks
1 tsp baking powder
4 Tbsp butter
powdered sugar for dusting
whole pistachios to top cookies
parchment paper or silpat
Directions:
Preheat your oven to 350F.
In a food processor, blend the pistachios until they are broken down to almost a powder.
In a large bowl combine pistachio flour, granulated sugar, and baking powder.
Add to the dry ingredients the rosewater and egg yolks.
Break up the butter with your hands or a pastry cutter and begin working into the dough.
Using your hands or pastry cutter mix all of the ingredients until everything has been combined, the dough will feel slightly sticky.
Form small balls with your hands, about 1" in diameter.
Line a cookie sheet with parchment paper.
Coat the balls with powdered sugar and place onto a cookie sheet or plate.
Refrigerate the cookies for 30 minutes, or place in freezer for 10 minutes.
Arrange cookies on baking sheet and gently press a pistachio into the top of each. Do not flatten the cookies, they will naturally shape.
Bake for 10 - 12 minutes. The cookies should still be a pale color.
Leave on the baking sheet for 5-10 minutes to allow the cookies to finish setting, then transfer to a cooling rack.
When the cookies are completely cool, transfer to an airtight container.
Cookies can be stored on the counter for 1-2 weeks, or in the freezer for up to 3 months. To serve, remove from the freezer and allow to warm up before serving.
Note: It is very important to refrigerate or freeze the dough before baking. If you do not, the cookies will melt and not retain their form.
You May Also like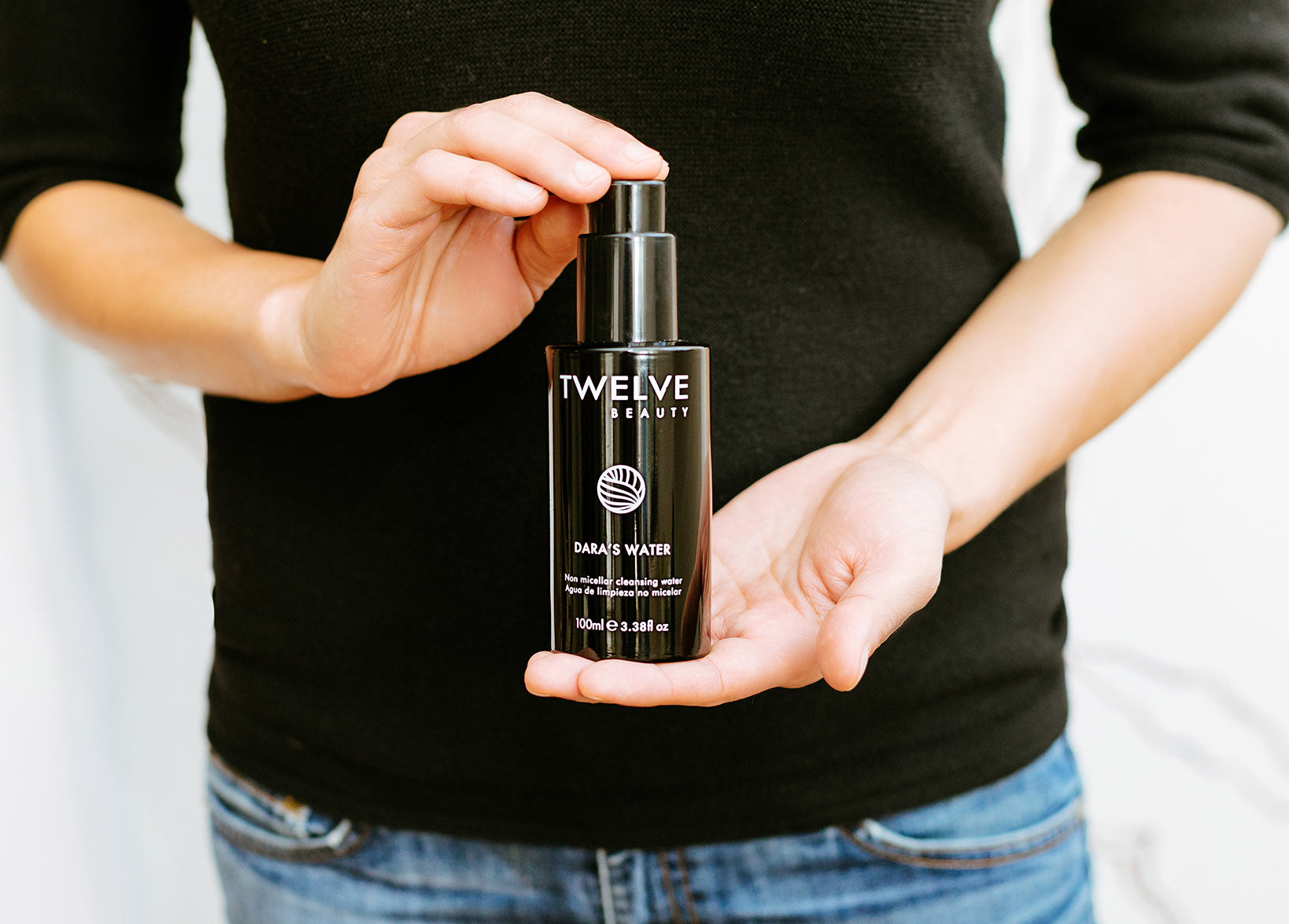 Find out which cleanser is always our first recommendation for removing sunscreen at the end of every day.