Katharine Phillips L'Heureux started Kahina after a trip to Morocco, where she learned that argan oil — rich in vitamin E, antioxidants, and essential fatty acids — has great calming, hydrating, anti-aging effects. We've been fans of Kahina since the brand first launched, when facialist Julia March first told us of their organic argan oil (which we think is the very best on the market). Kahina's story is a rich one, and we love the team behind these beautiful products, so we asked Katharine to share more of their story with you. 
***
Ayla: Tell us about your company's name. Where does it come from? 
KATHARINE: Our official company name is Giving Beauty, which represents our mission to give back while creating beautiful products.
Kahina, our brand name, is the name of a Berber queen and prophetess who reigned in North Africa in the 8th Century.  We chose the name as a tribute to the Berber women of Morocco who do the hard work to produce the argan oil at the heart of our line.  In additional homage to these women, the artwork on our packaging is a compilation of signatures and graphic marks of a few of the women of the argan cooperatives from which we source our argan oil.


Ayla: You spend a good deal of time in Morocco, visiting the cooperatives where your raw ingredients are produced. How often do you go, and what do you do while you're there?
KATHARINE: We source our oil from a small village high in the Anti-Atlas Mountains inhabited by the indigenous people of Morocco, the Berbers.  The village is mostly populated by women, as the men leave for the big cities to earn a living, returning only one month out of the year to celebrate the Eid Feast.  I visit at least once a year to strengthen my bond with these women, to check on the year's argan crop and ensure the quality of the oil, and to determine ways in which we can provide support for these women beyond providing a livelihood from the production of argan oil.  One year I purchased each of the women a sheep so that they could have wool for their weaving.  Now when I go, I purchase the rugs that they have woven.
We also donate to additional non-governmental organizations that serve rural Moroccan communities including Education for All and The High Atlas Foundation.  I often visit these programs to check on the progress they are making towards improving access to education for girls, and elevating rural populations out of poverty.
Morocco, with its beautiful architecture and design, people, food, scents, and traditions, continually inspires me. I am always searching for new ingredients, traditional remedies, and beauty rituals when I go there. And I always dedicate a few days to shopping in the souks!  
Above: Katharine and some of the women of Tazghilite, where she sources her argan oil.
Ayla: In the beauty industry in general, a lot of lip service is paid to ethical sourcing — but you've been doing it from the beginning, and at a deeper and more personal level than most. What about your work with these cooperatives is different from the typical supplier/producer relationship?
KATHARINE: Kahina begins and ends with the Berber women of Morocco.  My discovery of argan oil on a 2007 trip to Morocco led me to appreciate the work that these women do and the lives that they lead.  Our work to support them is a cornerstone of the brand, as is my desire to bring these women to life in some way for our customers.   Giving back to these women is more than simply a cause for us, it is deeply embedded in our DNA.
Ayla: International Women's Day must hold particular importance for you. What do you plan to do or keep in mind as you celebrate it this year?
KATHARINE: International Women's Day serves as a reminder of the milestones that women around the world have achieved, including strides in social, political and economic equality (though we still have a long way to go!). At Kahina, we strive to help women who don't have the benefit of full participation in society. I don't do anything special day-of, except to reflect on how fortunate I am to have had the opportunities I have  and to be grateful that I can help underserved women achieve their goals through Kahina.
AYLA: A couple of quick questions about your products —
We have always adored your original argan oil, but we also love your Beldi soap — which has only two ingredients, and is unlike anything we've ever seen. How is it made?
KATHARINE: The Beldi Soap is made from organic olive oil and essential oil (rose or eucalyptus).  The olive oil is saponified using sodium hydroxide mixed with water, which disappears during the production process.  The result is a unique, gel-like consistency that works wonders to cleanse and soften skin.
Ayla: The Body Serum in Fez scent is beautifully hydrating but absorbs quickly, which fast dressers will appreciate! Tell us how you achieved that tricky balance with your blend of oils.
KATHARINE: It is a tricky balance!  I love argan oil as a body oil, but often find it actually absorbs too easily.  So we blended it with watermelon seed oil from West Africa, olive oil, sunflower seed oil and jojoba oil to get just the right consistency to make it feel super nourishing yet absorbent.
Don't those products sound delicious? Shop the Kahina line here. Our current favorites are the unique and skin-softening Moroccan Beldi Soap, heavenly-smelling Body Serum, and perfectly hydrating and line-plumping Eye Serum...as well as the original, multitasking Argan Oil.
You May Also like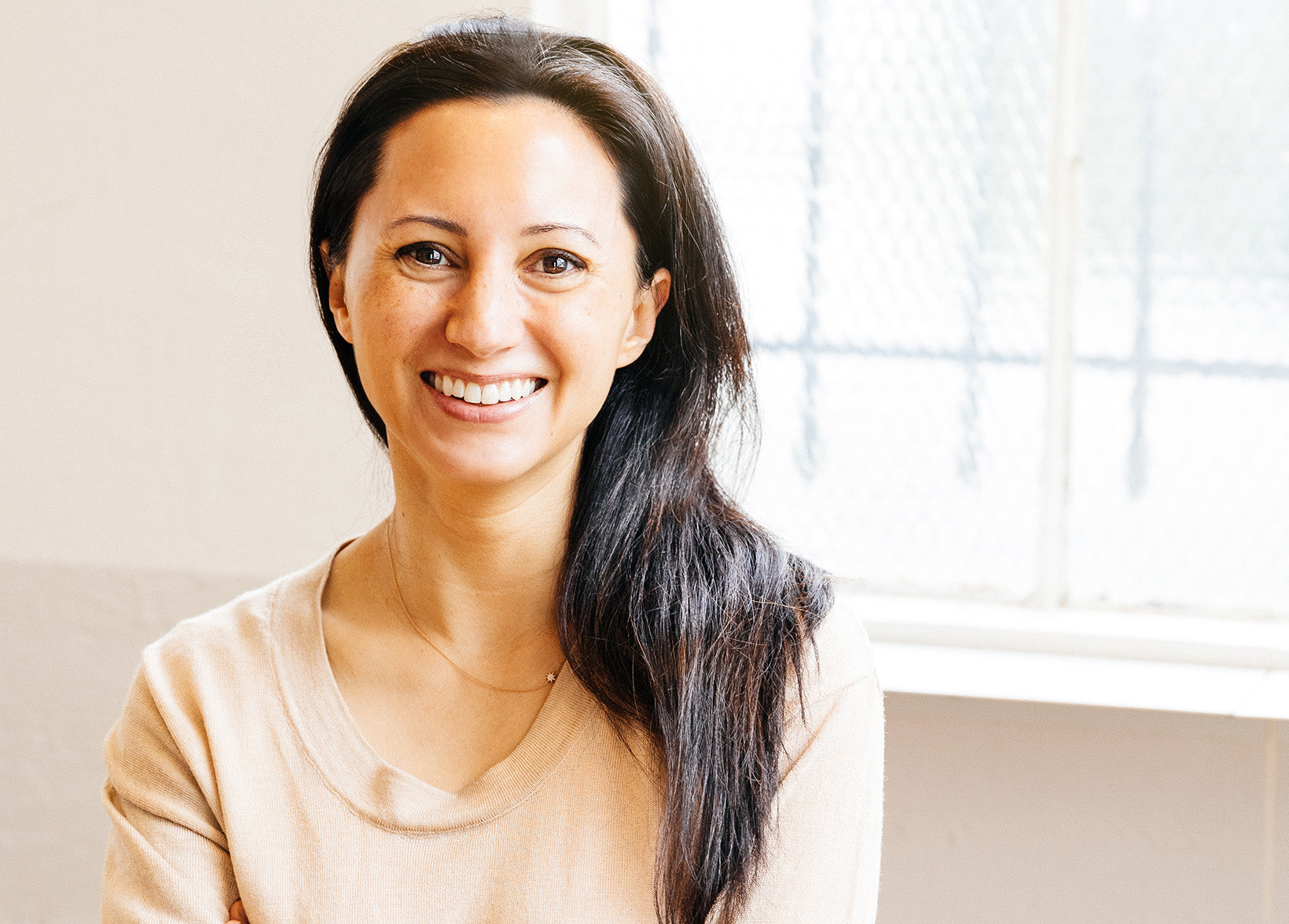 Find out why this playlist could help you take a moment to slow down, focus, and (hopefully) start 2023 off with a sense of peace, joy, and discovery.