Marie-Veronique Nadeau is something of a folk hero in the natural / non-toxic / green beauty world, and she does a fair amount of travel with her company's Chief Miracle Worker, Heather, to visit Marie Veronique devotees around the country.
Heather once confided, "We find — across the board and in every corner of the US — that everyone is over-exfoliating. Clarisonics, too many glycolic peels, micro-needling, microdermabrasion, and just plain old over-cleansing with stripping products that decimate the microbiome." A national crisis, obviously. So is there a way to exfoliate safely?
Yes, as it turns out, there is. We were delighted to interview Marie about her marvelous Probiotic+Exfoliation Mask and how we can all be thinking about exfoliation differently. Read on to learn more about Exfoliation 2.0.
***
Ayla: Tell us about your philosophy on exfoliation.
MARIE: Exfoliation used to be a given that everyone accepted with bowed heads: an old-school, simple concept that you need to stimulate cell turnover as you get older so that skin looks brighter. 
I do think it can be helpful to stimulate cell turnover as we get older and our natural turnover rate slows down; you can usually spare a few of those dead skin cells. Removing some of those cells can help other ingredients more effectively get to the stratum granulosum (the SG), where they can have a positive impact on the cells that will eventually make their way up to the stratum corneum.
But looking at exfoliation from a holistic perspective gives us a different way of going about exfoliation — which we tend to do to excess, and without thinking about its impact on microbiome balance and barrier function. Which is where the Probiotic+Exfoliation Mask comes in: in addition to lactic acid to stimulate cell turnover rate (lactic acid also stimulates glycosaminoglycans production, by the way), we have added a preprobiotic complex to make sure that the exfoliation process does not disturb the microfloral environment.  This is very important, as we've lost most of the good effects of exfoliation if we are compromising microbiome balance, hence negatively affecting barrier function.
 In short, our mask does more than exfoliate, it enlists specific microbiota that work to improve skin's health. Exfoliation 2.0.
Ayla: What is the primary exfoliating ingredient in the mask?
MARIE: Lactic acid is the only exfoliator we use. But beyond exfoliating ingredients, we use what I like to call profoliating ingredients: these are microorganisms that proliferate on the skin to improve microbial balance. Chief among them is Lactic acid bacteria, or LAB, which is gaining some recognition in the formulation world. It's a good little hard worker that's coming into its own as we learn more about the microbiota and microbiome; it has as yet undiscovered anti-aging benefits. Lactobacillis plantarum has anti-aging effects, and Streptococcus thermophilus stimulates the production of ceramides, so contributes profound moisturizing properties. (We're in new brand new territory when it comes to bacterial assistants that help delay skin aging--we've only just begun to discover how powerful they are!).
Bottom line, I believe a mask should not only leave your skin looking brighter because you've removed dead skin cells, but also protect and improve microbial balance, thus enhancing barrier function.  Your skin should feel hydrated and supple after a mask, not dried out and stretched.
Ayla: How often do you suggest using it?

MARIE: I'd start by using it for 5 minutes, once a week, in the evening. You may feel as though your skin can handle more than that at first, but take it easy; lactic acid can sneak up on you. Eventually, if your skin isn't sensitive, you may be able to leave it on for up to 15 minutes, but no longer than that.
Ayla: And what do you suggest applying to skin afterwards?
MARIE: After a mask, you want to continue with your regular nighttime routine, as you've set the stage for greater penetration of active ingredients. 
The Pre+Probiotic Mist is good after a mask (or any time, really). If you are using a retinol product, follow with that, then a barrier enhancing product, then an oil. 
If you're not using a retinol, I'd follow with a Vitamin C product, then barrier product, then an oil.  Please avoid Vitamin C powders--they irritate the skin anyway because of low pH, and Vitamin C crystallizes on the skin, so it doesn't penetrate and hence does not work.  You will have undone all the good work you've done with the mask by using a Vitamin C powder afterwards.  I don't recommend using them at any time. 
 ***
Isn't she great? You can find the Probiotic+Exfoliation Mask here and shop the entire Marie Veronique collection here.
About Marie: Marie-Veronique Nadeau founded Marie Veronique over 10 years ago and is a nationally recognized formulator and beauty expert. She collaborates with her daughter, Jay Nadeau, physicist and bio-medical engineer, to carefully choose each ingredient in her products to address the causes of aging at the source. Marie holds a BS in Math and Chemistry as well as an esthetics license from Paris Beauty College. She is a mother of two and a grandmother of one. When she is not developing cutting-edge skincare products, she can be found reading at her local library or foraging for mushrooms with her granddaughter.
You May Also like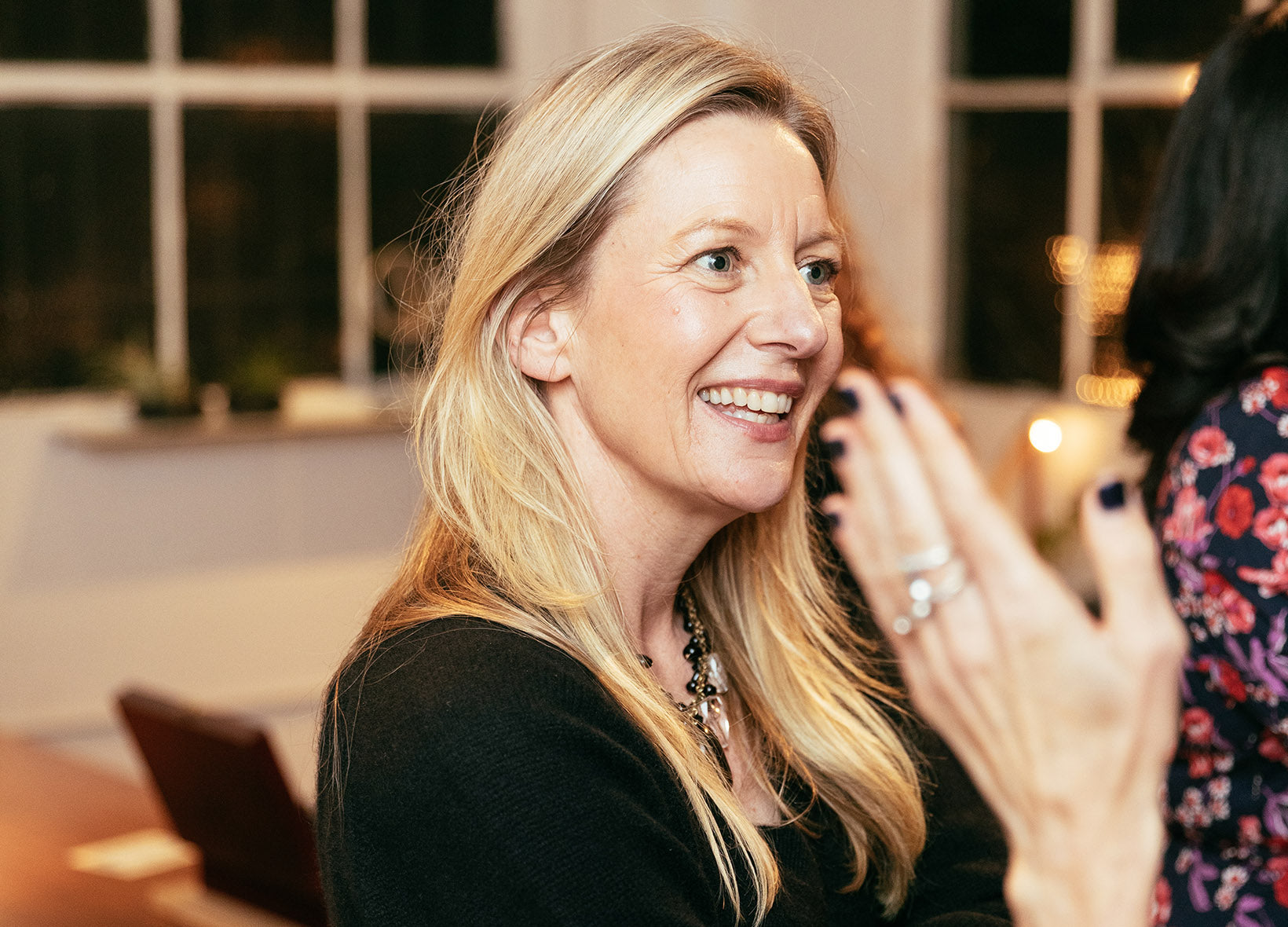 Annee de Mamiel shares a brightening face massage that's just the thing when your skin feels a little tired or you want to bring a little extra radiance to your skin.