MyHavtorn's Sea Buckthorn Soap has been a sensation at Ayla: it seems nearly impossible to keep it in stock. What we are equally excited about is its liquid version, the new MyHavtorn Liquid Hand & Body Wash — offered exclusively to Ayla as a gift for our 10th birthday and a celebration of our partnership with this beloved Swedish brand.
Read on for our interview with Robin, where he reveals why it took four years to formulate this magnificent product.
**
Ayla: We can't tell you how excited we are to have this new product on our shelves. What inspired you to make it?
ROBIN: Isn't soap one of the most basic and ancient products to work with? There is so much mystery and tradition in soap making. It was important for ancient societies, and it has become even more important in our modern society; soap, in general, is nowadays perhaps one of the most important items we have in our homes. It helps you stay clean and helps prevent the spread of bacteria and viruses, and we all use soap daily! So, for us, it's been a big deal creating and perfecting the formula behind this special product. A product with a place of such importance in your life should be great.
I love the way you asked, "What inspired us to make it?" For me, working with new product formulas is a lot about inspiration. I like to feel that all the forces around me are working together. If you're aiming to make game-changing products, then formulation is not strictly about mixing different ingredients in the right amounts (although it includes that, too, of course); there is also an art to it. And to allow that to unfold, I think you need to have the right mindset — to be open minded and freely let yourself soak in new impressions. That is when you really can create special things. 
I find there are two particular times of the year when it is the easiest to find inspiration and access this mindset. In the fall, specifically in October, when the harvest is over: at that time, the high and fresh air brings the first frost to land and soil. And in April, when spring arrives: this is a good time, too. Those are the periods when we make almost all of our new product formulas.
Ayla: You worked on the Liquid Hand & Body Wash formula for four years! Tell us about that journey and how you make this soap.
ROBIN: Even though many formulation improvements have been made in this industry over the past several years, many products are still made in a traditional way. And sometimes, tradition is good — but in this case, there is room for so much improvement. Most liquid soaps are made with cheap traditional ingredients that don't do any good for your body, your skin, or nature overall.
We want to push towards a better future for both people and planet, so for several years, we worked on a liquid soap formula to help usher in a new era in sustainable beauty, as other awesome brands are starting to do. We are really proud to join them!
Did it have to take this long to get the formula ready? Well, yes and no…we probably could have had it ready sooner, but then it wouldn't be this soap. It just wouldn't have been this good. And it is so nice to not rush some things in life — in some cases, it simply feels right to not rush a process but to allow it to get the point where it almost says itself, "Now, I'm ready." This was one of those moments when the product spoke to us and told us, "Now, I'm perfect!"
The formula for this soap is quite liquid (not as jelly-like — so make sure it stays in your hand and doesn't get washed away). The reason for that is that we noticed it cleansed better the less jelly-like it was.
Ayla: That's interesting! And how did you choose the ingredients?
ROBIN: We looked for naturally sourced and sustainable ingredients for a long time for this particular product. For a soap, you want gentle ingredients that can work effectively on dirt and impurities, but you don't want it to dry your skin (these days, since we're washing our hands a lot, this is more important than ever).
Together with other skilled formulators and our favorite suppliers, we tried and evaluated plenty of ingredients before settling on these. It took a lot of trial and error for us to feel completely satisfied. Mainly, it took time.
Ayla: How did you choose the scent? It's gorgeous.
ROBIN: In part, the scent represents who we are — our products are all made here in Bollebygd and they're all connected by scent. We wanted it to feel "MyHavtorn," but at the same time we wanted the product to stand for itself and have the right features. For this liquid soap, we wanted the scent to help you get in the right mindset: every time you wash your hands, it can give you a little help, boost you with a bit of new energy.
It may be perhaps too ambitious to say this, but we want this scent to give refreshing and energizing vibes! What keeps us humble is that scent is very personal and speaks so differently to each person.
Ayla: How do you and your family like to use this soap? What do you love about it?
ROBIN: We always been very active in different sports, which means a lot of showering! So for us, it's not only a Liquid Hand Wash for the "zink" but also a Body Wash in the gym bag and for the shower. We love that it is so mild that our whole family can use it. Both of our kids, Ellis and Vince, love it: they have very dry skin, so we are very selective in what they use. Making a soap for the whole family has been a central goal for us.
Ayla: We love thinking of those little sweethearts using the soap. Any other updates you can share from the farm?
ROBIN: At the moment, throughout Sweden, we have "ice days." That is when the whole country experiences temperatures below 0 degrees Celsius. It's quite rare nowadays, but right now we are enjoying plenty of snow, sun and minus-0 degrees. The lakes are frozen, so it's been a perfect time for hiking, skating, and skiing on the lakes. 
**
We love so many things about this soap and MyHavtorn (and who wouldn't love that positive attitude about "ice days"?). You'll find their Liquid Hand & Body Wash here and their equally popular, frenzy-inducing Sea Buckthorn Bar Soap here.
The main thing we want you to know about this beautiful Liquid Hand & Body Wash are these two things:
a) This, truly, is the liquid soap to end all liquid soaps.
b) Once you try it, you'll want to immediately buy it in multiples. You'll see. It's a revelation, and you'll be spoiled forever.
You May Also like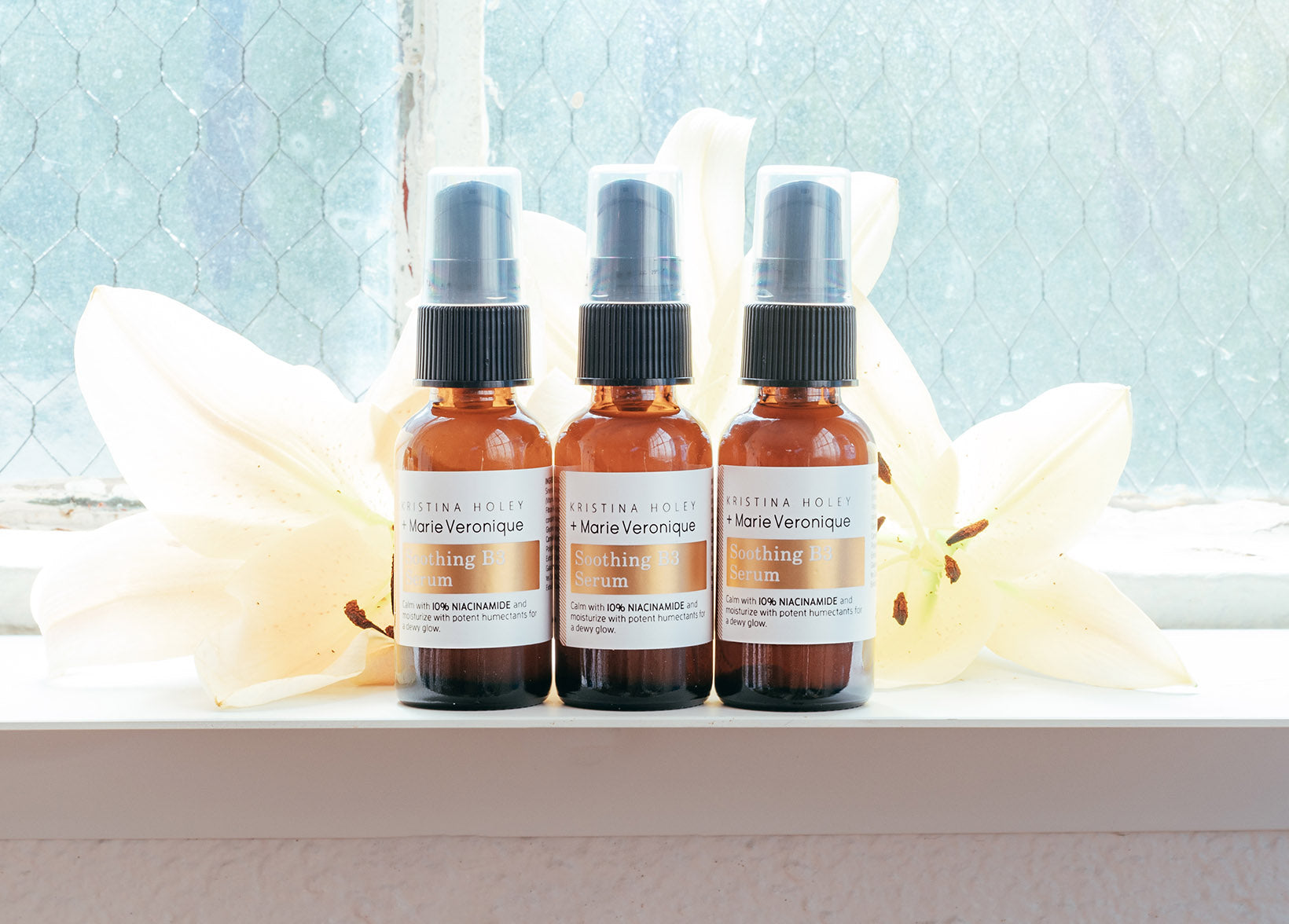 Niacinamide: long ignored, soon to become the cool kid? Marie Veronique chats with Dara about why that might be — and bashes a TikTok myth about hyaluronic acid at the same time.