Dr. Pedro Catalá, creator of TWELVE Beauty, is one of the most well-educated skincare brand founders out there — he has advanced degrees in botany, cosmetic science, and natural product formulation. But one of the things that has had the greatest impact on the development of his formulas is the fact that he started creating them while working as a pharmacist at an oncology clinic in central London. He noticed that some patients' skin was so sensitive and dry during treatment that it was painful to wear clothing — and this inspired the creation of his rich, creamy, skin-coddling Rewarding Body Balm.
It's no wonder his products are so wonderfully soothing for even the most fragile, delicate skin. And it's also no wonder he's full of excellent advice on how to care for skin during cancer treatment.
***
Ayla: What are the key things to keep in mind when caring for skin during cancer treatment?
PEDRO: Some chemotherapy drugs are not very selective. While they are designed to eliminate cancer cells, which have a high turnover and grow very quickly, sometimes skin cells get affected in the process. This tends to happen because, like cancer cells, they grow quickly, and the drugs confuse the two.
If you are going through radiation therapy, it is another scenario. Radiation therapy affects the basal cells, so there is no cell renewal. Towards the end of the therapy cycle, most patients end up with redness and, unfortunately, burns; this is quite common. The good news is that, weeks after the treatment stops, the skin recovers.


Ayla: What are some ingredients to look for to help keep skin soothed and well moisturized?
PEDRO: Here are some of my favorites.
Squalane is highly compatible with the skin composition and is part of its natural protective film. It also reduces the dreaded TEWL (Trans Epidermal Water Loss).
Mallow extract is super soothing and moisturizing. I cannot recommend the dual action of this powerful plant more highly.
Artemisia is a powerful antioxidant capable of neutralizing great amounts of free radicals. I consider it the natural answer to Vitamin C.
Cupuacu butter is great to keep the skin elastic and moisturized; it's also rich in polyphenols (antioxidants that help detox the skin's cells), oils, and natural waxes containing linoleic acid (omega 6), which is essential to regenerate the epidermis.
Spent Grain Wax is a super sustainable ingredient; it's a byproduct of the beer industry and works wonders on itchy skin.
Buddleja leaf extract repairs skin cell damage — so, in other words, it stimulates skin recovery.
High molecular weight hyaluronic acid does not penetrate the skin but instead creates a permeable film that keeps the skin elastic and moisturized.
Shea butter is a traditional remedy I love to infuse elasticity to stressed skin. Its high percentage of unsaponifiable matter comes in handy when your skin is dry.
To help with any scars after surgery:
Aloe vera juice is what ancient Romans used on their scars after fighting in their never-ending wars.
St John's Wort oil is very effective on scars. To avoid oxidation, store it in a dark container, properly sealed, in a cool place.
Basil essential oil works well on scars, but some people might be sensitive to it. So, do a patch test first, and be sure to dilute the essential oil in a plant based oil. (My favorite for dilution is sweet almond oil.)
Chamomile oil is a powerhouse ingredient that contains two magic components: Azulene and Bisabolol.
Imperatoria extract has been shown to heal small wounds.
Rosemary essential oil is a traditional and documented remedy for scars.
Licorice extract is soothing in small doses; in higher doses, it repairs scars and burns.
Centella asiatica extract is rich in saponins and widely used in scars.

Ayla: And on the flip side — what ingredients do you suggest avoiding during cancer treatment?
PEDRO: This can be a long list, but here are some of the important and also lesser-known ones.
Triethanolamine is used to regulate the pH of formulas. It is way too alkaline for the skin.
Antioxidants BHA and BHT can be irritants.
Chemical sunscreens can also irritate the skin.
Fragrances and essential oils can be particularly troublesome. Whether natural or non-natural, they are packed with allergens, so avoid them as much as you can.
Chemical peels often use ingredients such as glycolic acid, mandelic acid, hibiscus flower acids, or kojic acid. Since your skin is pretty compromised during cancer treatment, do not add this unnecessary stress while you are on treatment.
Potassium sorbate is a commonly used preservative. Despite its natural origin, it still causes irritation, especially around the eyes.
Menthol has a very tempting and super refreshing aroma, but it is not one of the most skin friendly ingredients as it can be highly irritating.
Sodium Phytate/Phytic acid is a rice derivative. It protects the formulas by neutralizing impurities. Pretty common in shower gels and shampoos.
Carbomer and sodium polyacryalate are stabilizers that are also used to form gels. They don't do any harm, but they also do not offer any benefits. Instead, a natural gel made with polysaccharides can bring extra hydration to the skin.
Ayla: What specific tips can you share about facial care during cancer treatment?
PEDRO: Cleansing is one of the most important steps in the beauty routine, so patients need to avoid soaps or cleansers that leave the skin too dry or tight. Cleansing milks are usually the best, most mild formulas. Post-cleansing, I suggest the use of a hydrating serum to boost moisture levels underneath a cream or an oil. Here are my top suggestions for daily facial care:
Purifying Cleansing Beauty Cream (a must)
Ideal Moisture Level Serum (a mega must)
Nutritive Repair Emulsion (a hyper mega must)

Ayla: How about body care?
PEDRO: I developed the Rewarding Body Balm specifically for patients at the oncology clinic I worked at in London. But if you prefer a body oil instead of a body cream/lotion, apricot oil can be a great alternative. It is packed with vitamins and minerals and also has a dry touch.

Ayla: The area around the eyes can be tricky. What do you suggest here?
PEDRO: The eye area during treatment becomes particularly sensitive, so please try any eye creams before you buy. Our Rapid Eye Treatment is super effective and fragrance free. I also tend to recommend avoiding eyelashes and most eyeshadows; you can instead favor lipstick or blush, and BB creams or tinted moisturizers, to change your look without touching your eyes. (And sunglasses are also known as instant makeup!)

Ayla: Nails are tricky, too!
PEDRO: Nails become very fragile during cancer treatment; luckily, once you finish your treatment, they'll go back to normal. While undergoing treatment, be sure to avoid nail polish with formaldehyde or fake/artificial nails.
To care for nails yourself, apply rich cream or oils on your cuticles frequently. Never push back the cuticles or cut them. And if you go to a nail center for a manicure, it's better if you bring your own tools that are already sterilized.
And massages, facials, and other treatments that can help you feel better are absolutely welcome. Just be aware of the products used by your practitioners. If you're unfamiliar with a particular product they use, you can do a small test by applying some oil or cream in your upper arm to check for an allergic reaction.
Any topic discussed in this article is not intended as medical advice. If you have a medical concern, please check with your doctor.
You May Also like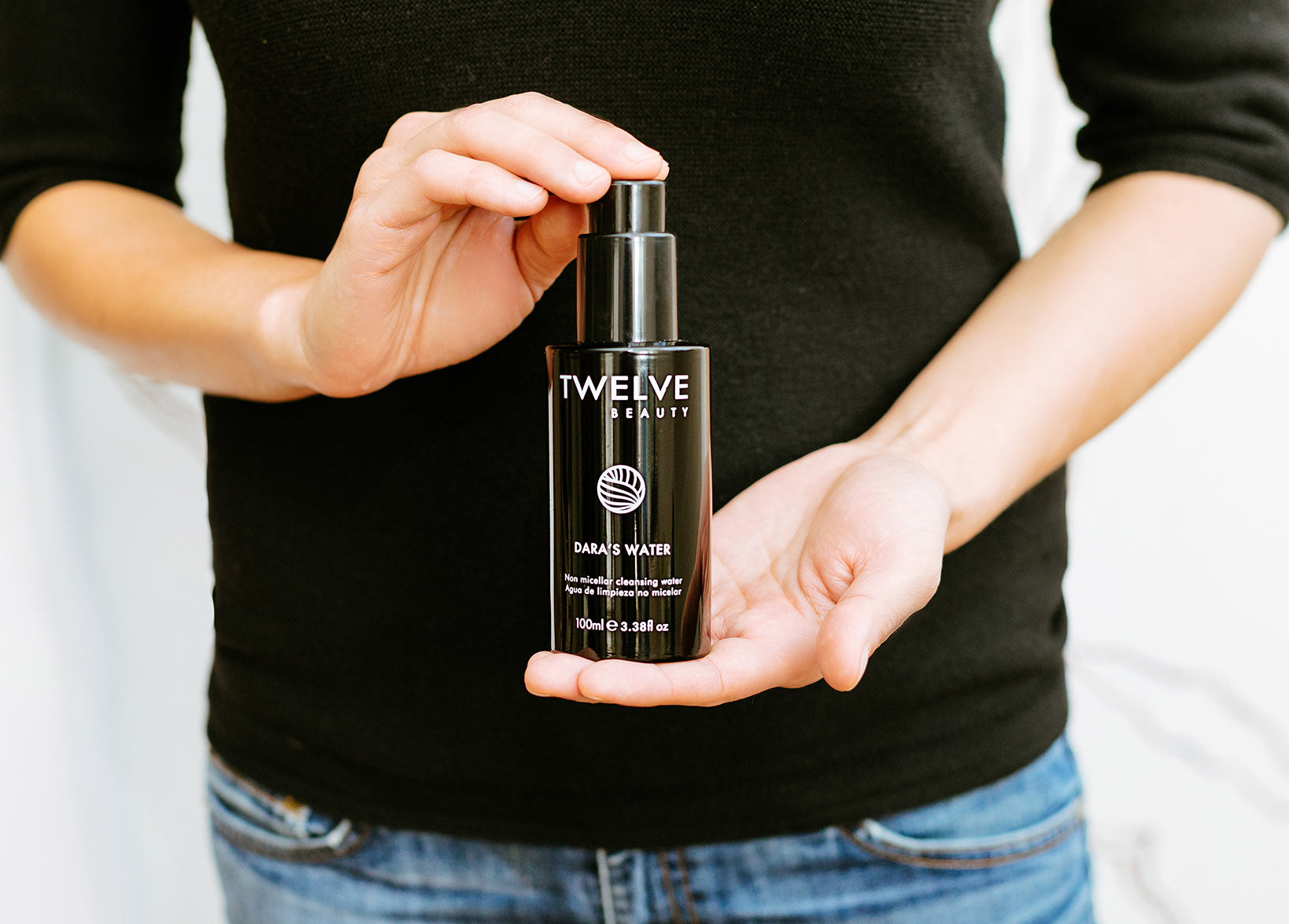 Find out which cleanser is always our first recommendation for removing sunscreen at the end of every day.