de Mamiel Essential Eye Fix is one of those introductions that make you think, "Yes! This is exactly what this product lineup needed!" The first de Mamiel product designed specifically for the eye area, Essential Eye Fix was made to address the key signs of stress around the eyes: dryness, dullness, puffiness, darkness, and fine lines. (Yes: basically, everything. Stress just seems to make everything go off the rails.) And this lightweight, fast-absorbing oil with its cooling rollerball applicator just seems to make it all go away.
Read on for creator Annee de Mamiel's interview with Dara about the secrets behind this product, including why gentle massage takes it to a whole new level.
Dara Kennedy: You have an eye product! This is exciting.
ANNEE DE MAMIEL: It's funny, because I've always said I wouldn't create an eye product just for the sake of creating one. I think you can take pretty much everything on your face up to the eyes.
But I've seen that as they've gotten older — especially as they've gone through perimenopause, menopause, and postmenopause, all of those things — it's an area that my patients have become truly concerned about. A few ingredients caught my eye that made a difference in that area, and I just began to feel it was time to look at some of them.
With Eye Fix, it's capturing the need to take time and focus on the area around the eyes, which is really important – the windows to our souls.
Dara: As one of your Fixes, this one specifically addresses the effects of stress on the eye area. What are the key signs of stress around the eyes?
ANNEE: There are layers to what we see around the eyes, which is really interesting. What we really see are the big changes around the corners of the eyes and underneath the eyes.
But there's also the effect of cortisol over the long term: the whole eye area becomes dry and a little dull. You notice a slowing down of circulation, with puffiness and darkness under the eyes. Also, some people get stress headaches or tend to squint, so there's more tension between the eyes. It's almost like you're trying to block out the rest of the world and focus on your computer or whatever is right in front of you – and it just builds up.
The actual eyes have knock-on effects, too: they get dry and you rub them. Or you don't sleep properly, and that tiredness shows in your eyes. Layer upon layer, these are just those everyday effects that build on one another, and they all have an impact on the skin where we lose density.
One particular area where we tend to lose muscle density and volume is the temporalis, that fan-shaped muscle going around the temple. Stress just brings all of that tension there. It's really important to look after that area.
Dara: How does this product go to work on them? What might people notice while using it?
ANNEE: One of the first things you'll notice is moisturization and hydration – and the simple fact that you're taking the time to apply the product. That's always important.
Also, you begin to see the puffiness in the eye area decrease, because you're moving the fluid, and there are some ingredients that help with puffiness and brightening, like green coffee, kahai, arjuna, and ascorbic acid.
You'll also see over time that it helps to plump and redensify the skin, minimizing crows' feet: ingredients like CoQ10, cornflower, tuberose, and bakuchiol help with this. You'll notice that the skin is smoother.
So overall, I think you'll mainly see brightening, firming, and plumpness. I think it makes the eyes look more rested, too. It's really great to apply it with a massage; this helps smooth and alleviate that tension.
Dara: Tell us about the massage techniques we should use!
ANNEE: I really like to do some lymphatic drainage and specific eye points around the orbital area, with lots of pumping of the skin. And don't forget the sides of the nose and the sinus area: when it's puffy and you want to increase circulation to help with the dark circles, you need to move the fluid and the toxins through there and down through the sinus area.
When you're applying Eye Fix at home, roll it back and forth under the eye a bit, although you don't want to over-apply — just do it a few times. It contains some ingredients that help with the eyelid, too, so try doing some light pumps for about 30 seconds all around the orbital area. You can feel the dips in the bone where there are specific acupressure points and do three light pumps at each one of those points. (Check out Annee's full instructional video here.)
Dara: It's unusual to use an oil around the eye area. For those who are used to either eye gels or creams, what are some things to expect with this formula in terms of how/when to apply and what the effects might be?
ANNEE: I think it's really interesting that people are sometimes frightened by stories about how delicate that area is. The beauty of oils is that we have so many different types of them. I've used oils and oil-based actives that aren't really fatty and that don't sit on the skin for a long time – they're really absorbent and light.
And the skin around the eye is delicate, but it's still skin, and it can do with oils. Especially when you're stuck in chronic, ongoing stress where you see dryness and dehydration that's always there. Having a lovely, plumping oil is just what the skin needs. If you use too much, you'll know; after you roll over the eye area with Eye Fix 2 or 3 times, that'll be enough, but it'll absorb quickly, too.
Although Eye Fix is oil based, there are a lot of actives in there that aren't oils – they've been extracted through an oil process, but they're concentrates, for example, with a different profile. That's the texture you feel: a mix of whole oils like rosehip with targeted, intense, potent actives like coffee. They've all been very specifically chosen to strengthen the skin's microbiome, strengthen the skin, moisturize, and boost circulation.
Dara: Also unusual is your choice not to use essential oils in this particular formula. Can you tell us about that decision?
ANNEE: I thought about this for a really long time, up until the very last moment that I could. I really debated in my head about it. But I always came back to this: we're using essential oils in all of the other products — layers of them. But I wanted this particular product to be used on the eyelid and upper orbit as well, and sensitivity can be an issue around the eyes; I wanted people to feel confident about using it there. I thought about including so many ingredients in the formula that I eventually opted not to, since I wanted its results to be really focused. I felt like this was the best choice.
Dara: Anything else you'd like us to know about this product or the eye area?
ANNEE: I want to emphasize that it's really important to not be scared about touching and working around the eye area. A little bit of product, if it's well thought out and well formulated, can really change your relationship with it. We always think we need to be super careful around the eyes, but it's about engaging with it, gently, with your fingers. Feeling and understanding what you hold around there, and the tensions and stress that you can feel.
The point that I mentioned in our masterclass at Ayla, Bladder 2 – "bamboo gathering" – is an example of this. It's a point that just continues to grow and gather tension. So as you're working around your eyes, just hang out there: put your thumbs there, with your elbows on your desk. It will open and brighten your eyes with such a release of tension, it's one of the best things ever. The area that includes the space in between the brows, which looks like an upside-down triangle, is the liver area in TCM. This is all about flow. When we're tense there, everything stagnates. Easing tension in that point aids movement and flow in that eye area and elsewhere.
With stress, you go into this mode of flight/fight/freeze. All of our muscles freeze and tense up. We forget that the muscles in our face, when we're constantly stressed, are just tight. Not gym-tight, but in a way that holds tension. To create volume and space, to open up for brightness, we need to ease the tension and allow flow.
**
Check out Eye Fix here. Want to learn more about de Mamiel's "fixes" and how they address stress? Check out our next interview with Annee de Mamiel on the topic here.
You May Also like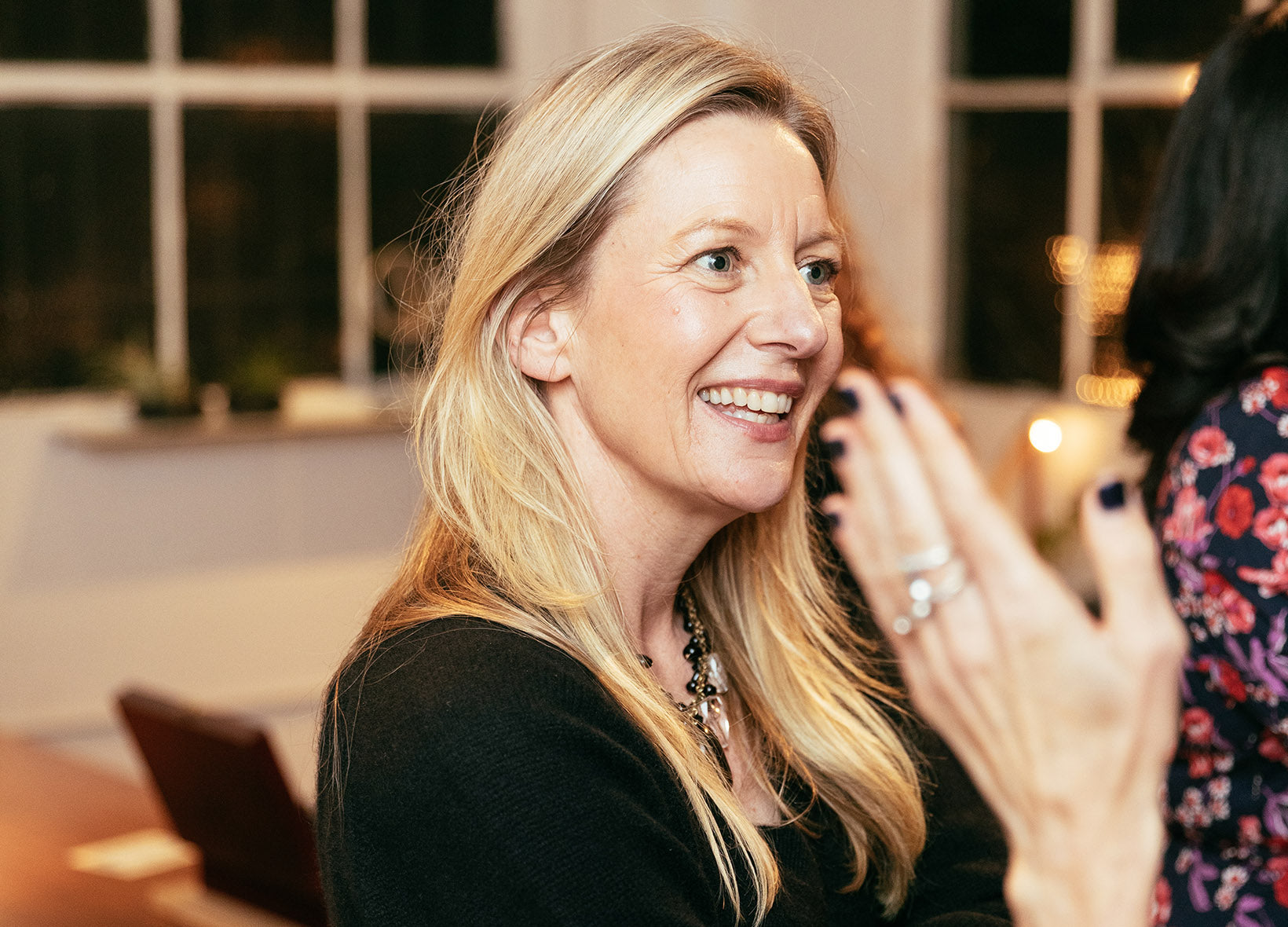 Annee de Mamiel shares a brightening face massage that's just the thing when your skin feels a little tired or you want to bring a little extra radiance to your skin.