One of the things we love most about 27 Rosiers is that their products' textures are uncommonly beautiful — and as a result, they turn skincare into a simple daily ritual that you'll genuinely look forward to. Co-founders Stephanie and Kevin developed their formulas with great attention paid to the moment when they first touch your skin, recognizing how vitally important that can be in making skincare pleasurable. And this, to us, is particularly important during these unpredictable, often challenging, "just keep it together and stop doom-scrolling" times. 
It's also one of those brands that works magic across skin types, and thanks to the products pictured here, it can now truly flex to fit skin that tends to be dry as well as it does skin that tends to be oily. Read on to learn more about Ma Crème, 27 Rosiers' new rich, buttery moisturizer that's powered by hyaluronic acid and bakuchiol: co-founder Kevin describes the story behind it and the Glow For Good supplement, also new to our shelves, that will stop dry winter skin before it even has a chance to knock on your door.
Ayla: In developing Ma Crème, you were aiming for the texture of a beautiful but wildly overpriced luxury cream (that we will not name), and the texture is indeed gorgeous. Tell us how you got there. 

KEVIN: Texture is crucially important if you want your product to achieve its full benefits.
We wanted Ma Crème to complete the 27 Rosiers range with a rich moisturizer for dry skin and/or more mature skin. Quench My Thirst is a beautiful oil-free lightweight texture that will works wonders for combination and normal skin. It is also an ideal day and summer cream that will provide a gorgeous glow without shine. For Ma Crème to deliver full benefits to skins in need of more nourishment and also to protect skins during the winter time, we decided to go with an oil-based texture that will really feed and sink into the skin, turning from a balm to a highly penetrating cream upon application, to hyper-hydrate and deeply nourish without leaving a greasy or sticky finish. 
This texture is dreamy, like a decadent whipped cream, and even normal skins will love it from time to time as a night cream to regenerate the skin.

Ayla: You include Bakuchiol and two molecular weights of HA in the formula; what is it about these ingredients that made them the right actives for this product?
KEVIN: Retinol is so good for the skin, but can hurt some. Since we want all 27 Rosiers products to work for all skin types, we decided to go with Bakuchiol — nature's alternative to retinol that won't irritate sensitive skins.
We wanted Ma Crème to work at the source, in other words to strengthen skin's barrier to support skin recovery against the elements we're all facing every day, helping you reach healthy skin and unstoppable glow. It turns out Bakuchiol is a strong barrier-building co-nutrient that will also promote collagen protection and smooth fine lines.
You know how much we love Hyaluronic Acid; we have Sodium Hyaluronate in Quench My Thirst and Here We Glow Again. For Ma Crème, we wanted to work at multiple levels in the skin to provide multi-layer hydration and strengthen the skin inside and out. That is the reason why we added two molecular weights of hyaluronic acid (HA) in the formula: some will go deeper and have a strong replenish action, some will plump on the surface.
Overall, along with our microbiome-balancing Skinternal Core Blend, Bakuchiol and HA will work in symbiosis to reinforce each others' benefits and deliver skin resilience at the source.
Ayla: Glow For Good has gotten some incredible reviews. What inspired you to create this supplement?
KEVIN: We believe combining supplements with topical skincare changes the game. There is so much happening inside, and it has an incredible impact on skin. We've all experienced dry skin, redness, and breakouts when our diet isn't at its best, or when we are stressed and nervous. So we wanted to create a product that goes back to the fundamentals of clean living.
We are all going through some many challenges in our lives, and only a strong immune system can help us thrive and succeed. Glow For Good is all about rebalancing our system and feeding the system. With ingestible HA, Glow For Good will reinforce skin's ability to get moisturized. And with a potent mix of enzymes and probiotics, it will feed the microbiome. Vitamin D will help normalize immune system function, and lycopene will protect against environmental damage.
We can see it as a booster for wellbeing and healthy skin.
Ayla: When do you recommend Glow For Good instead of Gutta Move On? (Or can they be used together?)
KEVIN: Gutta Move On will help clear the skin and help with digestion. If you are feeling bloated, or if you experience redness and breakouts, Gutta Move On is a great starter to get rid of problem-causing pollutants and toxins accumulated in the body.
Glow For Good will bring energy to the body and the skin. If you are feeling tired, sick, or if your skin lacks glow and feels dry, Glow For Good will help rebalance key functions to restore and protect inside-out vibrance.
For a complete skin health program, and for first-time users, we suggest taking 2 capsules of Gutta Move On daily for two weeks to initiate your Detox Phase. For the next two weeks, we suggest taking 2 capsules of Glow For Good daily to start your Rebuild Phase. After a month, we suggest taking 1 capsule of each daily for another month.
After that, you can keep on taking 1 cap of each daily, or you can alternate throughout the year depending on what you need most.
Ayla: You mention that Glow For Good can be used for 14 days, or for 30 days. If 14 days, would you take the same dose every day? Do you find that people tend to take one approach over the other more frequently?
KEVIN: We suggest taking two caps per day, no matter how long you are using it. If you use both supplements, we recommend one cap of each daily.
The longer you take them, the longer you will experience their benefits. Kevin has been using them both everyday for two years and his skin never looked so healthy. He used to experience break outs and itchy skin regularly and since he's been taking 27 Rosiers supplements, these problems never showed up again.
Steph alternates them and makes breaks every once in awhile when she feels and looks great and doesn't need extra support.
**
Check out the 27 Rosiers collection here. If you have dry skin, check out Here We Glow Again, too!
Any topic discussed in this article is not intended as medical advice. If you have a medical concern, please check with your doctor. 
You May Also like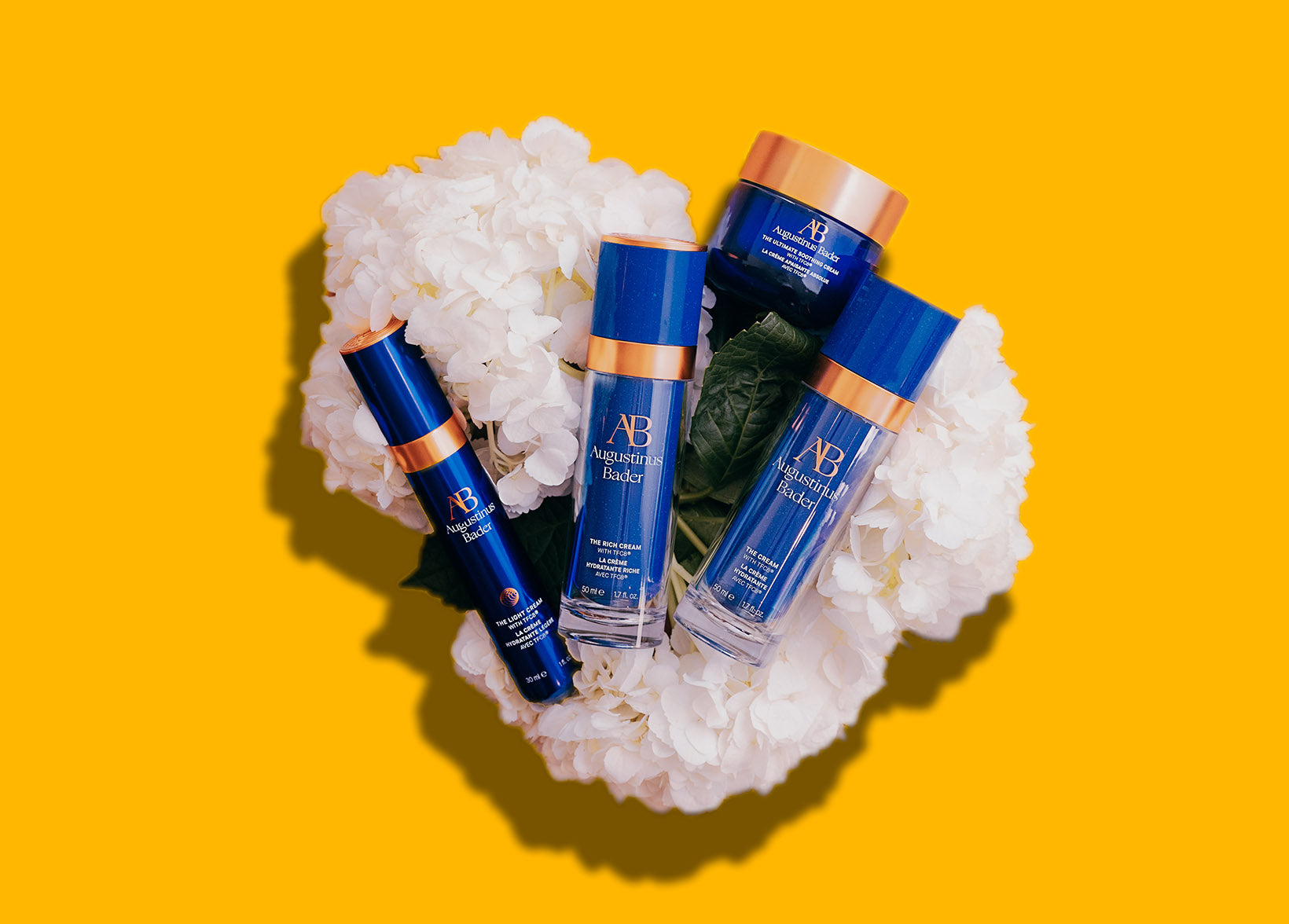 Get an in-depth look at Augustinus Bader in our interview with the team at Augustinus Bader HQ and Professor Bader.