We've known the delightful duo behind 27 Rosiers, Stephanie and Kevin, since fall 2018; Dara met with them several times both in San Francisco as well as in Paris since then. There is something especially lovely about long getting-to-know-you journeys: when we finally introduce a product or brand, it makes it especially meaningful. We adore this brand and are delighted to share it with you — it is a beautifully executed lineup that makes for an excellent introduction to healthy beauty for those who are just moving over from more traditional products.
Speaking of long getting-to-know-you journeys, Stephanie and Kevin have known each other for a decade. Read on to learn more about their story and their uniquely French-Californian philosophy.
PS We also know them well enough now to tell you that this is not really a posed photograph. Kevin really does gaze pensively into the distance on a regular basis, and Stephanie epitomizes effortless chic.
***
Ayla: You've been best friends and roommates for 10 years. What prompted you to work together?
KEVIN & STEPHANIE: There's been so many nights, so many weekends, when we were home and saying to each other that we would start a business together some day. At first, it was a nice dream, but when we started working and really dedicating our energy to a brand of our own, this dream slowly started to make sense. 
We worked in beauty since the beginning of our careers after university, developing skincare products for major luxury brands. While we worked really hard, the way we had to create the products — the ingredients, packaging, price — none of it seemed fair. People were paying for beautiful marketing campaigns and beautiful models. That's a lot of money! And the price of the product didn't match the quality of the actual ingredients. We wanted to make something clean, something fair. We decided that if we're going to work that much, we should at least do it for something that's our own, with values that we believe in.
Something interesting is that we seem to be a generation of people starting their own businesses: it feels like a movement. A lot try, but not so many succeed, and we recognized this. This is one of the reasons why it took so long — 5 or 6 years — for us to finally take the jump and launch our business. We're down to earth people. But we thought our backgrounds might be useful, and we took the time we needed to be sure that it all made sense for us, for other people, for the planet, for the world.
Ayla: Because I'm sure many people are curious: what is it like to work together? Is it as you had expected? What do you each focus on?
KEVIN & STEPHANIE: Working with your best friend is an unprecedented challenge! But it's also been the greatest of all.
First of all, having two people on such a big project is incredibly important: there's so much to do. And while we both worked in the same industry, we each specialized in different aspects. Steph really is the product expert, and Kevin is digital and sales oriented. That's a great duo.
But because we both are so passionate about what we're doing at 27 Rosiers, it sometimes happens that we have different points of view, so you have to learn how to put friendship on one side and work on the other side. Because you love the person you're working with so much, it might be hard to express a different opinion from theirs, but it's crucially important to do so in order to keep a healthy balance.
Ayla: One of the many things I love about you is the experience you bring to the table: I think this is one of the reasons why you've been able to create such beautiful products. Tell us about your backgrounds in the beauty business.
KEVIN & STEPHANIE: We come from beauty brands run by LVMH and L'Oreal– YSL, Guerlain, Givenchy, all of those big brands. We learned from some of the best companies in skincare development.
These are really demanding companies, but the people you're working with are truly passionate and so talented. Not only do they love the beauty business, they also teach you how to be incredibly efficient in product development, and we believe that learning it on the ground is great experience.
It helped us master texture. There is so much effort put into beautiful textures!
Ayla: Yes — your products' textures are absolutely gorgeous. This is an aspect of product development that is, interestingly, overlooked by many clean beauty brands. Tell us how you think about texture and its importance to a product.
KEVIN & STEPHANIE: A good texture is something you cannot compromise on. There is a moment when you're doing your skincare routine when the skin gets in contact with the product. This is a magical moment. It can trigger emotion. Sometimes people forget this.
It's important to us because we wanted to make must-have products that help people switch from conventional to clean — and a lot of it comes down to texture in the end.
Ayla: That, to us, is one of the beautiful things about a uniquely French approach to product development. But while you live in France, you decided to make your products in California. Why is that?
KEVIN & STEPHANIE: This was important to us because Europe is not that good on "clean." They're just starting to focus on this. We've known these labs in Europe for a long time because of our prior jobs, and they're not great on clean. They're also not great with startups.
California was a natural choice for us because it is home to this movement of holistic wellness and beauty, and it's where a lot of the knowledge on clean beauty lives.
This had an impact on the brand: because we launched in America, we wanted to create a brand tailored to American needs, especially since we were working with a local supply chain. This is a very pragmatic decision we made in trying to build the right structure for the right market.
But It's also important to mention that we've always loved the US and its culture. It's such a big country and we can't generalize, but what we believe is that you can actually make it there if you have an idea and work really hard. In the US, you aren't faced with the same boundaries that you find elsewhere, especially in France.
Ayla: Tell us the key thing you think we should know about each one of these products / why you love each one.
KEVIN & STEPHANIE:
27 Rosiers Fight Grime Cleanser is a best seller because it's truly the first step for healthy-looking skin. It helps get rid of pollution particles on your skin thanks to ingredients like Moringa, which is especially important these days. The thing to remember is that it's very concentrated: we reduced the amount of water in the formula because that's sort of a useless ingredient that just takes up room. This way you can travel with it. You just need to remember to use wet hands and face!
27 Rosiers Quench My Thirst Moisturizing Cream is very special because it's multi-use. It's so nice during the day, but it also can be used as a sleeping mask. It's rich enough to be applied in a thicker layer at night, which is great for dry skin — but it's very lightweight, just enough to get skin that glows but doesn't shine.
27 Rosiers Ready Selfie Go Mask is just fun! When we were creating it, we noticed that people usually either go for a purifying mask or a moisturizing mask. There wasn't anything that did both…but, we thought, why not? The formula got this perfect balance by using the combination of shea butter with two types of clay. We went through so many versions of the formula before finding that perfect balance, but it was worth it because it's wonderful for any skin type. It leaves skin brighter and well moisturized: the benefits are instant.
27 Rosiers Gutta Move On Supplement is an important piece of the line because it's working on your skin from the inside out. We really think supplements are here to change the game. It's obvious when you think about it: when things aren't good on the inside, they're not good on the outside. But also knew it could be a challenge from a sales perspective. You're usually in a beauty store looking for a cream or a cleanser, not a supplement.
Our ultimate vision in creating 27 Rosiers was to combine beauty and health inside and out because everything is connected. Not just your skin and inner organs, but everything: you're connected to your neighbor, you're connected to the tree growing next to your home. At the foundation of beauty lies this holistic idea that's about acceptance, tolerance, and living well together. Perhaps we think of this a lot because we're Frenchies trying to make it in America — but truly, we are all the same.
****
Check out the 27 Rosiers collection here. While we find these products to be particularly perfect for younger skin somewhere in the oily-combination-balanced range, they're very adaptable...and many of us on the Ayla team who are in our 40s and 50s particularly adore the cleanser as Step 2 in a double-cleansing routine or as a quick and efficient single cleansing step. 
You May Also like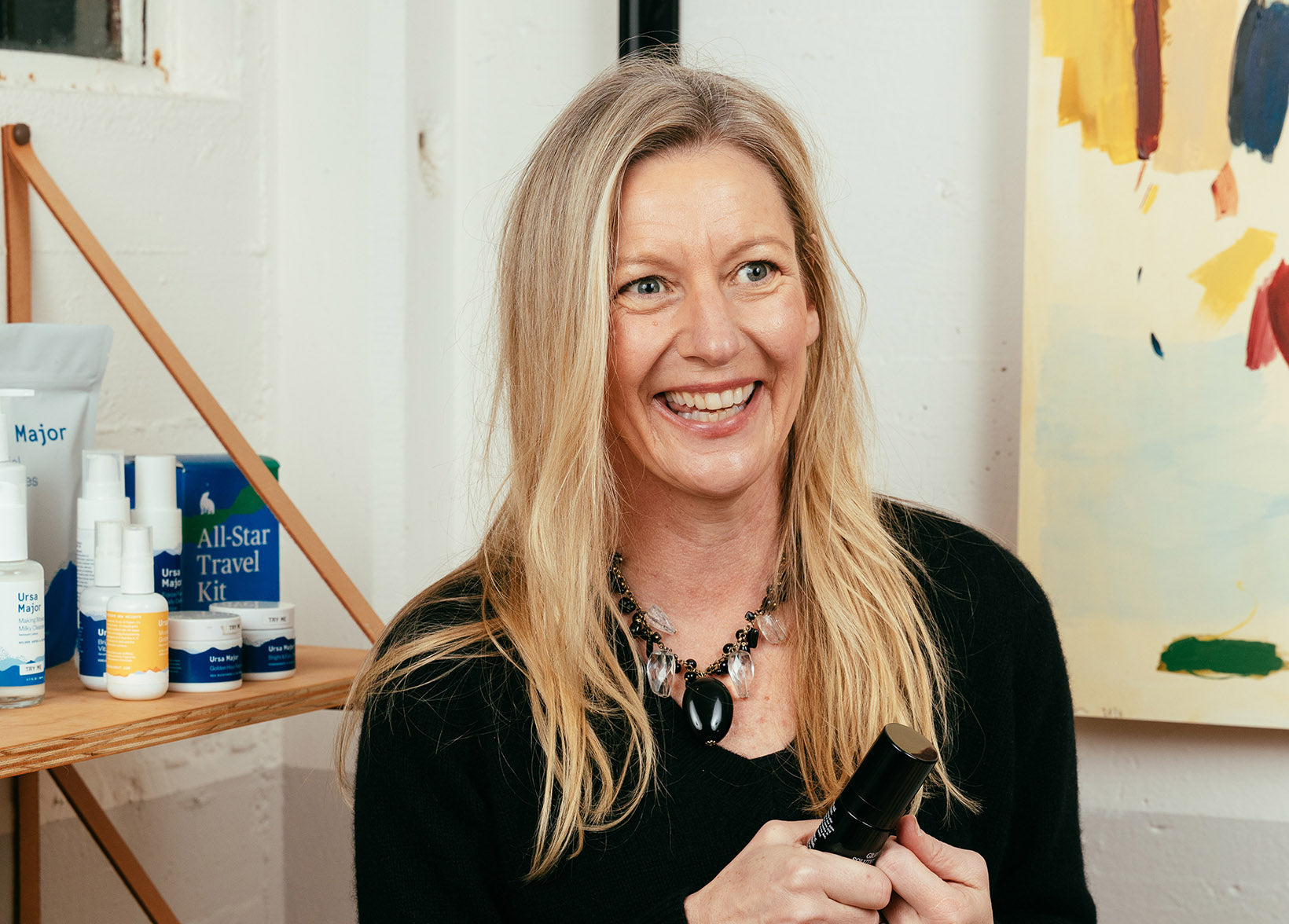 Find out what makes de Mamiel's Salvation Body Oil so special in Dara's conversation with Annee.