An interview with creator Annee de Mamiel
A frosty winter sunrise at Annee's farm in England
Below, founder Annee de Mamiel describes the development process of her Winter Facial Oil, the first seasonal oil she ever created: she blends each batch herself, paying careful attention to the Winter Oil's ratios of nurturing oils and plant extracts to comfort skin as though it's been wrapped in a perfect cashmere blanket. 
**
Dara: You've mentioned before that winter is all about rest and replenishment — and kidney energy, which builds and grows to the springtime. Tell us more about what's happening in the body now that you aim to address with the Winter Facial Oil.
ANNEE DE MAMIEL: This is a crucial time for deep rest that brings replenishment and renewal of our spirit. It provides deep nourishment for all activities of life, birth, and growth, holding the blueprint of our soul's life purpose. It's a time for conception, as new ideas are best laid down in the winter when we have the willpower to follow through. And it's a time for warmth and comfort.
Dara: What do you love most about the Winter Oil?
ANNEE: It's the only seasonal blend that hasn't changed that much over the years, which is interesting! I find the winter oil is comforting – it really cocoons me. It has such softness and is so delicate to the touch, but so luxurious as well. The only way I can describe it is like wrapping yourself up in the most amazing, softest, purest cashmere blanket. It makes your skin feel cocooned, wrapped up, protected, comforted: all those things that you want when you're indoors in the winter.
Dara: How did you think about creating the formula?
ANNEE: With all the seasonal oils, it starts with looking at what the skin's going through and what the skin needs.
The Winter Oil is the "fattiest" seasonal oil because all those things that it needs — especially ceramides and sterols — are found in the heavier oils. So there's macadamia to help strengthen its barrier and trap in moisture, and EFA-rich evening primrose to help with redness and inflammation that comes from going between central heating, wind, and ice. And rosehip and sea buckthorn are so brilliant for softening and deeply nourishing the skin. Then, the essential oils in the blend are all about instilling the sense of calm and stillness so we're able to rest within. It's deep and nourishing with frankincense and vetiver, which strengthen and revitalize, too.
When you look at the trees in the winter, the trunks and branches look barren, but within all of those trees, the energy is beginning to gather and grow the potential to make changes and emerge in the springtime. So the blend is about creating stillness and the sense of being restful for replenishment, but also supporting the ability to gather one's potential.
Another analogy I think of is a frozen pond, where the top of it is still and frozen, but underneath you can still see little fishies moving around. Still waters run really deep, and there's movement and energy within. It's just about taking the time to eventually give birth and emerge.
Dara: How do you suggest using the Winter Oil?
ANNEE: I'd use this with the same breath work I recommend for the Autumn Oil, and I also mix some Skin Recovery Blend with it. This turns it into a rich serum with extra comfort and protection against wind, ice, and all the external elements that we have to deal with in the winter. And the combination of the two scents is just so deeply moving.
Generally, I'd use a 2:1 ratio of Winter Oil to Skin Recovery Blend, mixing them together in the palms and then pressing that into the skin. It evolves the skin in a really different way — it's lovely.
Dara: Is there anything else you'd like to share about this time of year?
ANNEE: It's important to take the time to replenish. Say no if you need to, and get more sleep. In Traditional Chinese Medicine, we focus a lot on the seasons and working with the daylight hours; you sleep more during the winter because the nights are longer.
And I know this sounds really obvious, but you know, wear enough clothes! In TCM, when the wind is coming into the body and cooling your kidneys or your back, we think of that as the way that we catch colds. So stay warm; it's a time for soups, not salads. Give your body a hug rather than fighting nature. Being in sync with it makes our lives easier; our bodily rhythms just flow.
**
You'll find more details about the Winter Oil here.
Want to learn more about de Mamiel?
- Check out our Brand Spotlight here
- Hear from Annee about how she treats stress in clinic and tips she often gives clients to limit the effects of stress at home here
Any topic discussed in this article is not intended as medical advice. If you have a medical concern, please check with your doctor.
You May Also like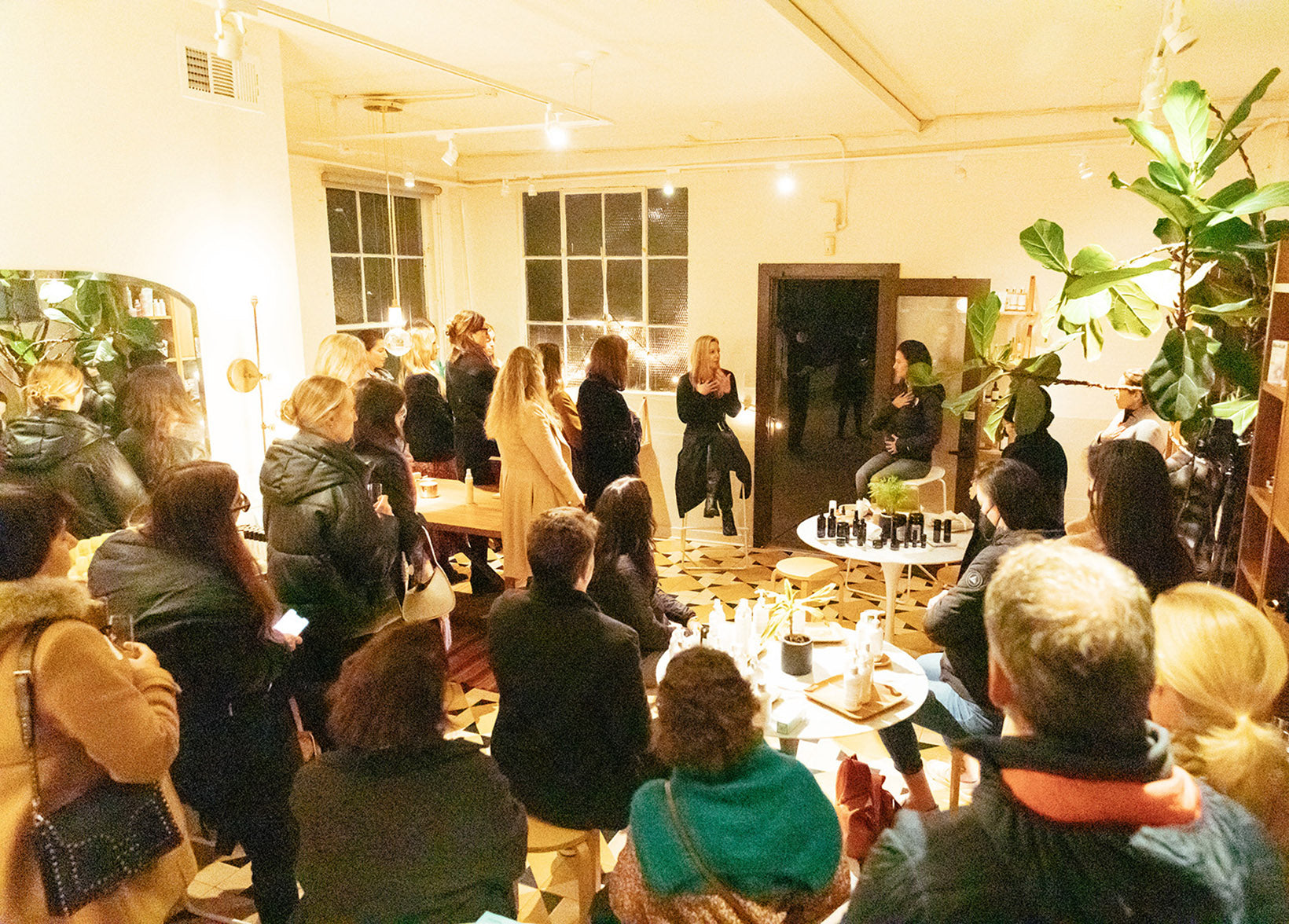 Annee de Mamiel shares a diaphragmatic breathing exercise — a reminder that, yes, in fact, we could probably breathe a bit more deeply in our everyday lives.