Olio E Osso is a small, Portland-based company that makes beautifully simple and versatile skincare and makeup products. Olio E Osso's founder, Paola LaMorticella, has been the go-to makeup artist and stylist for top athletes for the past 25 years. Here, Paola chats with Dara about her two newest introductions.
Dara: Let's talk about Addio Cleansing Oil first. When we learned that you were making this product, we thought, "If a makeup artist like Paola is making a makeup remover, it's going to be spectacular!" What prompted you to make it?
PAOLA: I've been using this blend of oils for a long time and working on the ratios of oils used in Addio forever. I work with a lot of different types of skin as a makeup artist, and what I love about this cleanser is that it's so well balanced: the olive oil in the blend is denser, and sweet almond and apricot kernel are much more lightweight. The viscosity of the three together really helps loosen impurities and dirt in the pores, and it breaks down waterproof makeup like nobody's business. 
And it has so few ingredients that everyone can use it even if their skin is sensitive. It's so nutrient dense and it has some very, very light astringent, antibacterial, and antimicrobial properties, too, just from the oils. 
Dara: How do you use the cleansing oil?
PAOLA: I mainly use it at night (in the morning, I just splash my face with water and use a moisturizer). So this is like a pre-treatment for my nightly moisturizer: it helps it sink in because skin is supple to begin with. Your body isn't already fighting to replenish its own oils.
And I use it all over the face and neck. Especially in the wintertime, that's something that a lot of people kind of miss — it's cold, we're wearing scarves — but we have even more of a need for moisture there. I tell everyone, "Pay attention to your neck and chest before it's too late!"
So I put about a quarter size amount in the palms and work it onto dry skin. (Your skin can be slightly moistened, but you don't want to put it on wet skin.) I work it in with the fingertips, and then around the eyes, I really gently use the balls of my palms to work it into the eye area and on the brows. I use a brow gel that can be hard to remove, and it takes all of that off. It's really amazing. This massage helps with the lymphatic system, too.
Then I remove it with a very warm, wet washcloth. I like to let it sit on my face for a minute, then gently wipe it off. I usually re-wet the cloth and do that a couple of times. It's a great affirmation — a little contemplative time at the end of the day. And it really doesn't take that long.
Dara: Do you also sometimes use it just on the eye area?
PAOLA: Yes, you could also do that with a much smaller amount. I believe in using the smallest amount of anything you can — don't feel that you have to overuse this oil. "Less is more": I really believe in that.
Dara: And Ganache is the perfect addition to your tinted balms. Can you tell us what prompted you to make it, and how you like to use it?
PAOLA: I created it because I love the color! I felt that it helped round out the collection. There's something so beautiful about this earthy color, especially right now — we're in this time of balancing, resetting, getting back to basics. And Ganache goes so well with the other colors.
You can use it on your cheeks to look more tan: it gives you a really warm, pretty tan. You can use it as a contour, too.
And it's beautiful layered with 09 Spring and the other pinks: it gives a beautiful, warm, toasty tint to your lips. A really natural glow. 
I think of it as a slightly different extension of our Currant color. It's more of a brown, one of those shades that reminds me of those muses I had when I was a kid: Nastassja Kinski and Isabella Rosselini, the ones I mentioned to you earlier when we talked about the lipsticks. It goes even as far back as the Benetton ads from the '80s. I just love this color.
*** 
You'll find clips from Dara's live interview with Paola about her muses on our Instagram — look under our videos and you'll find the series of three by looking for pictures of Dara and Paola together, Paola alone, and Paola's tints. (In them, Dara also demonstrates how terrible of a poker player she would be.) 
You can learn more about Paola and her story here, and you can check out the entire Olio e Osso lineup at Ayla — including Addio and Ganache — here.
You May Also like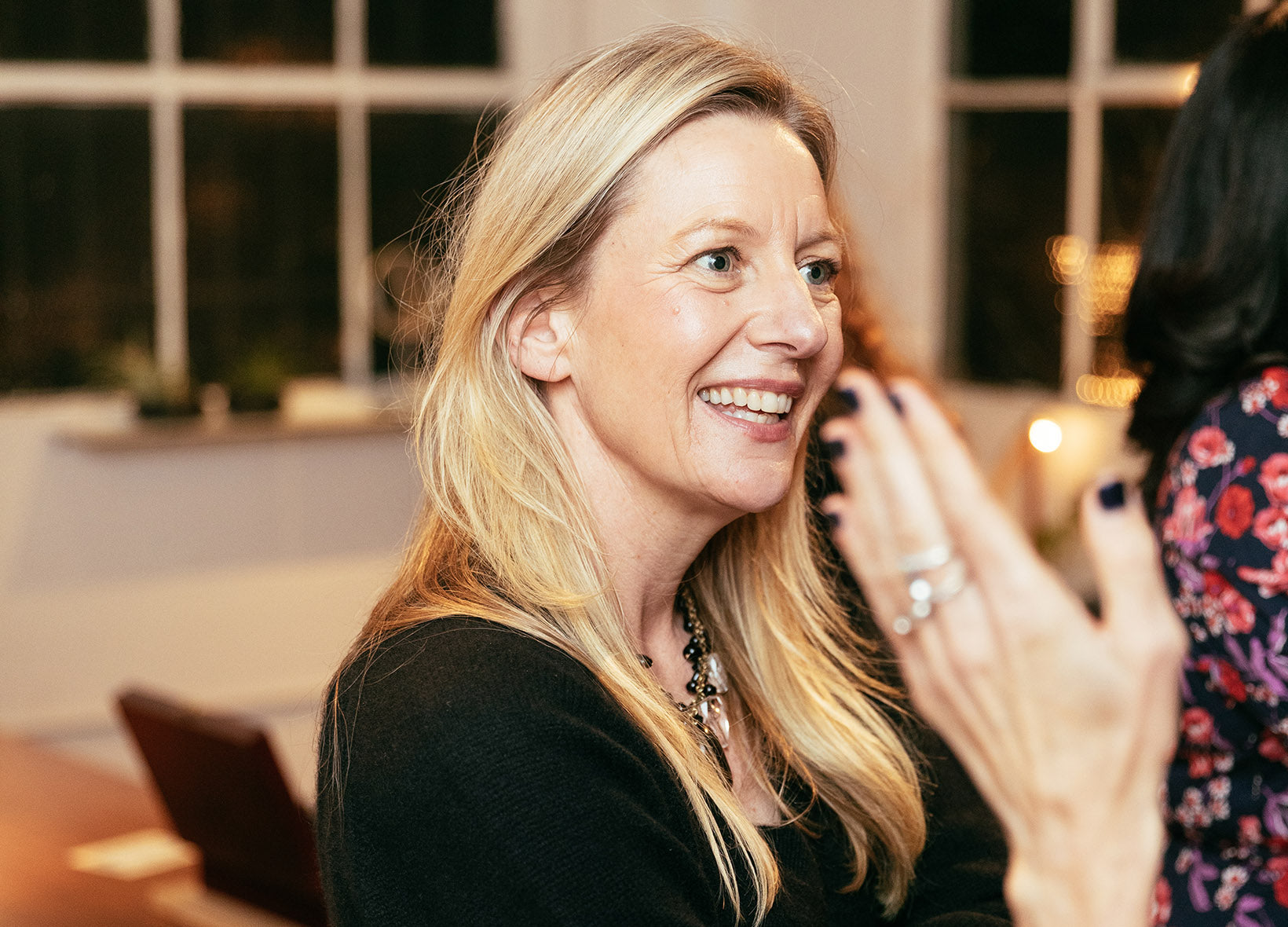 Annee de Mamiel shares a brightening face massage that's just the thing when your skin feels a little tired or you want to bring a little extra radiance to your skin.