We're delighted to be the first and only San Francisco retailer for May Lindstrom, the much-swooned-over line of gourmand skin treats. May relies upon her training as a chef, her careful study of skin-healing ingredients, and her own love of indulgent rituals to handcraft gorgeous and transformative skincare products. These remarkable, luxurious formulas make skincare not only results-oriented, but also truly pleasurable. Read on to learn the story behind this unique line of products.
***
Ayla: What inspired you to launch May Lindstrom Skin?
MAY: This line was born out of a desire to create blissful bookends in my day, a time-out morning and night that was just for me. Having formulated for years out of necessity (I am blessed with highly sensitive and chemically reactive skin), I yearned to create something that was simply luxurious and lovely.
From a very early age, my skin was the focus of heightened attention - as a baby, I struggled with eczema, psoriasis and contact dermatitis. As I grew older, my chemical sensitivities continued to increase, and I became more in tune with how much my environment affected my well-being.
For people like me who struggle with intense skin conditions and allergy, this is about far more than surface beauty. It is vitally important to me that my products are effective, that they truly heal and transform skin, that my clients experience immediate and long-term results. But it has become of equal importance to me that any self-care ritual I create inspires joy, playfulness, over-the-top self-indulgence and loving care for your skin and entire being.
Ayla: How do you think the practice of skin care as a ritual has been lost for women over the years and why do you think it's so important?
MAY: We live in a world of constant movement. We've been taught that self-care is self-ish, and that is one of the most unfortunate messages we could be proliferating. I want every woman to know that she matters, that this time is hers, and that love that starts from the romance within ripples out into the world and offers transformation way beyond ourselves.
Ayla: Aside from the importance of self-care, how would you describe your skincare philosophy?
MAY: For me, proper skincare is about restoring balance. Don't do too much, keep it simple, get out of your own way: allow your skin the space to heal itself. Then, listen to your individual skin and be responsive to what its needs are on a day to day basis, realizing that your skin is alive, and those needs are ever-evolving.
Ayla: Would you say that any of your products are targeted more towards certain skin types?
MAY: The entire line was formulated to be adaptable to all skin types. For example:
- The Youth Dew is a no-brainer for maturing skin (its plant oils hydrate and heal, and CoEnzymeQ10 slows the onset of lines and wrinkles), but it's one of my most beloved products with clients who suffer from teenage or hormonal acne and oil imbalances.
- The Clean Dirt is seriously magical, and some see amazing results with this as a daily treat, but not all skin types require frequent exfoliation — no matter how gentle. For more sensitive complexions, The Clean Dirt becomes a highly effective indulgence 1- 2x/week.
- The Blue Cocoon appears to be an intensive treatment for deep hydration (and it is), but is also surprisingly light. It can be used even twice a day for all skin types - it creates a gorgeous finish under makeup, and the powerfully calming, soothing and anti-inflammatory properties benefit concerns from acne to aging, rosacea to sunburn.
Ayla: You use some ingredients — warming spices and citrus oils — that might give some very sensitive-skinned people pause. How do you suggest approaching your line if you have very sensitive skin?
MAY: My collection is formulated to be adaptable to all skin types, including the most delicate and sensitive.

I understand the concerns of this demographic on a very personal level - because they are my own issues. I have highly reactive, combination, sensitive skin that erupts in tiny blisters, rashes, and spots of eczema and various forms of dermatitis when out of balance, as well as hormonal acne flare-ups (post-partum and breastfeeding related).

I formulate for myself, first and foremost, and I wholeheartedly believe in the effects that this curation of powerhouse ingredients can do for even extreme conditions. Our clients have shared tremendous results over the years with consistent use of this collection.

The warming spices that I include in a couple of my key formulas, while stimulating, are also highly anti-inflammatory. The level of healing you can reach with these concentrated blends is unparalleled. The only precaution I will share is one of common sense - be kind to your skin. If you have extreme rosacea, truly over-reactive skin or an active outbreak with open sores, you will need to be extra gentle in your care. The Problem Solver and The Clean Dirt will help you to clear this surge of activity in your skin, but you must brush them on gently. Do not rub. Do not scrub. Allow the power of the ingredients to work on their own without manual stimulation until your skin has begun to heal. You may feel intense heat and tingling as your circulation increases and blood rushes to your problem areas. This is good - allow the fresh oxygen to naturally heal you from the inside, while an array of nutrients penetrate your skin from the outside. Breathe, be calm and envision your skin returning to its natural rhythm and state of perfect health.
As for citrus, there are so many great benefits that can come from these yummy fruits!
Our gorgeous sweet orange essential oil is antiseptic and anti-inflammatory, which makes it an ideal choice for acne-prone skin. It's also been shown to increase the ability to absorb vitamin C, increase collagen production and blood flow, and overtime can work to reduce the onset and appearance of fine lines.
Our lemon oil is a highly effective for increasing the luster of dull skin. It is astringent and detoxifying in nature and its antiseptic properties help in treating breakouts and various skin disorders. Lemon also helps bring balance and brightness to oily and congested skin.
Equally important is lemon's ability to address mental fatigue, exhaustion, anxiety and nervous tension. I even keep a bottle of our lemon oil at my desk to increase concentration and alertness – it's great to diffuse in the workspace for this same reason.
Grapefruit oil is rich in antioxidants, especially vitamin C, A and lycopene. One of the most recognized benefits of grapefruit is its positive effect on the lymphatic system, which plays a role in your body's detoxification mechanism. Using this oil can help boost the activity of lymph glands – the main benefit of this in beauty rituals is what it means for eliminating fluid retention (no more puffy skin!).
I completely avoid known sensitizing citrus (such as bergamot). For the citrus oils I do include in our formulations, special care is paid to respecting the proper balance of ratios to protect against any potential for photosensitivity. I source only the highest quality oils, and pair any citrus with other naturally sun protective and healing ingredients for an extra layer of assurance of both safety and efficacy. If you are especially prone to sun sensitivity, or are taking medications known to increase your risk, go ahead and indulge in The Youth Dew solely as your night treatment, rotating with The Blue Cocoon for daytime use.
Ayla: From the photos we've seen of you in your LA studio, you and your team look like skin chef fairies.
MAY: I'll take that compliment! There's more than a small dose of magic that goes on in the studio kitchen. We truly pour our hearts into creating the most beautiful experience – along with the most extraordinary results – and deliver that in each and every bottle.
Ayla: What is the single product in your line that you can't leave home without?
MAY: The Blue Cocoon. It has a permanent spot in my purse—and another in my bathroom and on my nightstand, and on my desk at work. I'm a little obsessed. It's beautiful under makeup or a bit over the top to add radiance, as an eye and lip treatment, run through my hair to smooth fly-aways, to define my curls, and to envelop me in the most beautiful scent - and it was the sole treat to truly transform my skin from its constant battle with eczema and dermatitis into a complexion that visibly glows with health.
***
Ready to dig into these lusciously luxuriant products? Click here to shop the line, and if you're in San Francisco, stop by our studio at 1825 Bush Street to check them out in person. We're open from 10am-5pm, M-F and 10am-2pm on Saturdays.
You May Also like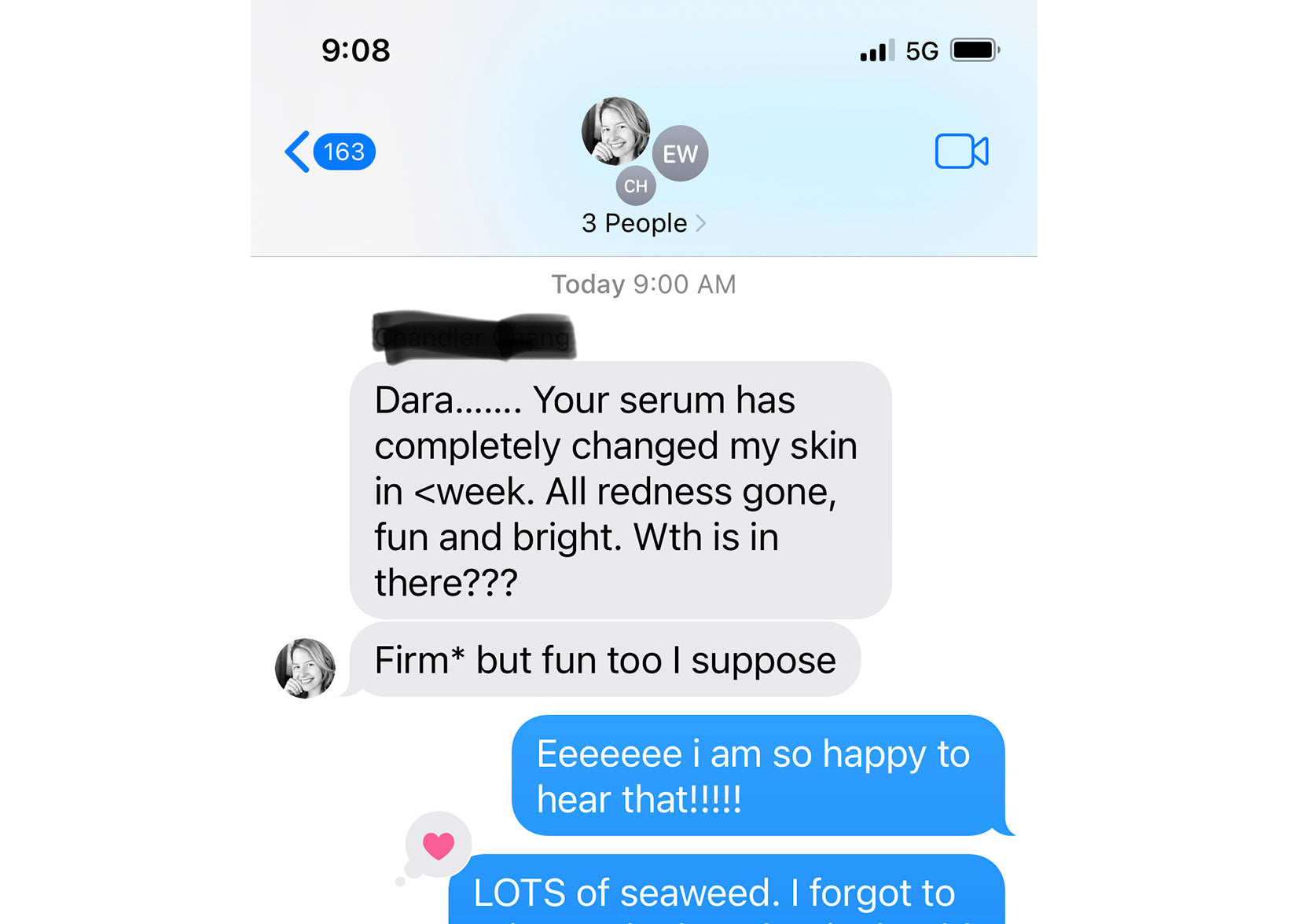 Find out what our team members noticed after 1-2 months of Sea Serum use. You'll notice that everyone's experience is a little different, which, to us, is one of the most exciting things about this unlike-any-other product.