Sudtana is everything we had hoped to find in Thailand, a place that is very close to our founder's heart. This line of thoughtfully made products has a way of transporting you directly to a spa in the "land of smiles" — a Four Seasons or Soneva in Thailand, perhaps, where the products are currently carried and used in treatments.
What makes Sudtana particularly special, to us, is their commitment to working with small farms throughout Thailand that practice environmentally-friendly farming methods to source their raw ingredients, which are then blended into these beautiful formulas.
To learn more about the story behind this special brand, check out our interview with its founder, Mew Leelahongjudha, below.
 ***
Ayla: Tell us what prompted you to start SUDTANA.
MEW: I grew up in a household filled with herbal remedies courtesy of my late grandfather, who was a well-respected village doctor. Although I did not have the chance to meet him, I cannot count the number of times when my brothers and I would have a number of skin or hair issues — acne, dandruff, dryness — and my mother would fix us right up with one of his ancient herbal recipes no matter the ailment. As I got older and developed an interest in beauty and personal care, I didn't enjoy the fact that lots of hair & skincare products were full of chemicals and synthetic ingredients. This led me to reminisce about the herbal remedies of my childhood and, eventually, reminiscence grew into curiosity as I wondered about my grandfather's approach on herbal remedies and their application in cleaner, greener personal care.
Fortunately, I had the opportunity to put my curiosity into practice through a Fulbright Scholarship at MIT, where I spent two years exploring how to scientifically enhance what was originally my family's modest practice. My brothers and I like to say that was the start of SUDTANA — because from that point onwards, we found ourselves taking off on an extraordinary journey of harmonizing modern science with generations of ancient herbal wisdom.
Ayla: One of the things we love most about your line of products is your sourcing: you work directly with small farmers in Thailand who use organic and sustainable farming methods to supply every key ingredient. Tell us how you came to find these farmers and work with them.
MEW: Over the course of my studies at MIT, I had the opportunity to return to Thailand every Summer and Winter. During these visits, I would connect with the government agency that supports local communities. Some of these local communities are formed by various small farm holders, and each province in Thailand has a government agency that specifically supports them.
I would travel throughout Thailand to attend these local meetings between the provincial government and the local farmers, where knowledge is shared and exchanged. Over time, I ingrained myself into the local communities by directly interacting and bonding with them over shared values.
By building personal relationships, I was able to learn more about them and build partnerships based on mutual understanding and trust based on our shared values and constant communication.
A group of Sudtana's farmers in rural Thailand
Ayla: Your body care products are used at some of the best spas in Thailand. What do you think people love most about them?
MEW: We actually had the opportunity to conduct some interviews with our customers and two answers were consistently given regardless of age and geography. First is physical relief: our customers love that their skin is being pampered by body care handcrafted from all-natural herbs with healthy, scientifically verified benefits. Second is emotional relief: they feel relieved and can sleep better knowing that their body is being treated to something that helps support their health instead of compromising it — not to mention the calm they feel thanks to the aromatic scents within our products.
All-in-all, our customers enjoy our products because they know that they're being treated to something special that truly works. We do not compromise on the quality of the ingredients in our line body care. Each ingredient has a purpose and each product we handcraft undergoes a careful scientific process to ensure that they are safe and effective without compromising its traditional roots.
Our Rosemary, Ginger & Sesame Uplifting Body Oil, for example, is a super hydrating, harmonized blend of locally grown organic coconut, ginger and sesame. Specially balanced in a calculated ratio to ensure our body oil is light-weight, non-stick and rich in natural vitamins & minerals to nourish and foster soft, smooth — and most importantly — healthy skin.
Ayla: Most of us have never seen a Thai poultice before. Can you tell us more about this practice? How do you use the body poultice?
MEW: Yes, of course! Known as a "luk pra kob" in Thai, a poultice is essentially a ball filled with a variety of potent organic herbs such as turmeric, ginger, lemongrass, and moringa. Historically, it has been used as far back as the 14th century by soldiers returning from battle. The poultices essentially act as medical hot packs to naturally tend their wounds. In the modern day, though, the poultice has practical applications in wellness and self-care:  the soothing heat which emanates from the poultice relaxes & balances the body to refocus its energy flow while relaxing the mind with a soothing aroma to achieve overall peace and harmony. It's especially helpful post-workouts, as it relieves built-up body stress, reduces swelling and bruises, and relieves stiffness while improving circulation. 
In regards to how to use them: the poultices are gradually heated up via steaming and left to cool until they're warm to touch. They are then applied on the body in circular motions, with the amount of pressure being applied depending on how tense the particular area is. 
Quite a few of our customers have expressed interest in giving themselves a full-body massage with our poultice. For a first time user, I recommend starting from the shoulders and work your way down to the lower back and then the feet (don't forget your toes and ankles too). Gently tap, pound, roll, twist, spread or dab the ball to the body as you work your way downwards. Each area of your body will experience different pressures and feelings, so keep in touch with your feeling to find out which technique feels best. Continue to do this for about 10-20 minutes. If the poultice gets too cool, just heat it up again! Personally, I recommend doing this for the first time in silence so you can truly be focused on yourself, but a relaxing playlist or podcast is always welcome! My most important tip is to enjoy this special moment and not treat it like a chore!
Ayla:  Another thing we love about your products is the way their natural scents transport us to Thailand. Can you tell us about some of the key ingredients in your body care?
MEW: Of course! Ginger and turmeric are the key ingredients in some of our body care products. Both have medicinal applications in Thailand for centuries and have proven antibacterial and anti-inflammatory properties which protect our skin while soothing it. Our ginger and turmeric are sourced from our partner named Aunty Noy whose farm is located in the northeastern province of Kalasin. She developed a zero-chemical, zero-waste farming method to keep everything circulated within her farm and also grows the Thai wan plai and moringa used in our body poultice.
Aunty Noy's farm
Another key ingredient is sesame. It's rich in vitamin E, which not only nourishes the skin, but is also an antioxidant that helps protect the skin against aging, inflammation, and sun damage grown and extracted by our partner, Aunty Koi, whose farm is located in the Kanchanaburi province located in western Thailand. Everything on her farm is grown naturally without the usage of chemicals, and she uses a cold-press extraction method to process her sesame seeds. This extraction method does not involve using any heat or chemicals, making the process environmentally friendly while also ensuring that the quality of the extracted oil is not contaminated.
 
Aunty Koi's sesame farm
These are just some of the key ingredients that we use, their benefits and where we source them from.
Ayla: Is there anything else you'd like us to know about Sudtana as we begin to get acquainted?
MEW: Just a bit about our mission, hahaha! We're on a wholehearted mission to help people discover their best natural selves. We believe that natural remedies heal the body and mind and that beauty is firmly rooted in embracing unique traits and feeling good in our own skin.
With the power of nature rooted in our traditional remedies, we believe in beauty through healing the body and mind to share a journey towards spiritual harmony. A growth that together allows an unraveling of the best version of ourselves through self love and self care. We strive to source the purest, most sustainable ingredients to create effective & safe products for everyone, and we're passionate about sharing our discoveries to inspire and educate mindful choices. I hope you adore our unique blend of science and traditional rituals as much as I do.
***
Could you think of a more fitting line of products for us? We're not sure we could. Shop this special lineup here.
You May Also like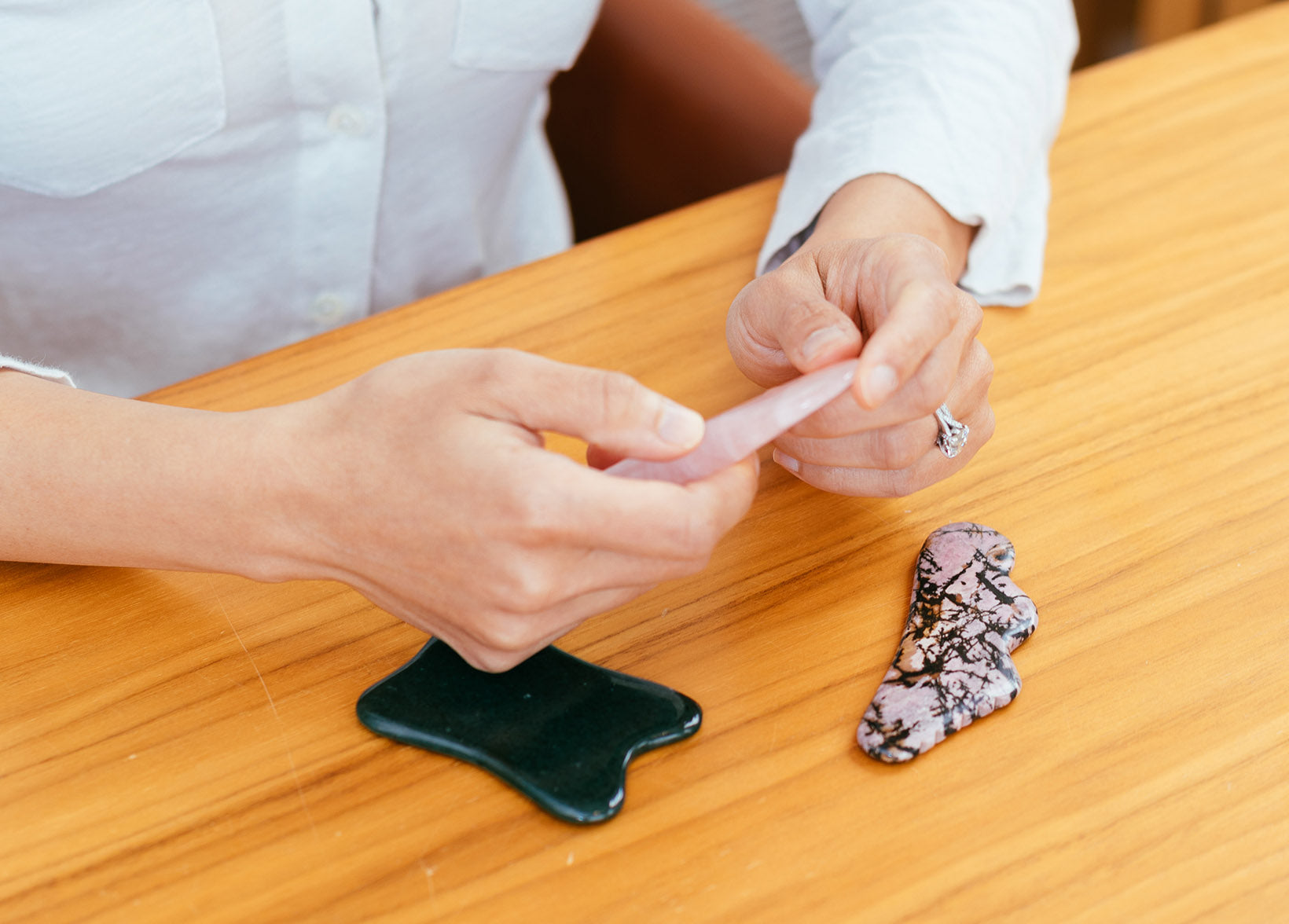 MyHavtorn's go-to skincare therapist and product expert, Erica Randlett, is deeply trained in Gua Sha — she's the person who first told us about it years ago — along with massage, lymphatic drainage, and meditation. Having spent five years as...