Congested skin tends to show up in a variety of ways. You might notice a rough or bumpy texture in general; you might see more obvious whiteheads, blackheads, or acne; pores might seem larger than you'd like; skin might generally look dull. Or, possibly, you may notice this entire catalogue of vexations.
And you wouldn't be alone: in the absence of professional facial treatments, and in the presence of months of decreased activity and mask-wearing (the necessary kind, not the fun kind), it's harder than ever to keep skin congestion-free. So, how do you? Since many of you have told us lately that you've noticed at least one of these signs of congestion showing up in your skin over the last several months,  we thought we should really dig into this question.
One of the best experts we could think of in addressing this issue is famed facialist Kristina Holey, so we asked her how she thinks about congested skin and clogged pores: why are so many of us experiencing this, and what can we do about it? Read on for her expert perspective.
***
Ayla: We're hearing a lot of queries about congested skin and clogged pores. Why do you think so many people are struggling with skin congestion these days?
KRISTINA: I think this greatly varies person to person, but here are a few potential reasons —
Since last spring, many of us have been mostly in lockdown, and our bodies and systems have gone through a lot of change — not only from stress. We've also seen a decrease in movement/circulation; sunshine; excess heat and smoke (for those of us in California); mask wearing; and probably, for some, not seeing their practitioners regularly who have been looking after or modifying their at-home regimens diligently.
People have also been restless and seeking solutions to their skin concerns on their own, perhaps trying many different products from different lines. Therefore, they likely haven't been as strategic as usual in thinking about what their skin really needs and what their symptoms might be a result of.
To me, clogged pores are a sign of deficiency or imbalance, so identifying what that might be for you is important. It can be helpful to ask yourself some questions:
Does your skin feel clogged, but dehydrated?
You might need more water-binding ingredients like humectants in your regimen.
Are you feeling oily/greasy (not dry, but still getting clogged)?
You might need to use a different kind of oil blend that is more appropriate for your skin.
Is your skin looking dull and you have an onset of congestion, but you haven't changed anything?
You might need to do more facial massage to promote circulation.
Can you pinpoint the congestion as a direct result of a change in your regimen or lifestyle, such as a shift in diet or digestion?
If so, sometimes it's best to simplify your regimen, go back to the basics — your "tried and true" — and then reintroduce new things back in one at a time. 
Ayla: Understanding that the causes may vary, what are your general suggestions for treating congested skin and clogged pores at home?
KRISTINA:
First, start by incorporating oil cleansing. Oil cleansers rich in Omega 6 oils can help penetrate the pore and remove clogged pores due to production of thick sebum.
Oil cleansing does not negatively impact or remove the lipid layer, which is also important: when the upper layers of the skin become dehydrated, it signals the skin to produce more sebum. Oil cleansing and not over-cleansing (we suggest oil cleansing 1x per day, at night) can help restore balance to this system. Spend time in the areas where you are congested, massaging the oil cleanser in for 2-3 minutes to break up congestion. 
Next, remember that excess oil production can be corrected by adding more moisture or water-binding ingredients like humectants to your regimen. For this, we suggest products like Balancing HypoTonic, Soothing B3 Serum, and Barrier Restore Serum.
For more chronic cases of congestion, you can try using a serum with BHA (willow bark), such as Intensive Repair Serum, 2-3 times a week.  BHAs work to penetrate the pore lining and are oil soluble so they can be beneficial in dissolving chronic congestion.
If you have both clogging and aging concerns, Gentle Retinol Night Serum can be beneficial, as it helps to regulate sebum production and improves the texture of the skin's outermost layers while strengthening the dermal layers for more plump, refined skin. 
***
Want more advice from Kristina? As she mentioned to us in this post on our blog, she believes that strategic at-home skincare always has been and always will be much more important than in-person treatments. Comforting words, especially during a prolonged pandemic, and Kristina's tips on massage and masking from that conversation can help you bring some of the facial experience home.
And check out what she has to say here on pairing topical skincare solutions with ingestible treatments — specifically, the wonderful herbal tinctures prepared by Dr. Anna Gold. 
You May Also like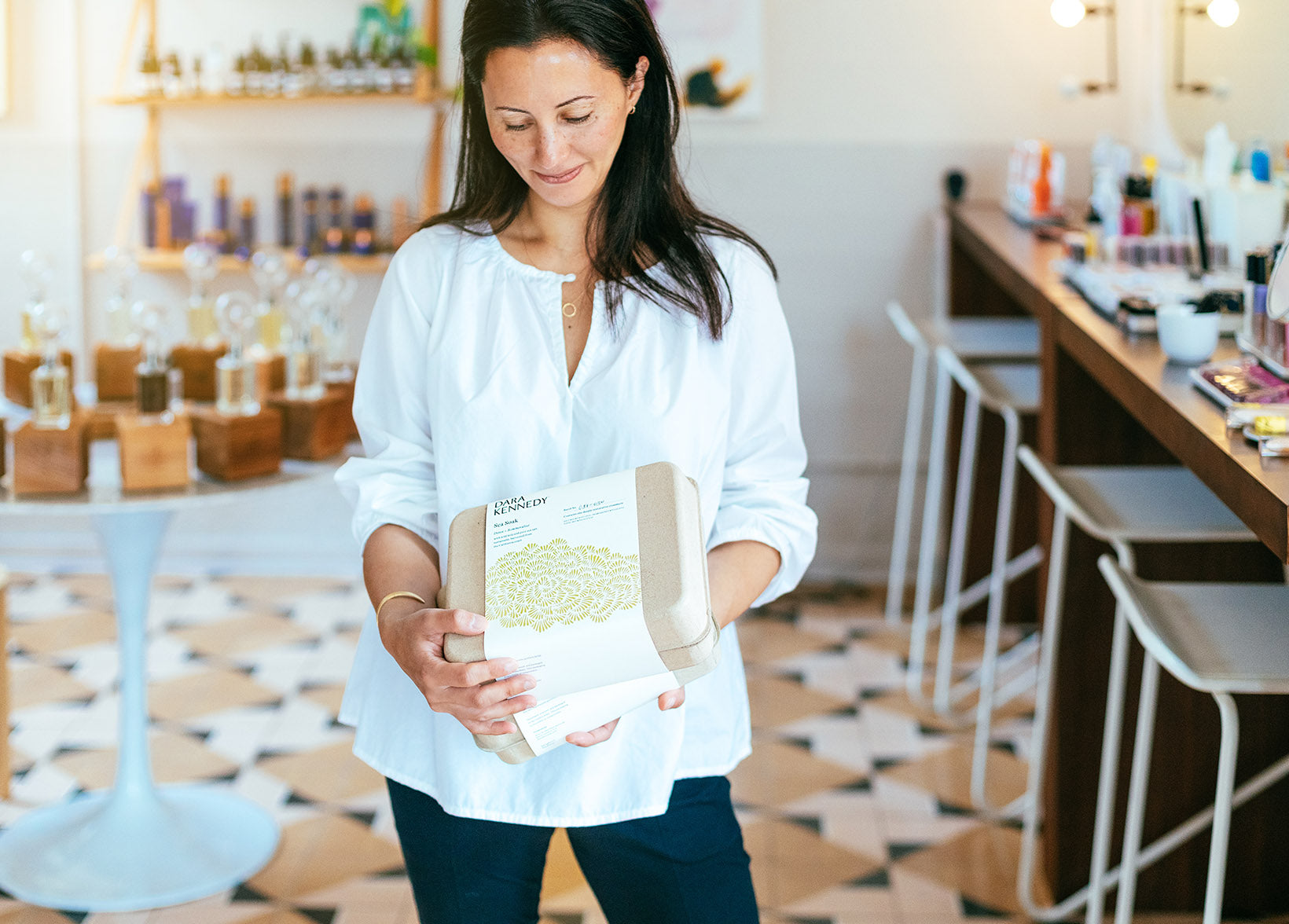 We've been strong believers in the link between great skin and everything that lies beneath it since we first opened in 2011: our skin is, after all, often the first thing to reveal what's going on inside of us. So...