An interview with creator Annee de Mamiel
Every year, it feels as though the pre-holiday weeks just get busier and busier. And that busy-ness can have an annoying habit of announcing itself to the world through our skin: "Guess who's not getting eight hours of quality sleep? Meeee!"
Thankfully, Annee de Mamiel has perfect timing: she just introduced Fatigue Fix, the latest addition to her popular line of "Fixes." This one is designed to address the dehydration and dullness that can come with long-term, daily exposure to stress. Read all about it in Dara's interview with Annee below.
***
Dara: Let's dig into Fatigue Fix. Who is it for, and what's in it?
ANNEE: Fatigue Fix is for people who really suffer from loss of moisture in the skin barrier, who find their skin is really dehydrated and their skin just looks tired in a way that's different from looking "saggy." If I had to choose an age group, I'd say it falls between the 20s and the early 40s: it's a big age group.
With this oxidative pathway, everything begins to slow down; cell turnover slows and dead cells build up. Fatigue Fix is about re-energizing the cells, getting them moving, feeding them correctly and being proactive about antioxidants, and feeding the skin both oil and water to replenish moisture loss. You see an immediate boost, along with long-term repairing and hydrating effects.
Dara: That all sounds wonderful. What's in Fatigue Fix that does all of this?
ANNEE: It's got first and second generation antioxidants that interact at different stages: one is reparative, and one is protective. It's got loads of hydrating elements, like multi-molecular hyaluronic and some really cool new hydrating ingredients that go deeper into the skin. And it's got ceramides that work on strengthening the skin barrier and re-energizing the cells, allowing them to function properly. It's also got ingredients to revitalize sluggish cells, like Glycoin and a mineral bioferment to help with the enzymatic processes that keep everything moving.
The formula isn't as rich as Gravity Fix, but that next-generation hyaluronic gives it a lovely texture — richness without weight. And there's a really subtle, peachy color that gives skin an immediate glow. I love to use it before I'm going out; it helps to brighten the skin. It's a nice midafternoon boost, too.
Dara: How would you work Fatigue Fix into a routine, and do you have any specific application methods?
ANNEE: I often use Fatigue Fix as a morning serum — and during the day, if I need to touch up makeup before a meeting, I'll pop some Fatigue Fix on then, too. I tend to use Gravity Fix at night. As we started to move into this change of seasons, last week here it felt like all the moisture had been sucked out of my skin. I used Fatigue during the day and Gravity at night, and within a few days it was all sorted. Fatigue Fix is such a great product for this in-between-seasons time of the year.
Fatigue Fix and First Fix can also go together in a routine: you could use Fatigue Fix in the morning and First Fix at night. But you don't necessarily need more than one of the Fixes at a time (apart from Eye Fix). For example, younger skin that doesn't need Gravity Fix could just as well use Fatigue Fix morning and evening.
Dara: The scent is so beautiful — and unusual. Tell us about that.
ANNEE: For Fatigue Fix, I wanted to strike a real balance — I wanted it to be bright and energizing, but with enough grounding to it. That lightness and brightness is important to get us out of our minds and into our bodies. Bergamot is such a good oil for relieving that sense of repetition, of being on that hamster wheel, and we use a type that doesn't cause sun sensitivity. Cold-pressed orange is very bright, too. Then there's also jasmine, frankincense, rose geranium, and a blend myrrh, vetiver, and patchouli for a sense of grounding.
***
Want some more info?
Learn about the different ways stress shows up on the skin — and how to be your own best skin expert — in this fantastic interview with Annee;
Hear from Annee about how she treats stress in clinic and tips she often gives clients to limit the effects of stress at home here;
And learn more about the product that started all the Fixes — and buy it — here.
To learn more about de Mamiel, you can also check out our Brand Spotlight here.
Any topic discussed in this article is not intended as medical advice. If you have a medical concern, please check with your doctor.
You May Also like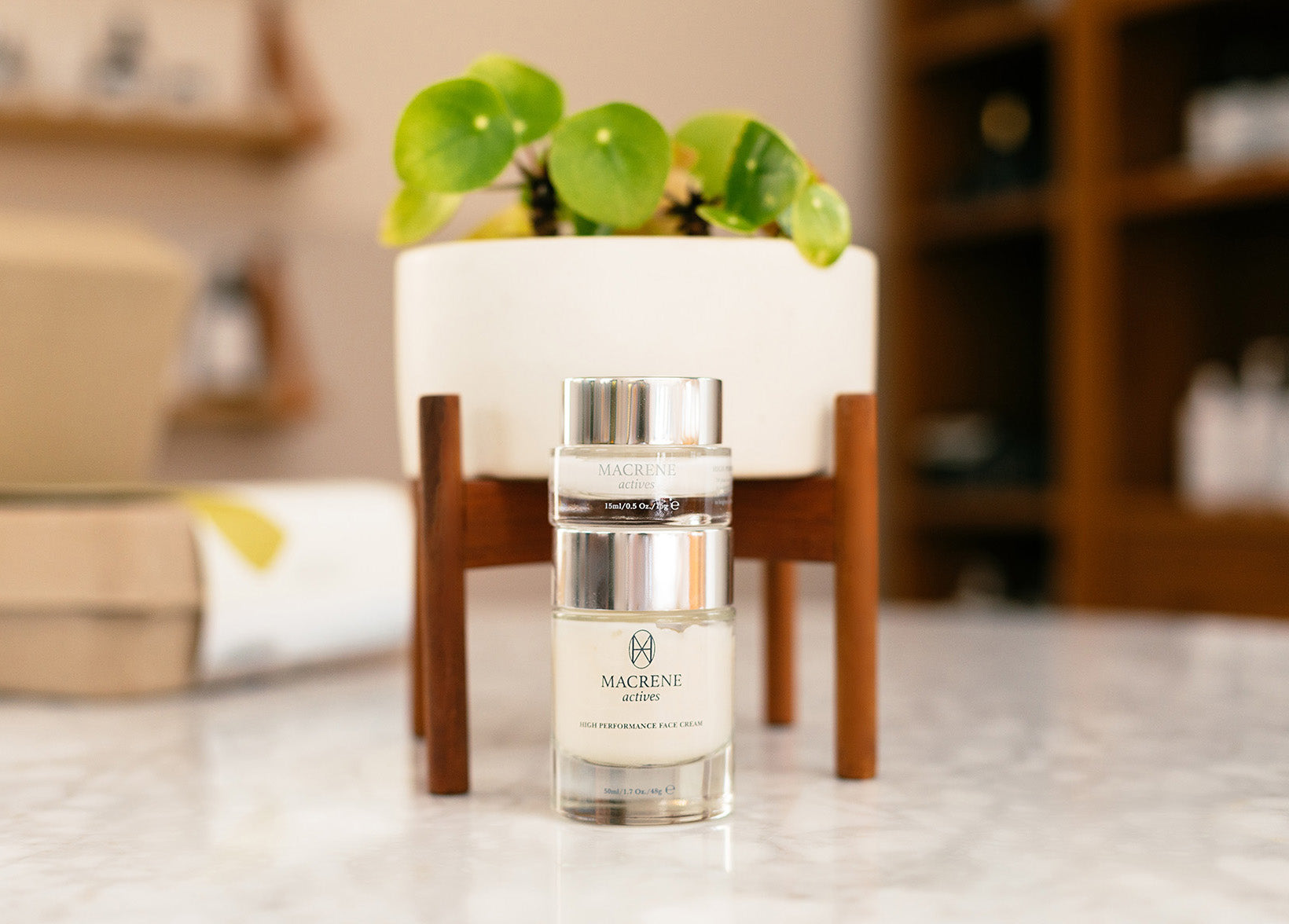 Do we really need to use eye cream? Star dermatologist Dr. Macrene Alexiades fills us in — and tells us what makes her new High Performance Eye Cream so special.