Sunscreen: we know.
It's so easy to say, "Wear sunscreen! It's the best thing you can do to keep your skin healthy." True, but does that matter if sunscreen is so annoying, generally, that you just don't wear it that much?
We know this is the case for some of you. And we're not judging; we're nodding with empathy. Because it is also true that if you're using mineral sunscreens, as you should, even the most cosmetically elegant ones take a little getting used to. You'll end up loving them and adoring what they'll do for your skin — we're sure of this — but they're sort of like introverts at a big party, the ones who might need a little encouragement to open up but end up being among the most interesting people you meet all evening.
Adding to the challenge, from our perspective, is the fact that sunscreens can be so polarizing: one person's favorite could very well be another person's "never again." 
So this year, we're providing you with this sunscreen guide to help you navigate the sunscreens on our shelves the way we think about them, complete with details about our team's current favorites so that you can see just how different we all are. And if you're still thinking, "I just…can't…do…it," please call or email us. Our Guides are absolute whizzes at finding the perfect sunscreen.
And don't forget to read these excellent sun care basics from Dr. Elizabeth Hale, one of our favorite dermatologists and a vice president of The Skin Cancer Foundation.
***
Looking for a sunscreen that gives skin a subtle glow without being makeup-y? Check out these best sellers.
* MDSolarSciences Mineral Tinted Crème SPF 30 was one of this brand's first products (we were one of their earliest retail partners), and it's still a favorite for its solid sun protection and easy-to-blend-in texture and tint. It's Dara's go-to for her daughter's maple-colored skin since it blends in beautifully and provides better sun protection than many zinc-only formulas.
* Unsun Mineral Tinted Face Sunscreen SPF 30 leaves skin feeling like it's been perfectly Instagram-filtered with a beautiful glow. Its versatile Medium/Dark shade works seamlessly across skin tones ranging from olive to very deep, and it's perfect for those who don't seek color coverage but wouldn't mind a little real-life filter.
* Josh Rosebrook Nutrient Day Cream Tinted SPF 30 wins the award of "most frequently used by the Ayla team"! Elena and Natalie have slightly different skin tones, but both love this one for its universal tint and beautiful satin finish that seems to be just right on balanced skin that tends to be dehydrated; it also sinks in without tackiness and doesn't pill, making it an excellent team player no matter what other products you use underneath. As Natalie notes, "I like Josh Rosebrook's untinted version, too, but since I don't wear makeup, I use the tinted version most because it helps even out my skin tone just enough."
* De Mamiel Daily Hydrating Nectar is a secret SPF that has a gorgeous, splurge-worthy texture that will genuinely make you look forward to applying it. It's many an Ayla team member's daily go-to because it feels so buttery and leaves skin so soft, "And it smells so, so good. Especially under a face mask! It's like aromatherapy! Its slight tint is just enough to tone down redness, and it doesn't irritate super-sensitive eyes."
* Kinfield Sunglow SPF 30 one of those magical formulas that blends across skin tones, thanks to four natural minerals that eliminate any white cast and bump up blue light protection without adding the same coverage that a BB cream would. Its almost gel-like texture is never greasy yet keeps skin hydrated all day long, and its subtle, sun-kissed glow is just perfect. (Tip: Order a sample first with our Custom Sample Service to make sure the tint works for you.)
Do you like a sunscreen with coverage? Start with these, listed from most to least (color) coverage.
* Suntegrity Impeccable Skin SPF 30 glides on easily with a satin finish and coverage that can allow you to skip foundation. If you use the 5-in-1 during the winter but need less help with the 'dewy look' during the summer, you might love the satiny, non-sunscreeny finish of this one. 
* Suntegrity 5-in-1 Natural Moisturizing Sunscreen SPF 30 is a longtime entire-team favorite for its coverage, flexible shades that tend to work even if you've somehow gotten a little more tan than usual, and dewy finish. It's an easy way to even out your skin tone, look a little more polished, and get some serious sun protection all in one go. 
* Marie Veronique Everyday Coverage Tinted Sunscreen SPF 30 is an excellent choice for those who use facial oils. It's another longtime team favorite: once you figure out the right way to use it, it's a top performer. (The key is to apply your face oil generously, then follow it immediately with this sunscreen — it'll blend in a lot more easily.)
Want no tint to get in the way of your makeup/no-makeup plans? Choose from these. (It's a long list, so we've kept the commentary short and sweet and listed by SPF rating.)
* MDSolarSciences SPF 50 Mineral Crème is what our team members most frequently use for long days outside hiking or at the beach. Dara noted that she got zero sun the last time she spent days snorkeling with her kids in Thailand because she had it slathered all over. (Much easier to do with the mega 3.4 oz size.)
* MDSolarSciences Mineral Moisture Defense SPF 50 is a great choice for those who want a little hydration in the mix but also want serious sun protection. It's great for the body since it spreads so easily. 
* MDSolarSciences Mineral Kid Crème SPF 50 is, in our minds, somewhere in between the brand's Mineral Moisture Defense SPF 50 and Mineral Crème SPF 50 in terms of texture. And somehow, it tends to be the magic Goldilocks texture for most kids who normally get squirmy with sunscreen application. 
* Kinfield Daily Dew SPF 35 is water-resistant (like the MDSolarSciences formulas) but a little thicker in texture due to the zinc-only formula. It also has some good hydrating benefits that impart a pretty, dewy finish to the skin, making it a favorite for both indoor and outdoor daily use. Emi loves this for everyday wear on her sensitive skin.
* Ava Isa Sun-e-Serum Drops SPF 35 has been featured in breathless "best of" lists from Allure to Harper's Bazaar. This one genuinely feels like a serum, with a translucent, "how is this possible?" texture that absorbs instantly. It gives skin a nearly poreless, breathable, demi-matte finish with soft luminescence (which makes it an excellent primer for makeup, too). 
* Le Prunier Plumscreen SPF 31 is such a cool product (and a huge entire-team favorite, which is saying something). It feels more like a cushy, light moisturizer than a sunscreen, thanks to its low-zinc, high-plum formula. You have to check this one out. It's new, and gradually taking over all the "best of" lists (Oprah, SHAPE, W Magazine, etc.) for good reason.
* Ava Isa Every Morning SPF 30 is one of our new favorites: like Ava Isa's Sun-e-Serum Drops, it uses 25% non-nano zinc oxide, but in a lightweight, almost lotion-like base that blends in transparently and leaves skin perfectly moisturized, in a seemingly magical way. Also a must-try.
* Clark's Botanicals Invisible Hero SPF 30 may at first make you wonder if there's some kind of catch, because a mineral sunscreen that blends in so beautifully – no white cast, for real — and neither feels greasy nor drying just seems impossible to find, doesn't it? But there's no catch. OK, it's a little expensive, but it's so worth it.
* Unsun Hydrating Full Coverage Body Lotion SPF 30 is the perfect companion to Unsun's tinted formula for the face, listed above. It doesn't feel or smell "sunscreeny," and it has the same dewy, cushy, hydrating effect that we love in Unsun's face formula. (You can use this on your face, too, if you're a minimalist.)
* Luzern La Defense SPF 30 Mineral Sunscreen has been a longtime Ayla favorite through all of its formulations. Elena has long been a La Defense devotee and notes that this new formula layers over other products much more easily than previous versions.
* Suntegrity Unscented Natural Mineral Sunscreen SPF 30 is a niche gem. Originally designed for babies and bodies, we find that it is the gentlest sunscreen on sensitive skin — so much so that it has a calming effect on application. Dara uses it when her skin is feeling a little irritated and uses a drop of MyHavtorn's Sea Buckthorn Fruit Oil with it to cut the white cast on her golden skin tone.
* Josh Rosebrook Nutrient Day Cream SPF 30 is another team favorite for its beautiful texture: Natalie loves it, and you can mix in a drop of Kosas Tinted Face Oil with it for a hit of color and a satiny finish all day. 
* Ursa Major Force Field Daily Defense Lotion SPF 18 is often the top choice for those who want a light texture and absolutely non-greasy finish. It is one of the least greasy sunscreens on our shelves.
Want other form factors?
* MDSolarSciences Quick Dry Body Spray SPF 40 is something we stock because sometimes a spray is the only way to get people to wear sunscreen. (There seem to be many of you who agree, because it flies off the shelves.)
* Suntegrity Sport Mineral Sun Stick SPF 30 is a handy one to pop into your handbag or backpack for those situations when you think you'll need to reapply sunscreen on the go. As it turns out, many of us should be doing this more often, and this makes that process as painless as possible.
* Unsun Face & Body Highlighter SPF 15 is such a fun product, perfect for those who want to quickly add a little brightness and warmth to their complexion. The fact that it adds more SPF protection while it does that is brilliant.
* Unsun Hand Cream SPF 15 is one of those products that we think everyone should have, because hands just get ignored so frequently. It's a must if you're a frequent biker.
* Suntegrity Mineral Sunscreen Lip Gloss SPF 25 is another one of those must-haves, because the skin on your lips is particularly thin and vulnerable. This creamy gloss, available in neutral colors, is a simple way to protect them.
* Ava Isa Sun Whip Sun Lip SPF 15 has a tongue-twister of a name, but you'll get past that once you try this perfect formula. It's packed with zinc oxide, plant oils, and nourishing shea butter, and you can choose from Clear (goes with everything!) or a tinted version that acts like a long-lasting lip stain: Strawberry Zinnia (the perfect match for Kosas Royal lipstick fans), or Watermelon Lily (the perfect match for Kosas Thrillist lipstick fans).
**
It's a lot, we know. Want some 1-on-1 help with sunscreen? Email help@aylabeauty.com or call us between 10-5 PT, M-F. We'd be genuinely delighted to help you find the right sunscreen for you.
You May Also like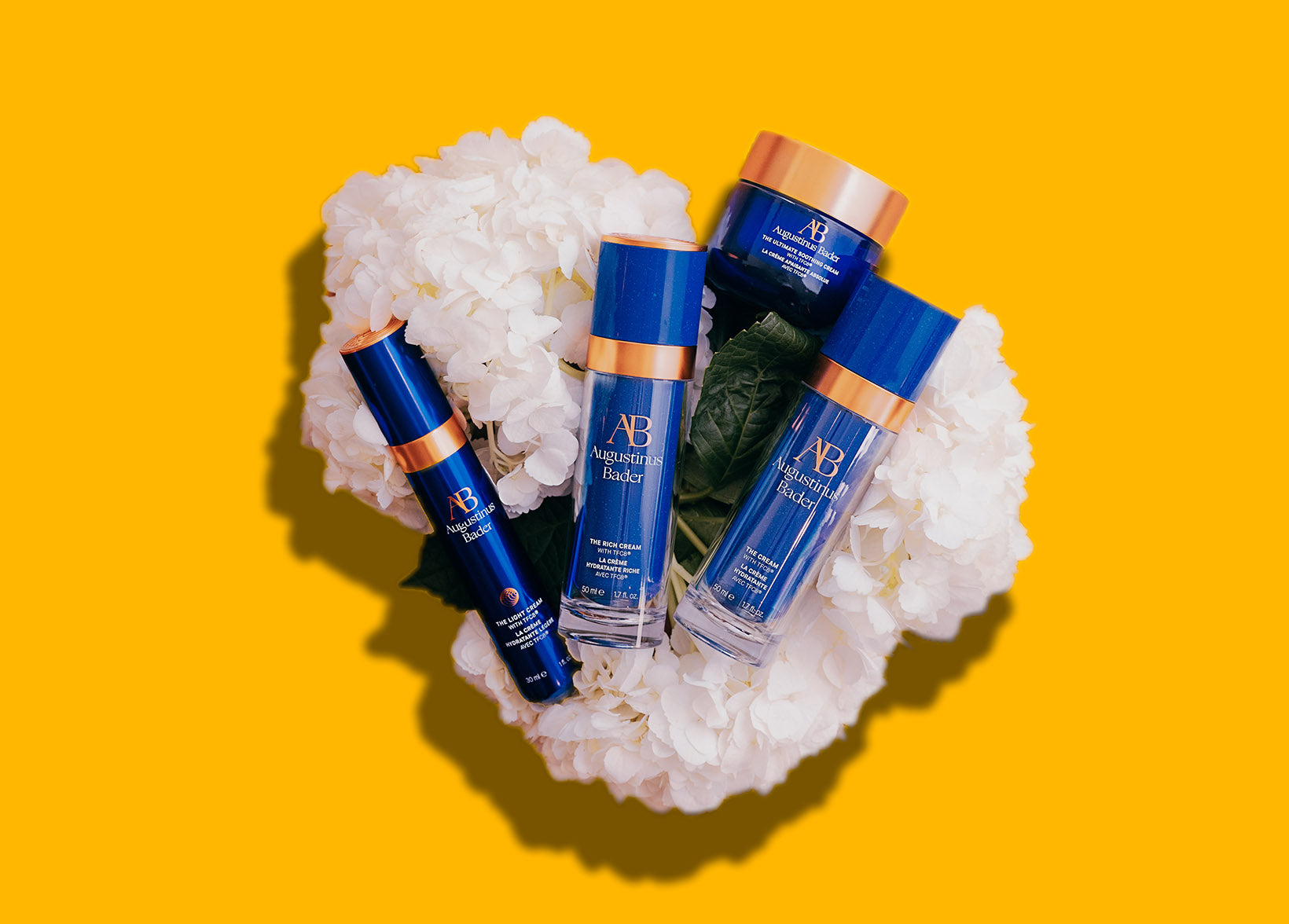 Get an in-depth look at Augustinus Bader in our interview with the team at Augustinus Bader HQ and Professor Bader.