Winter: it's not so great for the hair. Locks can get dry and brittle, and they often resist all efforts to seek the elusive volume at the crown that so many of us long for. And, vexingly, as the season marches on, scalps can get a little dry and flaky.
This makes sense: your scalp is an extension of the skin on your face, which may be feeling a little dry and flaky these days, too. But it's harder to get at your scalp through your hair, which can then lead to hair-dulling buildup, whether it's from products or the natural accumulation of your scalp's oils and skin cells.
Below, you'll find our favorite suggestions to keep your scalp balanced and healthy — and your hair glossy and easier to manage.
Tip #1: Use an exfoliating shampoo once a week.
There are myriad reasons why a weekly exfoliating shampoo can come in handy:
Because it's a great way to remove buildup, it can help you extend the time between wash days, sparing hair from heat styling for another day without sacrificing scalp health.
It's also great for those with oily or flaky scalps, or conditions (like seborrheic dermatitis or dandruff) that can lead to buildup, scaling, and flaking.
And in all cases, clearing the buildup that can plug your hair follicles will help keep scalps calmer, locks shinier and hair thicker — because when hair follicles are plugged with buildup, it can result in a phenomenon called "miniaturization of hair follicles" that is quite alarming if you prefer a fuller head of hair.
Instead of salt or harsh grains (please don't use those — they're scratchy and won't work well with all types of hair), choose an exfoliating shampoo that uses clay or other natural materials that are kinder to the scalp:
Reverie's Suna Exfoliating Shampoo uses rhassoul clay, an ingredient in a number of facial skincare formulas that we love: it helps remove buildup, absorb sebum, and deliver essential minerals to the scalp. The formula also features hibiscus extract, which is naturally rich in AHAs, to further help with exfoliation while calming the scalp at the same time. Sodium hyaluronate to help hydrate with zero greasiness, so it's a great choice for scalps that tend to be oily.
Boucleme's Scalp Exfoliating Shampoo uses hydrogenated castor oil beads to gently exfoliate and stimulate hair follicles for healthy growth. Nourishing sea buckthorn oil, along with stimulating Spearmint and Grapefruit, adds to the soothing spa-style scalp detox: this is our pick for scalps that tend to be quite dry.
After you wash with your exfoliating shampoo, give your hair a good conditioning treatment, and if your lengths tend to be dry, follow that with a leave-in conditioner like Reverie MILK.
Tip #2: Brush your hair every night to boost microcirculation and distribute your scalp's natural oils through the dry lengths and ends of your hair.
We suggest doing this at night because it's a calming bedtime practice, and also because it tends to inspire more volume at the crown of your hair when you wake up. (If your scalp tends to be oily, morning brushing can result in more of a matted-down look.) You can also brush before you shampoo on your wash days. No need to go crazy and follow the 100-strokes rules of yesteryear; 20 strokes will work plenty of magic.
Here are our favorite brushes:
TEK's Paddle Brush with Long Wooden Pins is excellent for anyone with medium to long hair, and it works beautifully on all thick hair lengths.
TEK's Small Oval Brush is similar to the Paddle Brush, but in a tiny size that's perfect for travel or for kids. 
TEK's Boar Bristle Brush is our pick for very fine hair.
Tip #3: Try a bedtime scalp massage with a tonic tailored to your particular needs.
A regular scalp massage with a calming tonic or flower water will help irritated scalps find a greater sense of balance — and stay there. We suggest applying your tonic or flower water at bedtime: after your bedtime hair brushing, apply or spray in as much as you like (at least 5 sprays, we'd say), give it a quick, gentle massage, and you're done.
You can also apply it after you're done with your washing and conditioning steps on wash days. Or you can do this quick massage in the morning, which has the added benefit of giving your hair a soft scent and, depending on your hair type, a little lift at the roots.
If you're concerned about hair loss, try Reverie CAKE. Hairstylist Sunnie Brook mentioned to us that she likes to apply it to her fine-haired clients' scalps before blow-drying, too.
Biofficina Toscana's Lavender Hydrolat is soothing for all scalps and hair types, and its spray top makes precise application easy. (Use at least 5 sprays per application.) 
If you really struggle with flakes and dryness, try the best-selling Cypress Hydrolat: while it doesn't have a spray nozzle, you may welcome the ability to use a more generous amount. 
You May Also like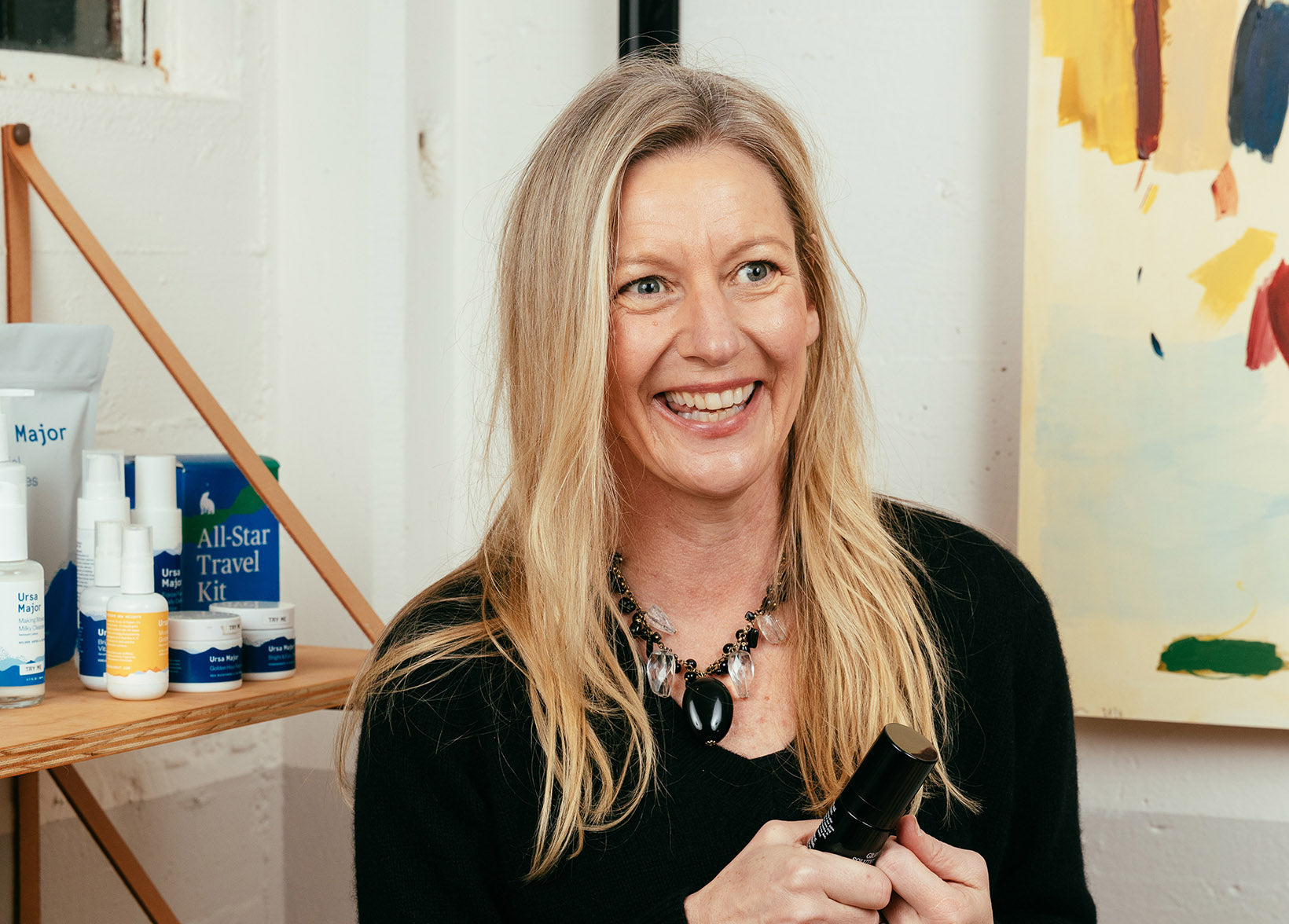 Find out what makes de Mamiel's Salvation Body Oil so special in Dara's conversation with Annee.