Manasi7 was created by Susanne Manasi Persson, a Stockholm-based makeup artist, with an approach that is at the same time deeply thoughtful and refreshingly boundary-crushing. And when we first tried the Manasi7 lineup, there's no other description of our reaction than to say that we were blown away. They're incredible. Absolutely awesome. 
They also continue to be among the most beloved products on our makeup counter, so we asked Susanne to give us her top tips on the summer-to-fall transition, which can be a tricky one from a makeup perspective. Along the way, she shares some of her own personal usage secrets. (Because we all want to know what makeup artists would do with their own faces, don't we?)
**** 
Ayla: Tell us about the All Over Colour in Fuchsine and Bisque — the shades we're adding for the end of summer and beginning of fall. What inspired you to create them?
Susanne: All Over Colour In Fuchsine is a rich fuchsia pink — suitable either just dabbed on lips and cheeks or layered for a punchier effect.
All Over Colour in Bisque is a barely there, peachy-beige hue with a touch of warmth.
My inspiration when creating a product or shade is each and every individual and their own personal style. In my collection, I create shades that I think are the perfect ones in each color category and suitable for all skin tones. You can also mix them to create stunning new shades.

Ayla: What skin tones or looks do you particularly like these colors for?
Susanne: Fuchsine is perfect for fair to medium skin tones, as a blush — when a tiny amount is dabbed on cheeks and lips, creating that natural flush of color. It is also a great choice when you need something bold and daring but don't want bright red – it's a perfect alternative to a classic red lip. And it's an amazing shade for deeper skin tones applied on both lips and cheeks.
Since Bisque is a mix of beige, pink, brown, and subtle orange, it suits almost everyone that wants a neutral, nude shade — but it also gives your face a fresh, natural look. It is perfect for that weird transitional season when it's not-quite-summer, not-quite-autumn.


Ayla: We love the uniqueness of All Over Shine, Cristallo. Can you tell us the story behind its creation?
Susanne: In the collection, I was missing the perfect product that could deliver a shiny/gloss effect without shimmer — but i also wanted the product to be multifunctional, nourishing, and long-lasting. Last but not least, it needed to be non-sticky, as a lot of gloss/shine products can be very sticky on lips and face. It took a long time to develop it, but when we finally got it right, it was just perfect. The nourishing formula of All Over Shine, Cristallo, can be used on lips by itself as a moisturizing lip balm or gloss, on a bare face, or over makeup as a dewy highlighter. It can also be mixed with our Skin Enhancers for usage as a foundation. Finally, it can be applied on top or mixed with the Bronzelighter and Strobelighters to add a subtle, glowy finish. 


Ayla: How do you like to use it? 
Susanne: I wear it as a lip balm, but I also use it as a dewy highlighter and really enjoy mixing it with my Skin Enhancer. By itself, it goes on beautifully when applied with the fingers, especially gently dabbed on the skin or lips. I focus on the high points of my face, like the top of my cheekbones, brow bones, and my cupid's bow. But you can also dab some onto the centre of your lids, along your brow bones, and in the inner corners of your eyes.
For mixing, just apply a tiny amount of the product on top of your hand. Then, add a small amount of your Skin Enhancer, All Over Colour, Bronzelighter, or Strobelighter, and mix together with your fingertip.


Ayla: Any other tips you can share for this summer-into-fall transition? 
Susanne: I would love to share my knowledge about the important microbiome that exists both in our gut and on our skin; one of the things that struck me most during the nutrition courses I've taken is that what we put on the skin is as important as what we absorb in our gut. Note that I say absorb, because we can eat and drink healthy foods, but if our gut health is not optimal, we will not absorb it properly.
Instead of focusing so much on getting rid of bad bacteria, we should probably focus on nurturing the good. Your skin is coated with a layer of fungi, bacteria, and other microscopic life forms, all of which serve important functions within the biological systems of the organ. If this microbial community were to suddenly disappear or change dramatically, it would significantly compromise your skin's ability to ward off pathogens and keep your body healthy. Many of the things modern humans ingest and apply to their bodies have been shown to disturb normal physiological processes. These substances include sugary foods, pharmaceutical drugs, trans-fats, and so forth.
The hero ingredients in our products are apricot kernel oil, shea butter, sweet almond oil, beeswax, candelilla wax, castor seed oil and carnauba wax. While all of these boast natural and beneficial vitamins, minerals and antioxidants that are nourishing for the skin, they also have anti-inflammatory properties and will work with your microbiome instead of working against your microbiome — leaving your good bacteria intact. Less is more.
Click here to shop the Manasi7 collection. It's breathtaking.
You May Also like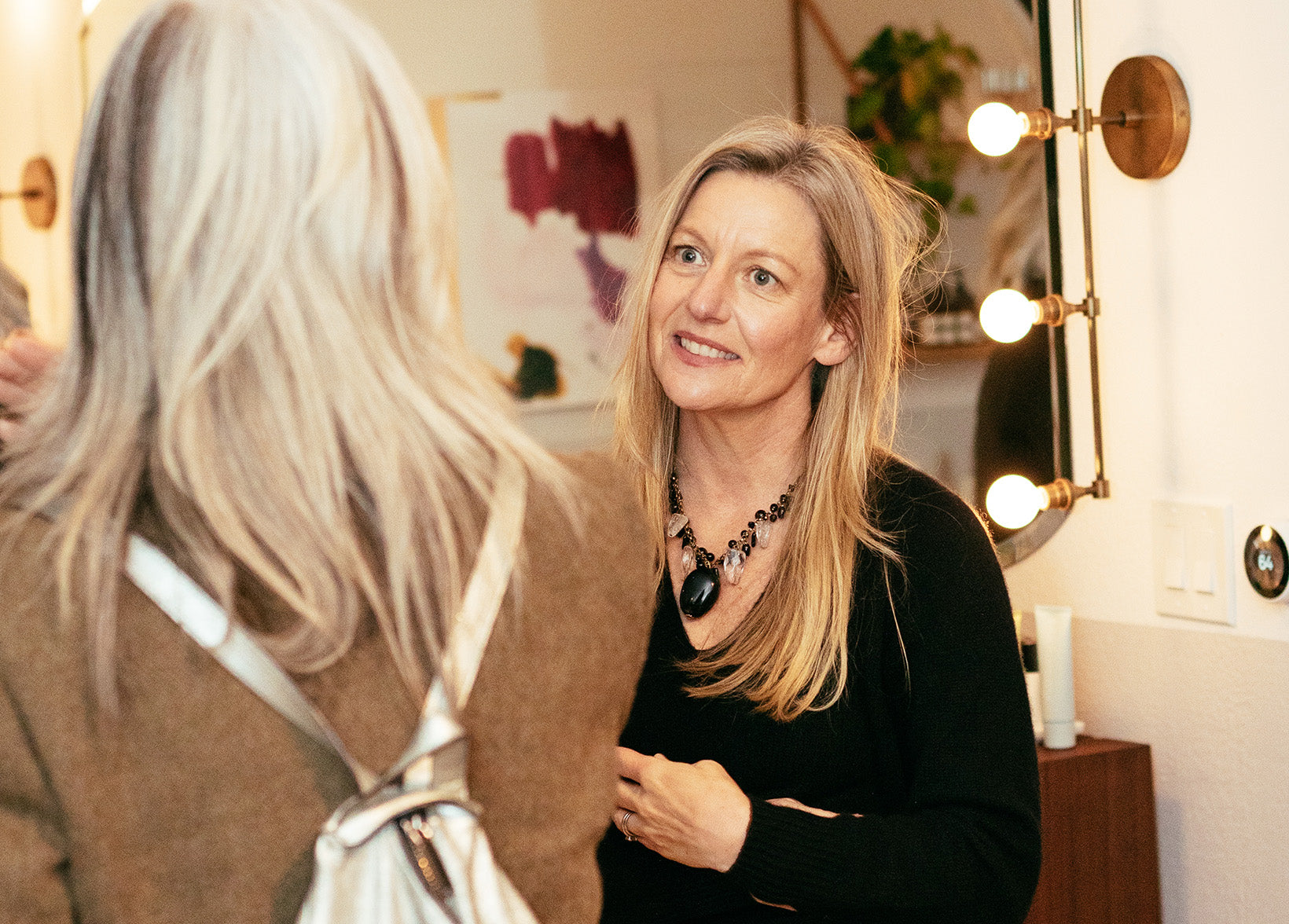 Annee de Mamiel explains how a variety of hormonally-related skin challenges are related — and how her Phyto-P Elixir works across all of them.