Rose Theodora is the most glamorous yet refreshingly brainy astrologer we know of — an alluring combination that has led her to be featured in Vogue, to be chosen as Byrdie's resident astrologer, to report live from the E! red carpet, and to be selected for partnerships as varied as OPI, Estee Lauder, Fender Guitars, and Adidas.
We're thrilled that this gifted, intuitive, bi-continental astrologer (she spends most of her time in Spain these days) will be visiting Ayla for a residency in late October. Rose will offer individual consultations (at Ayla or via video chat), small private group circles (at Ayla only; great for groups of 5 friends), and a fun Astrology 101 talk at the SF studio, with 5-minute individual chats included. Sign up here for private individual and group meetings or here for the Sunday Astrology 101 event.
And please read on for a quick interview with Rose about astrology basics and — perhaps most intriguingly — why she chose to visit us during Scorpio season.
**
Ayla: Here's an astrology 101 question: what are the Sun, Moon, and Rising signs?  
Rose: Your Sun Sign is the month/season that you were born — a birthday that you share with approximately 6M other human beings on this planet, a sign that describes our own Sun's location in relationship to the Earth and where you are on it. The Sun Sign is about who you need to be in this life, your ego identity, your basic personality needs, and your conscious identity.
The Moon sign is your emotional, your habitual — the subconscious nature of who you are. It represents the depth of your emotional essence and needs, your psychological inheritances from family, and your soul's imprint.
The Rising or Ascendant sign is determined by your particular time of birth. It's what makes you unique. The rising sign is the filter through which you express your Sun sign personality. The rising sign also depicts the direction of your life and your physical appearance, and it describes how you came into this very world through your birth experience.


Ayla: We can't wait for your residency at Ayla! Tell us what will be going on astrologically during your visit and why you chose to come then.  
Rose: October 23–November 21 is Scorpio Season. The sign of transformation, rebirth, passion, and depth empowers us to feel more deeply — to move closer to our soul. We are more willing to dig deeper into our existence, to become our own psychologist and healer. It's a sacred time of inner reflection when we can become truly empowered by our experiences rather than overcome or disempowered by them.
Libra — the sign of refined beauty — precedes Scorpio, but it's during Scorpio season that we move beyond the more superficial layers of beauty into the emotional, soulful sustenance form of beauty, where we discover its most profound root. This is beauty that, when recognized and nurtured, keeps your skin and soul glowing in irrevocable ways.
During this powerful weekend, we'll uncover your astrological beauty signature. Particular planets signify beauty and aesthetic choices; when these planets are considered in aspect to one another, they form a beauty signature.
Note that on October 28 we'll have a new moon. The New Moon in Scorpio, opposing Uranus, shakes things up for the sake of cultivating detachment, diving into the depths of our emotions, and discovering new and radical forms of self-love and healing. 
The New Moon signifies a fruitful time of new beginnings, when you can consciously align to your goals by initiating steps, setting intentions, and planning for desired outcomes.


Ayla: Any colors and themes that we can expect to be particularly alluring during Scorpio season?  
Rose: The sign Scorpio has two co-ruling planets: its ancient ruler Mars and its contemporary ruler Pluto. Both portend to warmer skin, with minor skin irritations and breakouts due to the changing season — not only externally, but also internally as you process subconscious bouts of anger, passion, and emotion.
When we align our skin regimen to that of nature, we are living in harmony with the natural cycle of our biorhythms and this planet. This season, you'll want to focus on detoxes, sloughing off dead skin, renewal and healing masks, vitamin-enriched serums, more peptides, and healing, restorative night creams. And you'll especially need more hydration with waters like rose water, aloe, and mint water. 
We know how much diet affects beauty; during Scorpio season, this means eating more nightshades such as eggplant and bringing in herbs like coriander and mint (add it to couscous). Choosing more dark-colored vegetables can help keep your alkaline levels calm and emotions stabilized, which is optimal for glowing skin. 
The colors (makeup included) that we wear and surround ourselves with can be a passive way to work with the season, too. Navy blue, midnight blue; oxblood or a deep red lip; and white (you could use a white eyeliner to illuminate the eye, for example). Hints of fuschia can provide a pick-me-up.
Flowers of the season are peony, anemone, and chrysanthemum.
Scents of the season are bold, sensual, and spicy.
You May Also like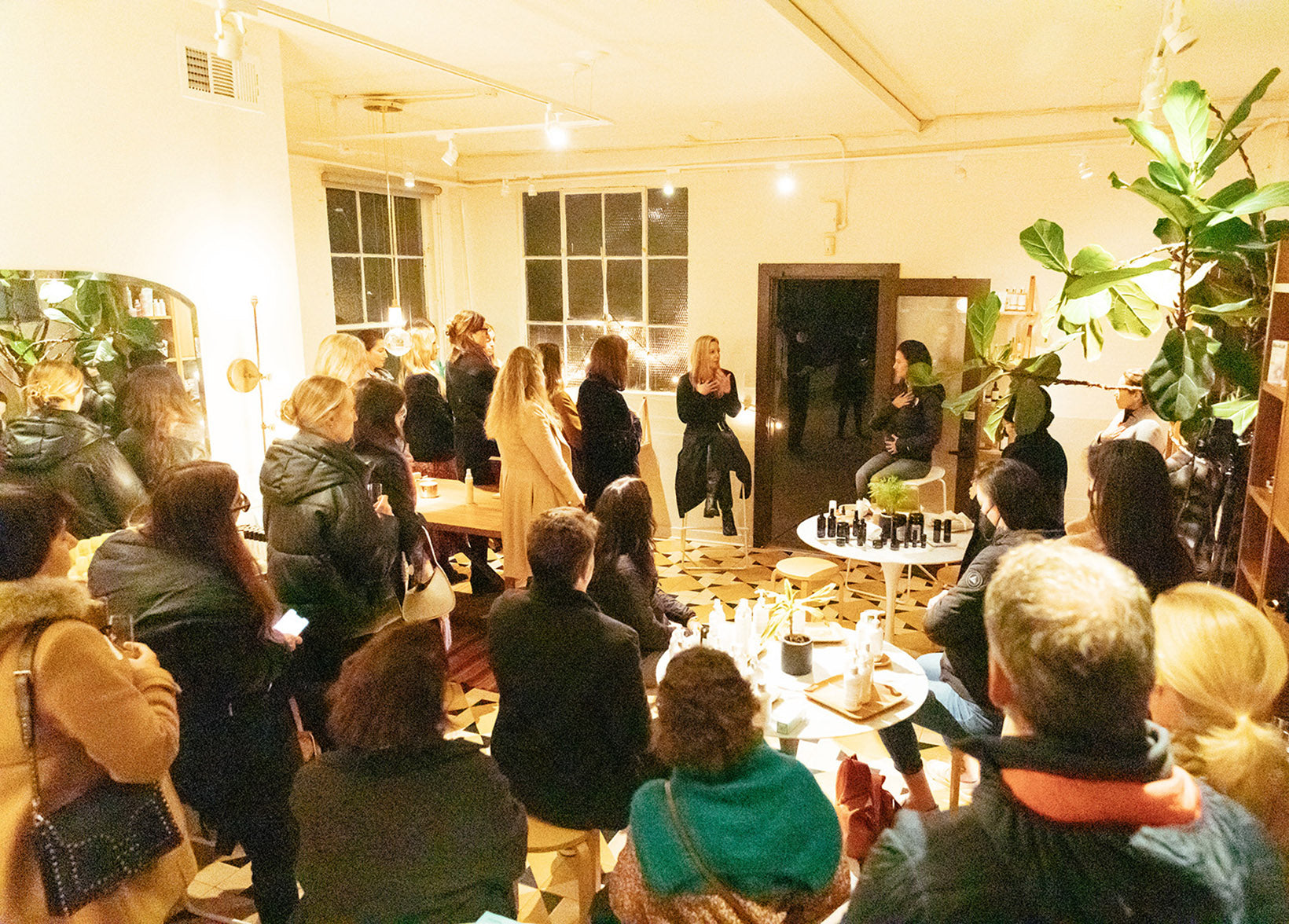 Annee de Mamiel shares a diaphragmatic breathing exercise — a reminder that, yes, in fact, we could probably breathe a bit more deeply in our everyday lives.