As we've mentioned before, among Augustinus Bader's appealing aspects is its tantalizing shroud of mystery. For a couple of years now, we've been hoping that the brand would answer a few questions that would give us a peek behind that shroud — and we're thrilled that the team at Augustinus Bader's HQ has answered them, with some contributions by Professor Bader.
Read on to learn more about TFC8, the Bader products' effects on the microbiome, and whether or not they can be used with retinol (spoiler alert: they can, and the combination is so good that Bader just introduced a Retinol Serum that's suitable even for sensitive skin).
***
Ayla: Many of us are used to hearing about products designed to protect skin from environmental factors (sunscreens, antioxidants) or stimulate cell renewal (retinol, acids). Products like yours, inspired by stem cell research, represent a shift in mindset — towards thinking about skin's innate ability to fix itself, and how to best support that. How do you usually describe this approach?
AUGUSTINUS BADER HQ: Our skincare is about supporting the body's natural processes of repair and renewal. We do not, for example, infuse stem cells of any kind into our products. It is about creating the optimal environment for skin cellular renewal.
Everything our body does is the result of innate communication processes. The trillions of cells in the body know what they have to do; it is intrinsic to them. Your skin cells are programmed to create perfect skin, but as we age, their ability to multiply and self-repair slows down. The problem isn't with the cells; it's with the communication signals. Age and trauma weaken these communication signals, and cells don't get complete information.
For our skincare, based on the research and understanding of that communication process, we have put together a kind of "toolbox" of nutritional components that support the body's own renewal processes to help achieve healthier skin.
While everyone's skin and skin issues are different, the body's renewal processes are universal. By creating the optimal environment for your body's natural renewal processes, TFC8®, Trigger Factor Complex ™ , helps your skin rejuvenate itself and address your specific issues. That's why our products are able to address such a wide range of concerns across all skin types.
Ayla: Your technology encourages skin cell activity — but your creams do not actually contain any kind of stem cells (or, specifically, the "human stem cell conditioned media" that some other brands rely upon) to achieve this. What is TFC8®,Trigger Factor Complex TFC ™,  and what are its advantages over the human stem cell conditioned media that one might find in other formulas? 
PROF. BADER: TFC8®, Trigger Factor Complex TFC™, is a proprietary technology composed of many different ingredients — including natural amino acids, high-grade vitamins and synthesized molecules — which constitute important building components for healthy skin. The technology is based on my understanding of the body's intrinsic repair code, which originated from my medical research. It's essentially a toolbox that provides the skin with everything it needs. It helps create the ideal environment for skin cellular renewal and guides key nutrients to your skin cells, optimizing the efficacy of ingredients and turns formulations of already powerful ingredients into intelligent skincare that adapts to individual concerns — everything from fine lines and wrinkles to hyperpigmentation and damage caused by external stressors.
AUGUSTINUS BADER HQ: Our skincare supports the body's natural process and functions versus infusing products with foreign stem cells.
Ayla: You have excellent clinical trials to support your products. Which results surprised you the most, if any?
AUGUSTINUS BADER HQ: All of our products are thoroughly tested via both Clinical and User Trials to ensure unparalleled efficacy and visible results.
A few of our most notable and impressive clinical and user trial results are for the following products:
A few of our most notable and impressive clinical and user trial results are for the following products:
Ayla: We noticed particularly good results related to skin's microbiome. Can you explain why this is important to you?
AUGUSTINUS BADER HQ: You can think of your skin microbiome as similar to the microbiome of the stomach - a healthy microbiome is essential to protect your body from external pathogens and bad bacteria. By nourishing and strengthening your skin's microbiome, your body is able to maintain a physical barrier between your dermis (the inner layer of your skin) and environmental aggressors like pollutants and free-radicals, as well as protecting your skin tissue from clogging and product build-up.
Our products promote a healthy skin microbiome, which fends off harmful irritants and prevents skin conditions. A strong microbiome will keep your skin in its natural state of stasis, absorbing the conditioning ingredients from your skincare while flushing out any pathogens and build-up, for skin that always appears clear and nourished.
Ayla: Can the other Augustinus Bader products be used in conjunction with more traditional skincare ingredients like retinol or alpha hydroxy acids?
AUGUSTINUS BADER HQ: Yes, TFC8®, Trigger Factor Complex TFC ™, works well with topical retinoids and acids because of its ability to support renewal.
Retinoids and acids such as AHAs increase new skin cell production over time, but they also provide deep exfoliation which can initially cause some redness and irritation. TFC8®, Trigger Factor Complex TFC™, guides key nutrients to the skin, while creating the optimal environment for skin cellular renewal. Therefore, a combination of TFC8®, Trigger Factor Complex TFC™, and retinoids or acids provides a double concentration of skin renewing ingredients that support skin cell turnover while nourishing and replenishing the skin.
We recently launched The Retinol Serum, which contains both Pure Retinol and TFC8®, Trigger Factor Complex TFC™, due to the unparalleled synergy between these ingredients. Following this up with The Rich Cream, The Ultimate Soothing Cream, or The Light Cream is the perfect way to instantly nourish and restore your skin barrier with TFC8®, Trigger Factor Complex TFC™, and other hydrating and soothing hero ingredients such as Evening Primrose Oil, Vitamin E, Argan Oil, Black Cumin Oil, and Babassu Oil.
Ayla: You've won over 105 global industry awards in just 4 years, which is amazing. What do you wish more people knew about your products, your technology, or your company?
Prof. Bader: I am a scientist and doctor by profession. I continue to teach and conduct research today in Leipzig, Germany. Our products benefit from decades of research into human physiology and cellular renewal, and are backed by vigorous clinical and user testing. The results speak for themselves.
***
Shop the Augustinus Bader collection at Ayla here.
You May Also like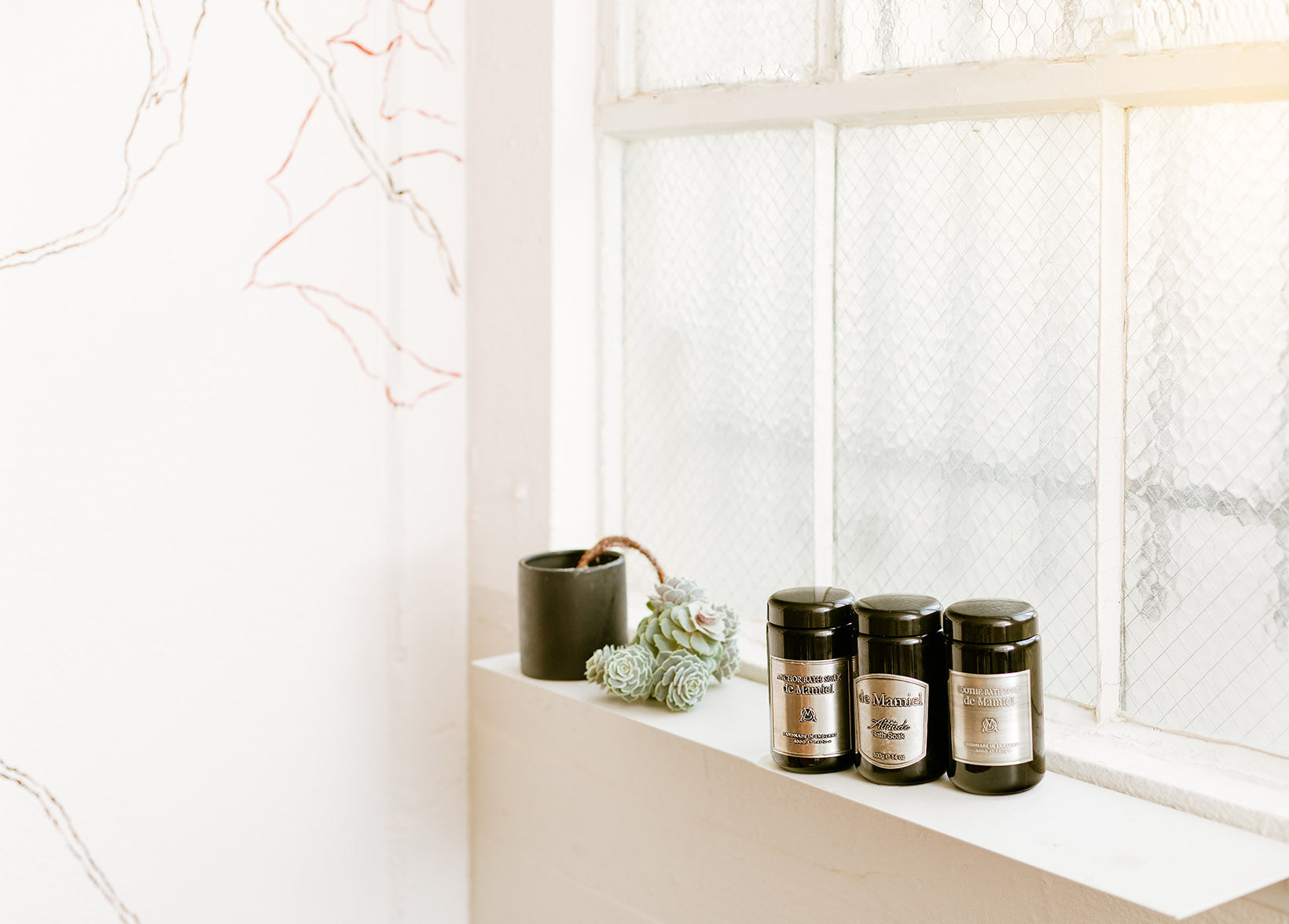 de Mamiel Soothe Bath Soak was designed to showcase the stress- and anxiety-relieving Soothe formula in the form of a calming salt bath. Learn the story behind it directly from its creator in Dara's interview with Annee.