In this post about Hydration & Moisture (an essential pre-read), we suggested getting a combination of hydrating and moisturizing ingredients involved in your skincare routine. So, in case you're looking for some more specific product suggestions, we've put together some notes on how to build extra hydration and moisture into your routine.
As part of this post, we've also listed many of our hydrating and moisturizing products, in very rough order from lightest to richest, to help you navigate through the options. You'll notice that, in this list, we've omitted treatment products that are less focused on hydration or moisture and more focused on Vitamin C, retinol, AHAs, etc.; if you're wondering how those fit in, just send us a note or give us a call — we'll be happy to share our perspective. (Or just pick up a Sea Serum, because that covers a lot of the bases, all in one go.)
BEFORE WE START, AN IMPORTANT NOTE ABOUT CLEANSING
Your cleansing routine is where it all starts, so don't forget to pay attention to your skin during this step. If it feels a little too tight or dry after you finish washing your face, pull back to use a milky or creamy cleanser. We've linked some of our favorites here from Ursa Major, The Organic Pharmacy, (those two are lighter and milkier) M Picaut, and TWELVE (those two are richer and creamier) — or a milder gel cleanser, like Marie Veronique's or YULI's.
BUILDING HYDRATION: OUR SUGGESTIONS
The most effective products to boost hydration tend to be toners, essences, and hydrating serums, which usually have a light, non-oily base.
Hydrating toners & essences
You can find all of the toners and essences on our shelves here; below, we've listed them in very general, very rough order from least to most hydrating. You may find that all you need is one of these, used before your moisturizing product, to bump up your hydration levels.
Ursa Major Essential Face Wipes
Marie Veronique Treatment Mist
The Organic Pharmacy Herbal Toner
MyHavtorn Organic Essence
Marie Veronique Louis Pierre Aftershave Tonic
Marie Veronique Pre+Probiotic Daily Mist
The Organic Pharmacy Rose Facial Spritz
YULI Cocoon Elixir
Luzern The Essence
Kristina Holey + Marie Veronique Balancing HypoTonic
Vintner's Daughter Active Treatment Essence
YULI Metamorphic Elixir
Josh Rosebrook Hydrating Accelerator
Luzern Firming Facial Mist
TWELVE Beauty Ultra Revitalising Elixir
de Mamiel Multi-Active Hydramist

Hydrating serums
All of our serums can be found here. There's a huge variety, and many serums are multi-tasking, which makes it difficult to compare levels of hydration among them. Generally speaking, though, if you're looking for a major boost in hydration that layers well with anything, these are the ones we suggest.
YULI Ambrosia Beauty Nectar
Kristina Holey + Marie Veronique Soothing B3 Serum
Luzern Serum Absolut Recovery
Luzern Firming Collagen Booster
TWELVE Ideal Rebalancing Level Serum
The Organic Pharmacy Antioxidant Gel
M Picaut Hydra Miracle Serum
27 Rosiers Here We Glow Again Serum
TWELVE Ideal Moisture Level Serum
Luzern Serum Absolut ReHydrate
BioRecept Total Lift Eclat
Clark's Botanicals Jasmine Vital Cream
Dara Kennedy Sea Serum (which is hydration-forward, but with moisturizing ingredients that help gently seal in that hydration, too).
BUILDING MOISTURE: OUR SUGGESTIONS
You'll find our moisturizing products here. Moisturizing products generally look like lotions, creams, oils, or balms — and you can choose whichever texture you prefer after you've applied the hydrating product (toner, essence, or serum) of your choice. No texture is better than another, but if you're looking for additional hydration with your moisture — or you're a skinimalist, brazenly skipping the hydration step above — opt for a lotion or cream, since those textures will offer you a bit of hydration, too.
Lotions, creams, and hybrid textures
Augustinus Bader The Light Cream
BioRecept Hydra'Vitamin B
Elave Oil-Free Skin Balancing Moisturiser
BioRecept NéoBio
M Picaut Skin Detox Moisturiser
27 Rosiers Quench My Thirst
The Organic Pharmacy Manuka Face Cream
Macrene Actives High-Performance Face Cream
Augustinus Bader The Cream
BioRecept Bouclier Bio
MyHavtorn Face Cream
The Organic Pharmacy Double Rose Rejuvenating Cream
TWELVE Essential Bio-Technological Moisturiser
Elave Intense Moisture Surge
Augustinus Bader The Rich Cream
Kristina Holey + Marie Veronique Barrier Restore Serum
M Picaut Skin Perfect Moisturiser
MyHavtorn Guldkorn Cream
27 Rosiers Ma Creme
TWELVE Nutritive Repair Emulsion
The Organic Pharmacy Double Rose Ultra
BioRecept Booster Bio
BioRecept Lycoconfort de Peau
Augustinus Bader The Ultimate Soothing Cream
Oils
Note: if you use a face oil, it's especially important to use a hydrating product first. While lotions and creams contain some hydrating ingredients as well as moisturizing ingredients, oils are all about moisture.
Kahina Argan Oil
YULI Mr. Incredible
Le Prunier Plum Beauty Oil
Marie Veronique Treatment Oil
MyHavtorn Face Serum
YULI M.E. Skin Fuel
M Picaut Gold Magician Firming Oil
Marie Veronique Protective Day Oil
M Picaut Precious Oil
Marie Veronique x Ayla Dara's Oil
Luzern The Sublime Oil
TWELVE Intelligent Frontier Facial Oil
MyHavtorn Facial Oil
YULI Liquid Courage
The Organic Pharmacy Antioxidant Serum
de Mamiel seasonal face oils
Vintner's Daughter Active Botanical Serum
YULI Modern Alchemist
Marie Veronique Louis Pierre Finishing Oil
Marie Veronique Rejuvenating Night Oil
Kristina Holey + Marie Veronique Barrier Lipid Complex
Balms
Note: if you use a balm, it's also important to use a hydrating product first, for the same reason mentioned above for oils.
De Mamiel Skin Recovery Concentrate
MyHavtorn Night Balm
M Picaut Calming Cocoon Cream
TO FINISH, A GENERAL APPLICATION TIP
When you're applying your products, remember that it's hard for lighter, watery textures to pass through thicker, oily textures, so generally, apply those lighter ones first. And as far as hydration and moisture are concerned, remember that you are truly your own best expert. It's all about how your skin looks and feels, and no one understands that better than you do.
You May Also like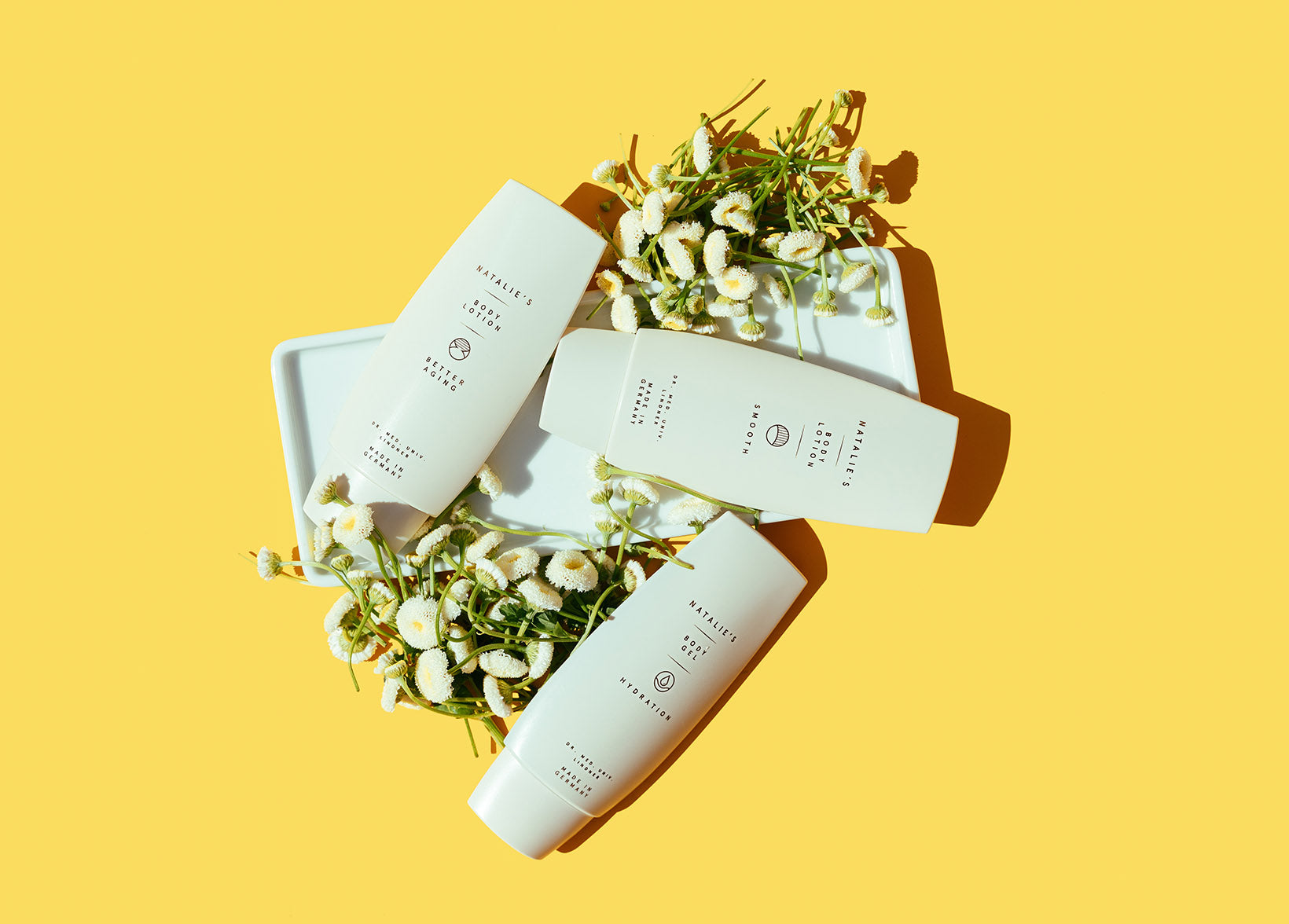 Dr. Natalie Lindner shares her top tips for a smooth shave that leaves you with skin that's soft and soothed, too.