Menopause, perimenopause, postmenopause, and skin: talk about a meaty topic. As usual, among the experts we consulted about skincare during this stage of life was the dream team of Kristina Holey and Marie Veronique, brilliant women who create some of the most loved products on our shelves. They find the topic intriguing, too, so they sent us a general overview of what's happening in the skin during this time of transition along with a menu of suggested products for specific conditions that are often hormonally triggered. Kristina also caught up with Dara on some questions that can provide these suggestions with additional context.
Read on for all of these goodies, and check out our other resources on perimenopause and menopause here.  
***
Dara: As we age, a number of internal changes can affect the skin. Some who have never struggled with acne might experience breakouts for the first time; for others, skin is noticeably drier. To add to the vexation related to these changes, many lament that they seem to happen overnight during perimenopause and menopause. How do you think about what's going on here?
KRISTINA HOLEY: In general, what's happening in the skin during this time is the impact on the internal organs from the fluctuating hormones: major load on the liver, and therefore — often — histamine intolerance.
This results in depleted immune function and, therefore, vulnerability to pathogenic spreading (breakouts), loss in oil production (dryness, increase in fine lines, discomfort, laxity), and an increase in inflammation (redness, breakouts, wrinkles, lack of glow).
It's important to understand that breakouts are not the "acne" we're used to from earlier days: the redness is often due to lots of new internal heat along with compromised immune function, so don't be too eager to diagnose skin conditions and implement strict treatment methods for those diagnoses. In my practice, the best results come from simply supporting skin function as best you can via topicals and internal support (diet, movement, drainage), and the issues will resolve in time. Any more invasive treatments (acne treatments/products, lasers, peels, etc.) will likely cause more long term issues and imbalances. 
Focusing on the regimen and products we've described below will support skin-function basics so you can come out the other side with your skin in the best shape.
Dara: I love these regimens you've shared below!
For those who are still very dry or dehydrated, but don't want to add anything heavy to their routine — something we frequently hear from our perimenopausal and menopausal customers — what do you suggest they do to adjust this regimen and/or add to it through lifestyle changes?
KRISTINA HOLEY: The topical regimen lists only using Barrier Restore Serum in the PM; however, Barrier Restore Serum is very beneficial to use AM/PM for those that are still dry/dehydrated.
And, if they have not yet implemented the Micronutrient + Hydro Mask as an overnight mask, they can use a small amount 2x a week to seal in moisture. This mask feels heavy initially, but when used properly, it really penetrates into the skin when massaged in over other serums and oils. 
As you enter menopause, the skin's lipid layer becomes weakened as estrogen drops. Supplementing with essential fatty acids such as omega 3's and 9's becomes important in both reducing inflammation associated with fluctuations and also helping to maintain the barrier layer which protects us from trans-epidermal water loss.
Lifestyle-wise, thinking about the following points can help as well: 
- Eat well and on a regular schedule, focusing on a variety of nutrient dense whole foods, and limiting inflammatory food groups. 
- Adhere to a 12-hour fasting schedule, and while eating, focus on methods to balance blood sugar levels
- Support a healthy nervous system; reduce stress where you can, and practice techniques to "reset"
- Drink lots of water to stay hydrated
- Optimize pathways of elimination: digestion, sweat, kidney function, liver function 
- Get plenty of restful sleep; implement good sleep hygiene
- Move your body regularly
- Eliminate triggers such as chemicals in foods, skincare, supplements, cleaning supplies, etc. 
 ***
PERIMENOPAUSE: common skin concerns and key products to consider in your regimen
Note: sensitivity and/or rosacea and redness combined with one or many of the concerns below is very common, as is the occurrence of multiple concerns at once.
Skin that acts "confused" between dryness and acne
Sudden acne 
Hyperpigmentation (increase in, stubborn, or both) 
Sudden dry skin and/or noticing many more fine lines 
Loss of radiance and glow 
Skin laxity or loss of firmness, especially around the mouth, eyes, and jaw
MENOPAUSE: common skin concerns and products to consider in your regimen
Note: sensitivity and/or rosacea and redness combined with one or many of the concerns below is very common, as is the occurrence of multiple concerns at once.
Skin laxity or loss of firmness, especially around the mouth, eyes, jaw, and cheeks 
Wrinkles (that once were fine lines) + uneven or crepe-y texture 
Dryness 
Loss of radiance and glow, or depleted skin 
POST-MENOPAUSE: Marie & Kristina's favorite Post-Menopausal Skincare Regimen
AM
PM
1x/week: Probiotic+Exfoliation Mask for 10 min, rinse then apply Micronutrient+Hydro Mask for 30 minutes. 
Micronutrient+Hydro Mask may also be layered over PM routine and worn overnight. 
***
Want more from Kristina Holey? How about an in-depth, one-on-one consultation? While she's not giving in-person treatments right now due to COVID-19, she's available for her famously thorough remote consultations. Details below; to book, email kristina@kristinaholey.com. 

Skin consultation with Kristina Holey / $300
From this consultation, you'll receive a skin care protocol specifically for your skin care needs. Kristina's focus is heavily on the internal systems, to help clients better understand how the things we do every day affects the skin — diet, gut health, stress/mood, sleep, hydration, hormonal shifts, supplements/medications, etc. — in addition to external stressors, skin microbiome, and topical products. Kristina has worked collaboratively with many acupuncturists over the years and integrates theory informed by TCM (consideration for organ system functions, constitution/root causes/internal imbalances, ancient healing modalities), as well as skin science and research, and consideration of functional medicine (treating the whole system). The goal is to help you identify your stressors (internal and external), and establish better habits to support healthy skin function.
The remote consultation program consists of:
- An in-depth intake and health history form
- 5 day food journal analysis
- 30 min-1 hour FaceTime consult to discuss/address all skin/health concerns and topical regimen. Follow ups after receiving the protocol are also an option.
- Comprehensive protocol written by Kristina — including dietary recommendations, strategic supplementation (as needed, including brands), TCM and Skin theory, review of current skin care products, seasonal skin care recommendations, and personalized am/pm regimens complete with product recommendations.
***
And if Kristina's fully booked — or you're looking for general guidance or a quicker consult — you can always email help@aylabeauty.com or book a 20-minute consultation with one of our Guides. Everyone on our team has been thoroughly trained by Marie Veronique, Kristina, and Marie Veronique's lead esthetician, and they'd love to dig into your regimen with you.
You May Also like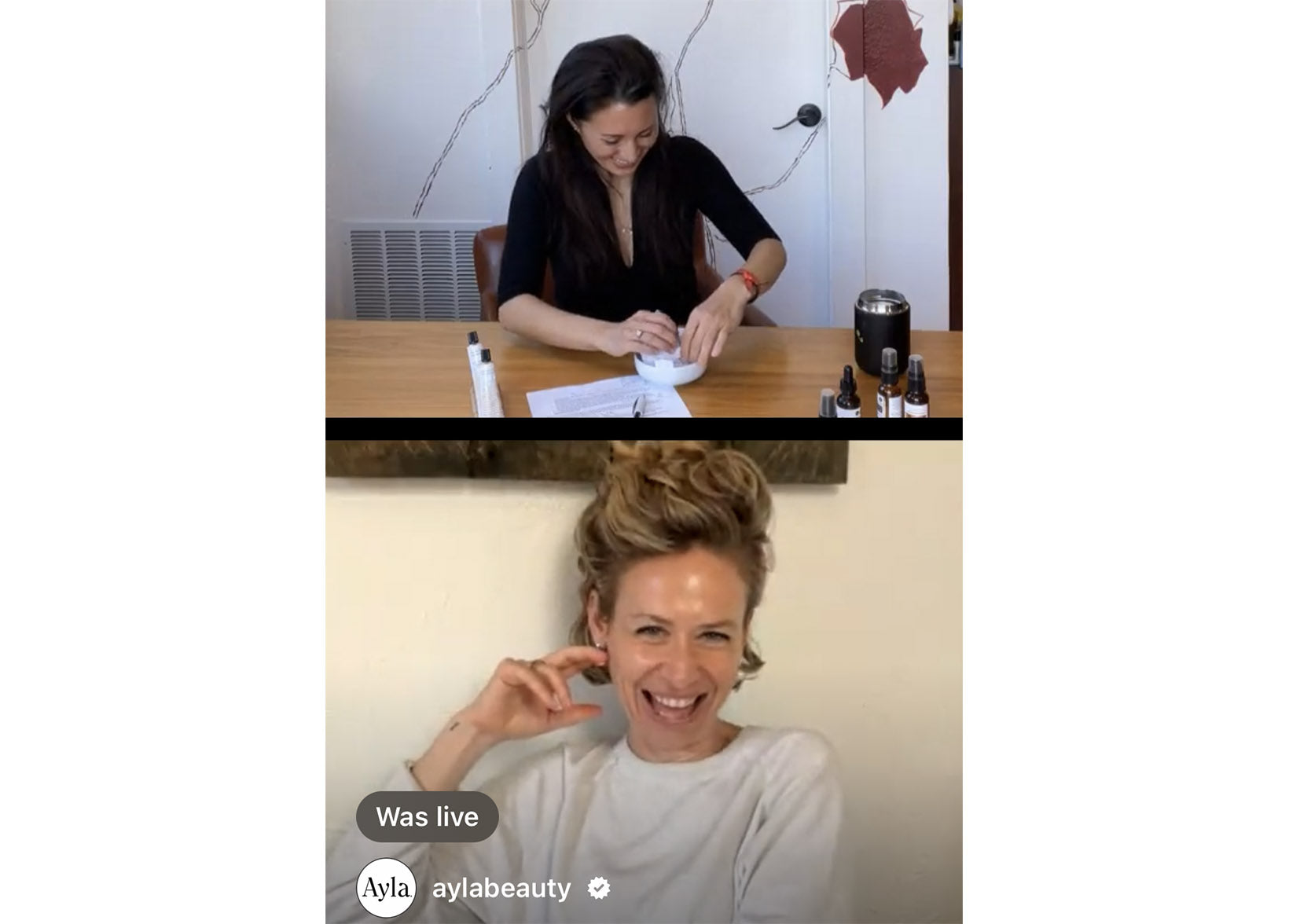 We had so much fun at our Instagram Live Q&A with Kristina Holey, the Director of Skin Health at Marie Veronique. Missed it? Watch the video here.