A quick review of our latest additions from Augustinus Bader & TEK
Over the past couple of years, the "skinification of hair" swiftly ascended from trend to full-on movement, and we're all for it. The scalp — whose health is the key to healthier, thicker, shinier tresses — had been ignored for far too long. Oh, scalp: we're here for you.
And so is Professor Augustinus Bader, who brought out the big guns to make up for those years of neglect: he added his vaunted, clinically-tested TFC8 complex to a suite of adaptive, marvelous, scalp-care-forward haircare products that just arrived at Ayla. As Prof. Bader put it, haircare was a natural next step for his company: "Just like the skin, hair is governed by natural forces that slow over time, causing undesirable yet reversible outcomes."
Among these undesirable outcomes that have accelerated, for many of us, over the past two years: hair shedding, lackluster strands, and a general lack of hair and scalp mojo, to use a technical term that would likely horrify Dr. Bader. Luckily, his new products are designed to address all of those issues, and then some.
First, there's The Shampoo, which is one of our top two favorites from the lineup. (We know you might be thinking, "Do I need a fancy shampoo?" and, if it's this one, we suspect you do.) The Conditioner is the lightest conditioning formula we've ever tried, yet it somehow moisturizes like a mask, which awes us. Then there's The Scalp Treatment, which is the product we were probably most excited about bringing on because of its intensive focus on the scalp (check out its clinical test results – it doesn't disappoint!). And finally, there's the Leave-In Hair Treatment, which wraps up the routine with another lightweight wonder that's especially excellent for fine, dry, fragile hair.
We know everyone loves Bader skincare, but we think Bader haircare might be even more exciting. Check out all the new arrivals, and existing Augustinus Bader favorites, here.
Also new: a microcirculation-booster for your scalp from TEK
Another key to both a happy scalp and a healthy head of hair, in our view, is robust circulation. We often don't think about circulation; like breathing, it's one of those things that just happens. But, like breathing, when you give it a little extra attention, it can be a game changer — particularly where the scalp is concerned. The new Scalp Massager from TEK is a perfect, easy, eco-friendly way to work it into your routine. It's also a fabulous gift, as are all of the beautiful brushes from this Italian brand, a longtime Ayla favorite that's always kind to both the scalp and the planet.
Finally, some folk wisdom
Bone broth contains a plethora of nutrients that you might otherwise find in hair-boosting supplements (collagen, amino acids, and minerals) in a natural, protein-rich snack that also supports your skin and gut health. If you've tried bone broth before and thought, "Ugh, I just can't," but you haven't yet tried FOND, trust us: it's different. Our current favorite flavor, Mother's, is particularly excellent for summer sipping. Order it directly from FOND Bone Broth with the code AYLA for 20% off your first order — learn more about our partnership here.
You May Also like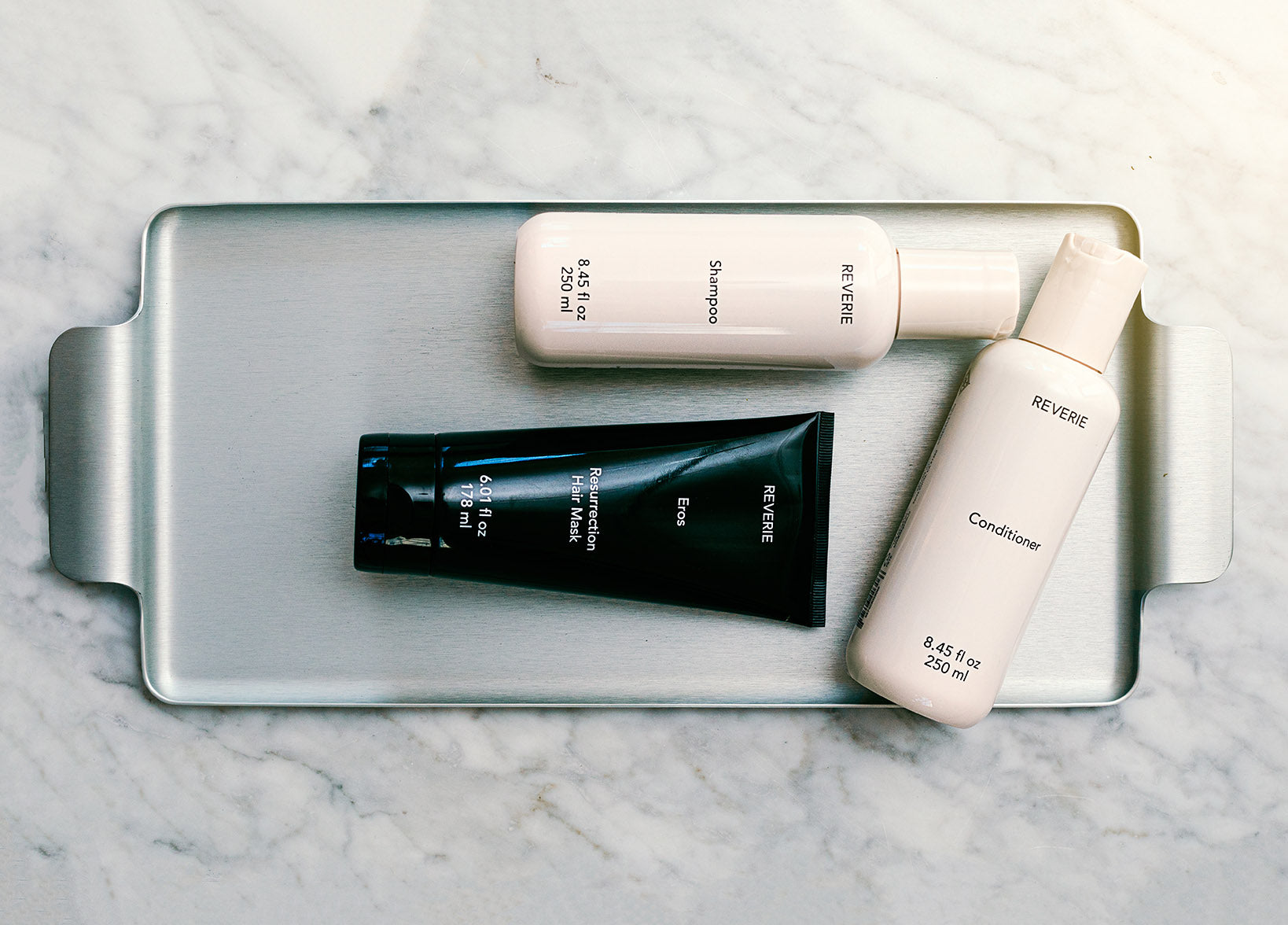 Find out how and why Reverie created their Eros hair mask in our interview with Hillary Markenson.