We've noticed lately that many of us seem to feel less confident than usual. It's come up so frequently in conversations and consultations that we wondered at a recent team meeting, "Is this becoming a worrying trend? And if so, why?"
The first person we thought of to help us dig into these questions was Chandler Chang, PhD, the Founder & Clinical Director of Therapy Lab — a practice that offers science-based teletherapy to residents of California, Washington, Texas, and Massachusetts from the comfort of home. (You may remember her from this popular post about mental health and self-care during the pandemic.)
Chandler's immediate response was, "Yes! We've actually just created a self-esteem plan at Therapy Lab for this very reason. I have a lot to say about this topic." 
Needless to say, our immediate reply was, "Tell us everything!"
Read on for Chandler's thoughts. And if working with a therapist at Therapy Lab is something that interests you, we're delighted to tell you that their team has offered all of our customers $50 off your first session at Therapy Lab. Just mention Ayla when you book.
Dr. Chandler Chang with her two adorable boys.
****
Confidence and self-esteem are in short supply in 2021. We're hearing from so many people who feel unmotivated, lacking confidence they once felt, and struggling with self-efficacy. That's what we call that you-can-do-it feeling — that you have the skills and energy to meet a goal. Self-efficacy gives us satisfaction and a sense of well-being. Why are so many people having a crisis of confidence right now?
Look in the mirror?  No, look out the window.
When you experience "low self-esteem," you probably look in the metaphorical mirror and dislike what you see. If you feel less than confident, you'll likely notice your mind on a frequent loop of self-criticism, self-doubt, and regret.  It can be hard to stop this loop, and the loop's endless flow makes you feel worse and worse. So, what can you do?
Perhaps you could improve in a few ways, and, if these are in your reach, go for it!  But I'd also encourage you to think about the external world and its impact on you. Maybe give yourself a break. Here's why:
In times of stress and transition (such as the year we've just survived), the stress of our "environment" can directly cause us to have more negative automatic thoughts. Negative thoughts that occur almost habitually and without evidence and with little examination are a normal part of human life. But in times of greater external stress (such as in a pandemic), we are more stressed and more likely to end up in a swirl of negative thinking.
(Negative automatic thoughts can be black-and-white thinking about ourselves—I'm a loser, I'm no good, I will fail—or they can be catastrophic thoughts about the future or rigid thinking about the state of the world.)
It's human nature to over-estimate the role we play when bad things happen. When things are going wrong, we are strangely self-obsessed. So, when we're having a hard time, we usually ask ourselves what we're doing wrong, what's wrong with us?  And we underestimate the impact of outside stressors that are beyond our control. When we struggle, I often hear clients say, yes, there are extreme challenges in my life right now that I've never experienced before, but why am I such a failure?  That kind of conclusion rests on the fallacy that most of what happens to us is driven by us internally, when the truth is that much of our situation is driven by external circumstances.
Instead of self-blame, I encourage you to say, I'm managing a very unfamiliar crisis with resilience and open eyes. Let's see what I can learn from this for next time. I'm proud of myself for staying in the game even when I'm behind.  Of course, this also highlights the importance of curating your world carefully—choosing friends, a partner, a life that supports you whenever possible. Those external factors matter more than we realize.
What can you do?
Even if you acknowledge the impact of external forces on your feelings of low self-worth, you're not stuck there. You have options. Regardless of how you feel about yourself, you can choose to behave in ways that increase confidence and self-esteem. Understanding the concept of "opposite action" will help you decide how to meet the moment. Let me explain with a scenario.
These times are stressful, and you feel defeated. You don't love your job and you'd like to transition to a new job, your dream job. When you reflect on your "low self-esteem," you'll tell yourself that you have to make loads of changes before you take a step in that direction.  I often hear, "I'm not ready for that yet. I don't feel confident enough yet." But as you delay the process of working on your resume or reaching out to good contacts, that delay actually feeds your low self-esteem. You'll be waiting for awhile if you're waiting for self-esteem.
Act the way you want to feel
If, on the other hand, you accept those thoughts but don't let them dictate your actions, you may decide to start crafting a new resume and reach out to a few friends to update them on your plan. Even if your attempts go imperfectly, you are feeding your self-worth just by taking those steps. They say, "Fake it 'til you make it," and I hear the personal power of cognitive dissonance. If you don't feel great, but you see yourself acting as if you do, then your self-esteem will grow. Your self-image will reflect your actions. So act boldly, and in the direction of your dreams, without regard for how you might feel about yourself in any given moment.
The next time you doubt yourself, ask yourself what actions would flow from those thoughts — avoidance, self-isolation, procrastination? And whatever your impulse is, do something that feels opposite. Believe me, you will feel the personal expansion and self-esteem burst even with the smallest step in that direction.
While you can't control so many parts of your daily life, we applaud you for taking the time to reflect. You don't feel great, and you wonder about your self-esteem. Perhaps that bit of insight will lead you to take a leap you've been considering for a long time. Perhaps your perception that you're not worthy is actually just insight that you're ready to grow.
- Chandler Chang, PhD
 ***
To learn more about Chandler and hear her perspective on mental health and self-care during the pandemic, check out our interview with her here.
Any topic discussed in this article is not intended as medical advice. If you have a medical concern, please check with your doctor.
About Dr. Chang:
Using evidence-based treatments and a compassionate approach, Dr. Chang offers expertise based on almost two decades of clinical experience, both in private practice and at prestigious research-oriented psychology programs, including UCLA and NYU's Child Study Center.
Chandler has a passion for incorporating science into psychological practice and a mission to train other therapists in this way while providing affordable mental health services for all. (California PSY 22092) She is the founder of Therapy Lab, a Los Angeles-based practice.
Outside of work, Chandler loves yoga, trying new recipes, walking her labradoodle, and watching British Baking Show with her two sons. She has a PhD in Psychology from the University of Georgia and an AB from Princeton University in English with Certificates in Women's Studies and African American Studies.
You May Also like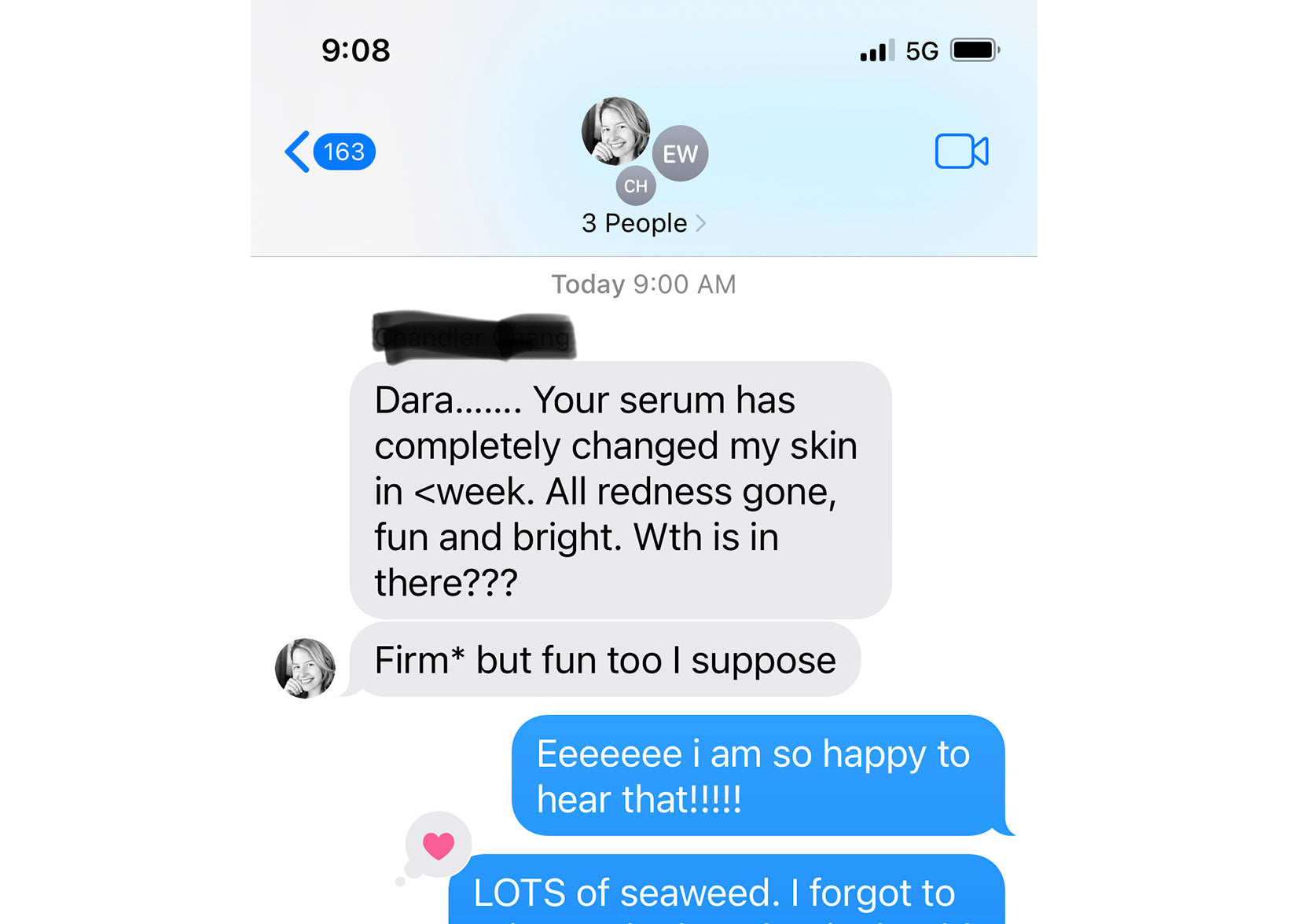 Find out what our team members noticed after 1-2 months of Sea Serum use. You'll notice that everyone's experience is a little different, which, to us, is one of the most exciting things about this unlike-any-other product.