We've been hearing this phrase more than ever: "My skin has really lost its glow these days. What's going on?" Like many things right now, it's a little complicated — a few different things tend to contribute to dull skin, especially during stressful fall months. Read on for our four-part answer.
1. Do you need to exfoliate more? Probably not…but it's possible.
"You need to exfoliate!" is the pat answer that you often hear in response to queries about dull skin. And it's true that light bounces off smooth skin more easily, creating a lovely glow, than it does with rough skin. But while we suggest a little (gentle, mild) sloughing with the favorites below if you need it, exfoliation is not the be-all, end-all fix for dullness — so don't stop reading now.
Marie Veronique Probiotic+Exfoliation Mask
Luzern Au Vin Exfoliating Treatment
Vintner's Daughter Active Treatment Essence
2. Is your skin dry or dehydrated? Probably, at least a little.
Low glow is, more frequently than not, related to hydration. As TWELVE creator Dr. Pedro Catalá mentioned to us this week, "Skin hydration is a delicate balancing act: small changes in water content in the outer layers of skin leads to dehydration, which is one of the main causes of dull skin this time of year."
When that dehydration becomes deeper — reaching the lower levels of the epidermis and even the dermis — it can lead to particularly intractable dullness that's hard to shake until springtime, since skin's layers aren't as plump and smooth as they tend to be in warmer, more humid weather, when it glows more easily.
Using a richer cleanser now, and taking the time to really massage it in, will keep dehydration and dryness at bay from the get-go so that you're not playing catch up with the rest of your routine. Then, layer in additional hydration and moisture with mists or toners and a serum-oil combination to keep your glow going all day long.
Check out these cleansers:
TWELVE Clementine Cleansing Balm
Luzern NUIT Hydra Cleansing Emulsion
MyHavtorn Organic Facial Cleanser
…and these mists:
Kristina Holey + Marie Veronique Balancing HypoTonic
YULI Metamorphic Elixir
TWELVE Ultra Revitalising Elixir
…and these serum/oil combos:
The Organic Pharmacy Antioxidant Duo Set
YULI Ambrosia Beauty Nectar with M.E. Skin Fuel or (our favorite) Marie Veronique for Ayla Dara's Oil
TWELVE Ideal Moisture Level Serum with Intelligent Frontier Facial Oil
3. Also a probable culprit: circulation.
Skincare therapist Kristina Holey, whose products have rescued many complexions, has become increasingly intrigued by the direct correlation between healthy circulation and healthy skin. And, as she mentioned to us, she's seen it firsthand thanks to her own skin health practice and her collaboration with experts like Dr. Anna Gold. For example, "When someone has compromised blood flow, the waste removal system and healing process will also be weakened. Therefore, there will be an increased risk of inflammation within the skin and an increased vulnerability to unwanted symptoms such as breakouts or eczema." When skin is inflamed, it focuses on tacking that issue and simply can't glow the way we want it to.
As Kristina writes in this excellent blog post for Marie Veronique, water, movement, and a healthy diet are key to encouraging healthy circulation; so is hot and cold therapy, which is one of the reasons why we (and she) love our circulation-boosting Sea Soak so much. And don't forget facial massage: it's the fastest way to get glowing and, quite possibly, the best-kept simple secret in skincare.
4. Oh, yes: stress. (And/or anxiety.)
The answer to "What's going on?" must also include a nod to our news feeds, which — this year, anyway — can be a surefire way to spike one's cortisol. The impact of stress and anxiety on the rest of the body is real: this recent piece from NPR is a reminder of the ways many of us are struggling with their repercussions during the current global pandemic. Stress and anxiety not only affect more obvious things like sleep quality, but also affect our skin through circulation; when our fight-or-flight response kicks in, blood flow focuses on your vital organs instead of your skin.
You may already know how strongly we believe that the world of beauty and wellness needs to place greater emphasis on the health of our minds and spirits. If you need a visible reason to hop on our bandwagon, it may be in your mirror. Smoother edges on your days and nights will eventually show up in your skin, in an absolutely beautiful and glowy way.
To smooth out those edges, our whole team swears by Bach flowers, and our early Custom Remedy customers couldn't agree more.
You May Also like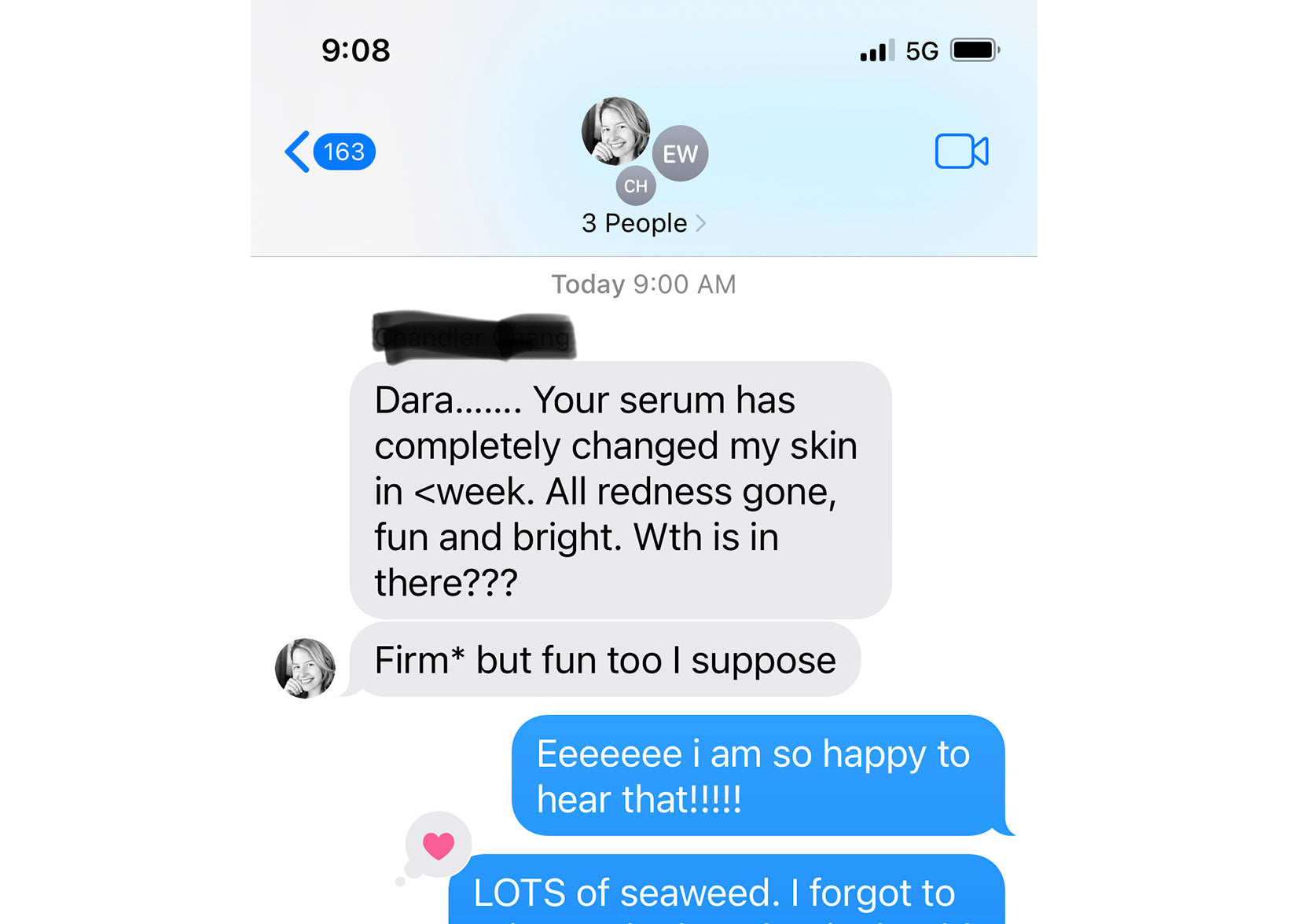 Find out what our team members noticed after 1-2 months of Sea Serum use. You'll notice that everyone's experience is a little different, which, to us, is one of the most exciting things about this unlike-any-other product.